This post contains affiliate links. We will be compensated if you buy after clicking on our links.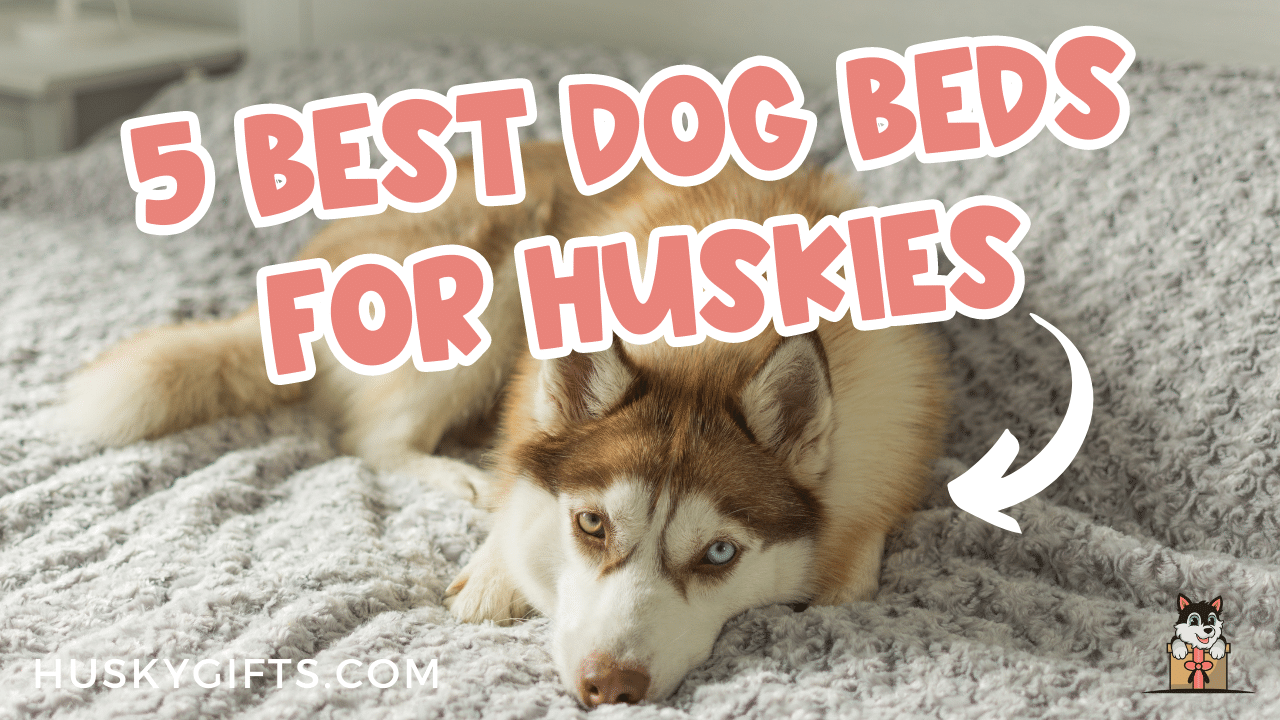 A good and comfortable dog bed is like your favorite sweater. It is not an absolute essential, but once habituated to it, it is difficult to get by without it. Dog beds are not just a piece of luxury for your dog. They provide comfort, a space to unwind and relax, and relief to hurting joints. Over the years, a tremendous amount of research has been put into manufacturing dog beds that accommodate every dog's needs, be it orthopedic or back support or just act as a haven for sleep.
A few features to look for in an ideal dog bed for your Husky are comfort, durability, appropriate size, ventilation, washability, etc. There is an overwhelming amount of dog bed options out there and they are tailored to suit every pet's needs. After careful consideration, I have shortlisted 6 beds that pack several benefits in one and are best suited for Siberian Huskies.
My absolute favorite is the BedSure Orthopedic dog bed for large dogs. I personally love this one because it not only looks inviting for your pet but also pampers them with utmost comfort. Their beds are made of premium, durable materials, are skid-proof, easily washable, and evenly distribute weight.
Top 5 Best Dog Beds For Huskies
09/22/2023 08:57 pm GMT
This throne-like couch will make the perfect snuggle spot for your Siberian pal. It comes in a variety of colors and sizes, so there is something out there for everyone. The all-rounder bolster design of the bed makes it extra inviting for dogs to just hop in and snuggle for a good, long nap. Not only does it offer a plethora of benefits for dogs, but it is also easy to care for and stylishly fits into any kind of home décor.
This couch-like bed is made of egg-crate foam, which makes the quality of it highly breathable; a crucial feature for breeds like Huskies that may feel extra hot in summer.
Pros:
The orthopedic feature of the bed helps provide ample support to your Husky's bones and joints
The egg crate foam ensures breathability and even weight distribution
It is easy to care for as it is machine washable
The bolster design provides excellent support to the dog's head, neck, and shoulder
It is reasonably priced for the amount of benefits it offers
Cons:
It may not be the best fit inside the crate if your dog prefers sleeping in the crate
While the bed material is super breathable, it is still quite fluffy. Extra furry dogs may still end up feeling hot in summers
1. Best Dog Bed for Huskies
Isn't it nice when a product acts as a one-stop shop for multiple needs? The EMPSIGN reversible bed is great to keep your pet warm in the months of winter (as if your Husky needs it!) and cool during summer. The warm side of it is made of a short, fluff coil that is designed to keep your dog warm during colder nights. The cool side of it is made of a breathable canvas that avoids overheating in pups, thereby helping them cool down faster.
It has a minimalistic design that easily fits inside the crate, so your Husky can choose his favorite spot to sleep and this bed will scoot in comfortably under your pup.
Also, certain husky sleeping positions like 'The Wall' where your husky sleeps twisted alongside a wall, will feel familiar because of the raised edging of this dog bed.
Pros:
The reversible feature makes this bed suitable to use all year round
The simple design makes it easy to use this bed inside and outside the crate
It is lightweight, portable, and can be easily carried on trips
It is also easily machine-washable
The high-density foam is almost 3 inches thick, which enhances the resilience and airy feeling of the padding inside the bed
Available in a variety of sizes
Cons:
This bed comes in only a couple of color options
The material of the bed may not be as durable and may be easily destroyed by a Husky that loves to chew and shred things
It is not suitable for dogs with joint problems as the foam is not orthopedic
2. Second Best Dog Bed
Here is the perfect sleeping option for dogs who aren't very down to earth, in the literal sense! The Bedsure elevated cooling dog bed is a hammock-style bed that provides a raised platform for your Husky to sleep on. The mesh material may make it look flimsy and uncomfortable, but in reality, it is highly durable and can withstand scratching, biting, and wear and tear amazingly well.
It is high enough for your Husky to not touch the ground while napping, but low enough for dogs of all ages to easily climb up and snuggle. This bed is especially great for furry dogs like Huskies who could use some extra coolness during the summer months.
Pros:
The Bedsure elevated bed is perfect for indoor and outdoor use
The highly breathable mesh material helps keep your dog cool
The material of this bed is quite durable and can easily withstand a boisterous Husky
It is super easy to clean this bed
This bed is quite easy to assemble and barely takes up any time
It is portable and can be easily carried along on road trips and hikes
Cons:
The hammock style of the bed may not aid in optimal weight distribution and may concentrate all weight in the center, thus making it a less favorable option for dogs with joint issues
May not be suitable for dogs that do not like stepping onto a raised platform
It is not suitable for dogs with joint problems as the foam is not orthopedic
3
Bruce Lee has rightly said that Simplicity is the key to brilliance. The MIHIKK Orthopedic bed has a minimal design that enables the bed to fit into crates and several other indoor and outdoor spaces. It lets dogs stretch themselves out completely as it has no bolsters or raised edges. It provides a flat sleeping surface for dogs and helps in evenly distributing weight across while providing ample support to joints, muscles, and bones.
It has an immensely plush surface that not only gives it a stylish appearance but also makes it super inviting for dogs to sleep on. Several beds have a slippery base that keeps moving and skidding every time the dog gets on or off. This experience may make the dog apprehensive of the bed itself. The MIHIKK orthopedic bed has a non-skid surface which prevents it from shifting its base.
Pros:
The orthopedic nature of the bed provides ample support to a dog's joints and bones
It is suitable for dogs of all ages and hip/ joint conditions
The plush surface makes a welcoming spot for dogs to take a nap
It has a waterproof outer cover that protects the inner layers from accidents. The cover is also easily removable and machine washable
It has a non-slip base that prevents the bed from skidding every time your Husky jumps up on it
Cons:
The super soft plush cover, although breathable, may make several dogs feel warmer. For this reason, they may prefer it less during the summer months
4
With a circular shape and raised edges that resemble a donut, the Original Calming Donut Bed by Best Friends by Sheri is a great option for anxious and fearful dogs. This is because the raised edges and the nest-like cushion in the middle provide dogs with a sense of calm and comfort. Although it may not appear so, this bed is great for dogs with joint problems. The edges of the bed offer extra support for the dog's head and upper body, thereby taking some pressure off their joints.
These beds are also highly space-saving as they easily fit into tricky corners of the household. Many Huskies enjoy curling up while sleeping as this is exactly how they sought warmth in the harsh winter conditions. The donut bed is perfect for curlers.
Pros:
The Best Friends by Sheri original calming donut bed is an excellent option for puppies and anxious dogs as it provides a sense of warmth and comfort
It is available in a variety of colors and sizes
This bed makes a great choice for dogs who like to curl up and borrow. It's a perfect spot to just snuggle
It is filled with high-quality polyfill that provides long-lasting support and does not change shape despite the wear and tear and weight of the dog
It is easily cleanable as it has a machine washable cover
Cons:
It may provide good joint support, but may not be the best for optimal back support
For dogs who like to stretch it out while sleeping, this bed may not be the most viable option
5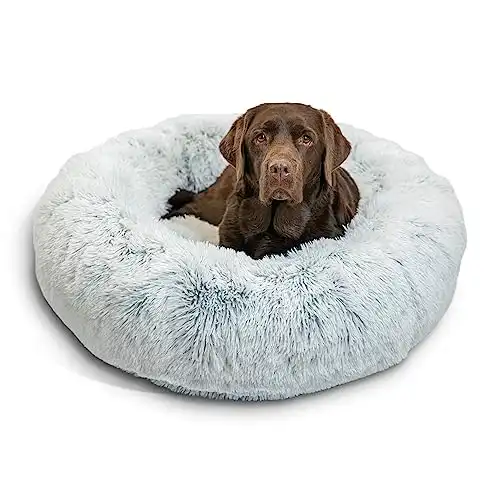 Guide to Selecting the Best Dog Bed for Huskies
The pet market out there has more than enough options to cater to Siberian Huskies of different ages, sizes, and with different needs. A good bed is an investment towards your Husky's good health and an assurance of great sleep. Here are some things to consider while selecting the right bed for your Husky.
Types of Dog Beds with Suggested Usage
1. Orthopedic Bed
Orthopedic beds, as the name suggests, are tailored for dogs with hip and joint issues like Arthritis and Hip Dysplasia. Orthopedic beds are typically made of memory foam, and egg crate foam or are air-filled. They provide relief to the dog's aching hip and joints in a way that normal foam and polyfill mattresses can't. They contour to the dog's body and provide a much better sleeping base.
2. Pillow Bed
These are soft, fluffy large pillow-like beds that act as a cozy resting spot for dogs and ample space for dogs to stretch out comfortably. They come in a variety of sizes and vary in plushness. While they make great options for puppies and healthy dogs, they aren't the best option for dogs with hip and joint issues. They are also lightweight and are quite portable, hence can be carried on trips and hikes.
3. Elevated Bed
Elevated beds have a minimally raised platform with typically a durable mesh fabric acting as a resting spot. It is highly breathable, ensures good airflow, and keeps the dog cool. They are hammock-like beds and provide a highly relaxing sleeping experience. They are especially useful if the floor is hot, cold, or too hard for the dog to sleep on.
4. Standard Rectangular Mat
These are some of the most popular and versatile bedding options for dogs. They come in an orthopedic option for dogs with hip and joint problems. They typically fit into crates and can be used indoors as well as outdoors. They are generally flat mat-like beds and come in different sizes, colors, softness, and thicknesses. It is a highly preferred option amongst dogs too as it is simple, and inviting and doesn't need the dog to hop on elevated surfaces or complex shapes.
5. Cooling Bed
Breeds like Boxers, Boston Terriers, Pugs, etc. are prone to heat strokes and overheating in summer months. Sleeping on warmer and plush beds may only make them feel hotter and may not help them cool themselves down as effectively.
Cooling beds are generally filled with memory foam, a gel-infused cooling pad, and a soft fleece exterior that is highly breathable. If you notice your Husky constantly moving away from their current bed and moving to cooler spots, this bed may just be for you.
Make sure you read our guide to the best cooling beds for huskies.
Further reading: Can huskies live in hot weather?
6. Nesting Bed
Nesting beds generally have a cushioned center and slightly raised edges and are mostly circular in shape. These beds are perfect for dogs that love to snuggle up and curl while sleeping. The raised edges create a comfortable space for the dog to rest their head and upper body. These beds are also great for anxious dogs as they feel a sense of calm and comfort while lying in Nesting beds.
Further reading: What do huskies like to sleep on?
Things to Look Out for While Selecting a Bed for Your Husky
An average dog spends over 12-15 hours of their day sleeping. It is only wise to make an informed decision while picking out the right dog bed for your Husky. Make sure to look for the following aspects –
Comfort that the bed can provide
Size of the bed
Durability
Traction, so that it does not keep slipping
Washability and ease of cleaning
Material and fabric
Support
Style and looks
Calming features
Water-resistant
Elevation or flat
My Recommendation
It is okay to not get it right from the get-go. Selecting the ideal bed for your Husky may take some amount of research and trial and error. Merely observing your dog's sleep patterns, habits, and preferences will give you a much better idea of what to buy for your pooch. Investing in a good quality dog bed can highly improve your dog's comfort, and health, and contribute to their overall well-being.
Overall I recommend the BedSure Orthopedic Dog Bed.
What dog beds have you tried?
Share your experience in the comments below.
Further reading:
FAQ about Dog Beds for Huskies
What are the best dog beds for huskies?
The best dog beds for huskies are specifically designed to provide comfort, support, and durability for this active breed. They come in various types such as orthopedic, cooling, pillow, mat, and bolster beds. We believe the overall best dog bed for huskies is the Bedsure Orthopedic dog bed.
What is an orthopedic dog bed?
An orthopedic dog bed is a type of bed that is designed to provide support and relieve pressure on your husky's joints and muscles. It usually features a memory foam mattress that conforms to your husky's body shape for optimal comfort.
Are cooling beds suitable for huskies?
Yes, cooling beds are suitable for huskies, especially in hot climates or during summer months. These beds are designed to regulate your husky's body temperature and keep them cool and comfortable.
What should I consider when choosing a dog bed for my husky?
When choosing a dog bed for your husky, you should consider factors such as the bed's size, durability, comfort, support, and ease of cleaning. It is also important to choose a bed that suits your husky's specific needs and preferences.
What is an elevated dog bed?
An elevated dog bed is a type of bed that is raised off the ground. These beds have a sturdy frame or legs that provide airflow underneath, keeping your husky cool.
Should I choose an orthopedic memory foam dog bed for my husky?
Yes, an orthopedic memory foam dog bed is a great choice for your husky. It provides excellent support for your husky's joints and muscles, especially for older huskies or those with orthopedic issues.
Is it important to keep my husky cool with a cooling bed?
Yes, it is important to keep your husky cool, especially in hot weather. A cooling bed can help regulate their body temperature and prevent them from overheating. It provides a comfortable sleeping surface that usually promotes airflow and dissipates heat.