Welcome to Husky Gifts – Where Husky Love Meets Unique Style!
Welcome to Husky Gifts, the ultimate destination for husky lovers seeking funny, cute, and cool t-shirts that celebrate their love for these magnificent creatures 🥰. As passionate husky owners ourselves, we understand the joy and companionship these lovable pups bring into our lives. That's why we've dedicated ourselves to curating a fantastic collection of t-shirts that perfectly capture the essence of husky parenthood and passion.
Our Hilarious and Quirky T-Shirt Collection
Prepare to be delighted by our wide range of t-shirts that combine humor, cuteness, and trendy designs. We believe that fashion should be fun, and our t-shirts are tailored to bring a smile to your face every time you wear them. From witty one-liners to charming husky illustrations, our designs are a true reflection of the unique bond between huskies and their devoted hoomans!
For the Proud Husky Dads
Express your pride in being a husky dad with our specially crafted t-shirt collection. Showcasing witty and clever phrases, these shirts are designed to be conversation starters and will surely get you nods of approval from fellow husky enthusiasts.
Explore our newest addition to the collection – the "Yes, I Know, I Need A Sled" T-Shirt, specially designed for husky dads who find themselves constantly hearing the same remark from strangers about needing a sled while walking or running their huskies every day. 😂
For the Devoted Husky Moms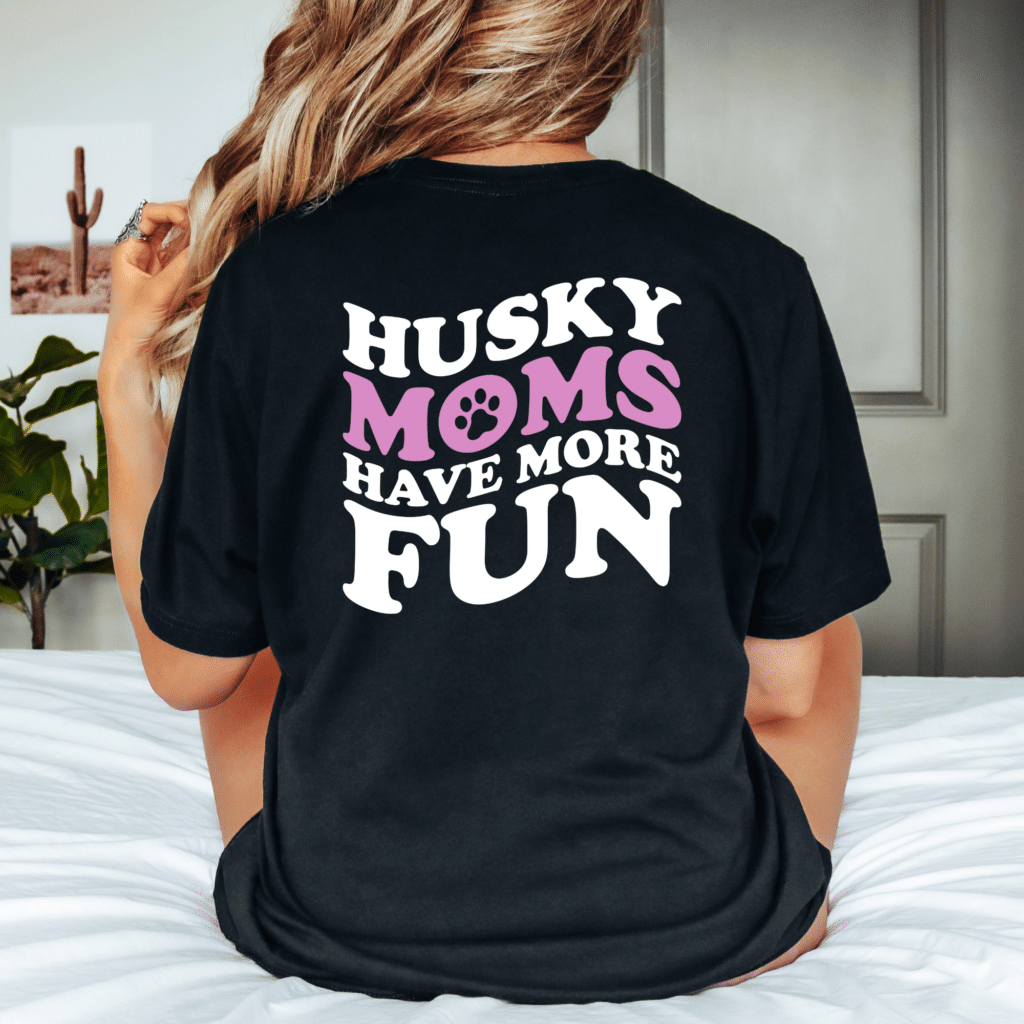 Our t-shirts for husky moms exude warmth and adorableness. Featuring heartwarming graphics and sweet messages, these shirts let you wear your affection for your husky on your sleeve, quite literally!
For All the Husky Lovers
Whether you own a husky or simply admire these majestic canines from afar, our t-shirt designs cater to everyone who holds a special place in their heart for huskies. Embrace your passion and let the world know how much you cherish these incredible dogs.
Commitment to Quality and Style
At Husky Gifts, we believe that the perfect t-shirt should not only be funny and cute but also comfortable and durable. We are committed to providing you with high-quality fabrics and prints that stand the test of time, ensuring you can flaunt your husky love for years to come.
Shop with Confidence
Your satisfaction is our top priority, and we want you to have a seamless shopping experience. If you ever have any questions or need assistance, our friendly customer support team is just a message away. Your happiness is what drives us to do better every day.
Expert Siberian Husky Guides
But that's not all – we're not just about fabulous t-shirts! As dedicated husky lovers, we want to equip you with everything you need to understand and care for your beloved huskies.
That's why we've launched our very own blog about the Siberian Husky Breed, filled with expert guides on Husky Training, Husky Behavior, Husky Health, Husky Nutrition, Husky Traits, and even Husky Mixes. Our aim is to provide you with valuable insights and knowledge to help you and your husky(s) live your best life.
Join the Husky Gifts Community
Become a part of our ever-growing community of husky lovers. Follow us on social media for the latest blog posts, special offers, and husky videos that are sure to brighten your day.
Ready to upgrade your wardrobe with hilarious, adorable, and cool t-shirts that speak to your husky-loving soul? Explore our collection now, and let your passion for huskies shine through in style!
P.S. Meet our adorable husky Lexa below, who inspires us every day! 🐾
Follow Us
YouTube
Subscribe to our YouTube channel.
Facebook
Follow us on Facebook.
This is where we share our latest husky guides.
Instagram
Follow us on Instagram
Tik Tok
Follow us on Tik Tok.
Pinterest
Follow us on Pinterest
Our Team
Business Address
We ship products worldwide with our base address in Australia.
Mailing Address: 10-12 Normandy Crescent, Ocean Grove, VIC, 3226, Australia
Phone Number
Phone Number: +61493659928