This post contains affiliate links. We will be compensated if you buy after clicking on our links.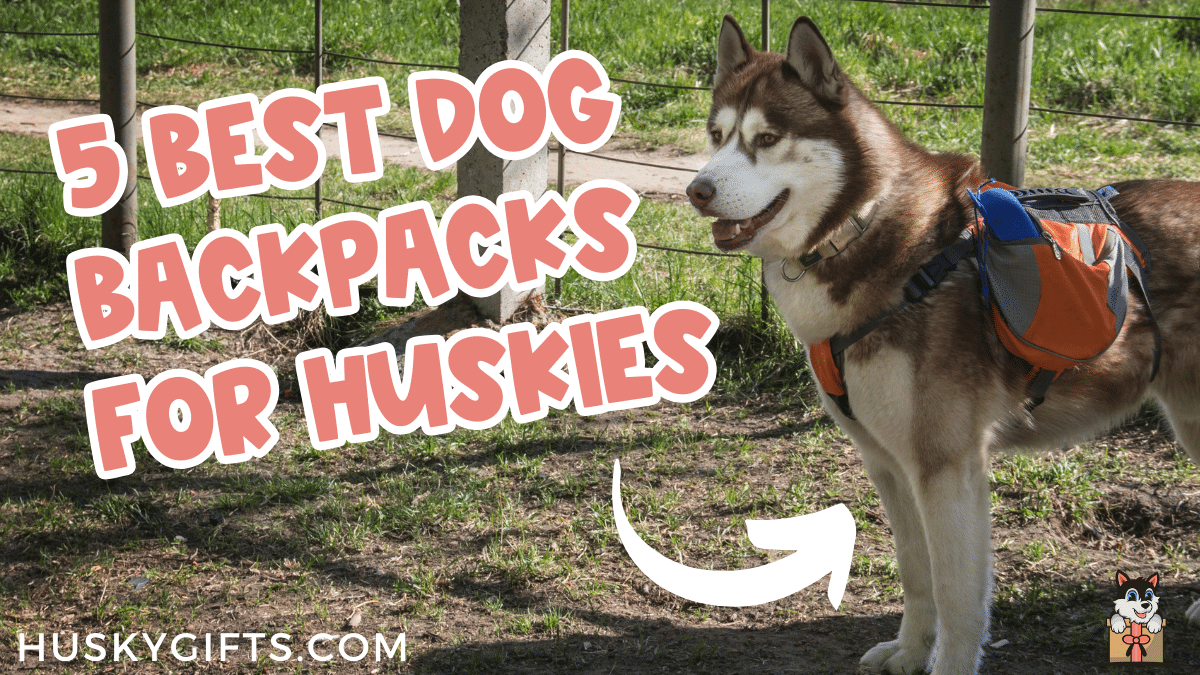 If you have a husky companion by your side, you know they're always up for an adventure! Whether it's a hike through the woods or a stroll in the city, these energetic pups love to explore. That's where dog backpacks come in handy. Imagine being able to bring your husky along while they do some of the heavy lifting for once!
In this guide, we'll discuss some of the best dog backpacks for huskies on the market today. We'll explore different options, discuss key features, and help you choose the perfect backpack for your next outdoor adventure. ⛰️ 🌲
5 Best Dog Backpacks for Huskies
09/28/2023 12:12 am GMT
The Excellent Elite Spanker backpack for dogs is a fantastic accessory that can make outdoor adventures with your husky even more enjoyable. It's made from strong and durable 900D Nylon material, and the stitching is neat and tight to ensure it lasts a long time.
Comfort Meets Functionality
The backpack has a soft padded lining that keeps your husky's skin and fur from getting irritated, so they'll be comfortable wearing it. You can also adjust the straps on the front and the belly of the backpack to make sure it fits your husky just right, no matter how big or small they are. Putting it on and taking it off is easy, too, thanks to the Duraflex quick-release buckle.
Stay Organized on the Go
What's really cool is that the backpack has a special zipper system called the YKK zipper molle system on the back, where you can attach any additional items you might need to the backpack. The backpack also has big pockets on the sides where you can put things like water, dog treats, and toys. There's even a spot for your own things like your phone and keys. Each side pocket also has an outside pocket that's the perfect size for holding an umbrella or other things you might want to strap on.
Lightweight and Sturdy
The backpack is tough and durable, but it is also really lightweight, weighing only 1.28 pounds. So your husky won't feel weighed down when they wear it. Just remember that while this backpack is great for carrying stuff, it's not meant to replace a harness if your husky pulls a lot. It's like a comfortable bag for them to wear, but it's not designed for really strong pulling.
Further reading: Best Harneses for Huskies
✅ Pros:
Durable 900D Nylon construction
The soft padded lining prevents chafing and discomfort for your husky
Adjustable front and belly straps for a secure and comfortable fit
Quick-release buckle
YKK zipper molle system for adding extra items
Spacious side pockets
Lightweight design at only 1.28 pounds
❌ Cons:
It is not intended to replace a harness for strong pullers
The OneTigris Dog Backpack is a great choice for husky owners who love going on outdoor adventures with their furry pals. This backpack is tough and packed with features that make it perfect for huskies and their active lifestyles.
Durable Build for Outdoor Adventures
One of the best features of the OneTigris Dog Backpack is its construction using 1000 denier nylon, a highly durable material that can withstand outdoor activities. The addition of a mesh lining ensures breathability, allowing your husky to stay comfortable even during longer outings.
Ample Storage and Customization
The backpack's 3L pouch provides plenty of storage space for essentials such as water bottles, dog food, treats, and toys. What sets this backpack apart is the two 2″ by 7″ loop panels on either side of the pouch. These panels are perfect for attaching additional gear using hook-and-loop attachments, making it easy to customize the backpack. The exterior horizontal umbrella pockets equipped with cross-bungee cords also offer a secure way to carry extra items.
Hair-Safe Design and Added Security
It also has a hidden zipper design, which prevents your dog's hair from getting caught in the zipper. This not only ensures your dog's comfort but also prevents accidental unzipping, providing added security during your adventures.
Secure and Comfortable Fit
For a secure and comfortable fit, the backpack features a hook-and-loop belly strap with UTX-Duraflex buckles. This strap helps keep the pack in place and wraps around your dog's neck and belly for stability. The adjustable straps, designed to fit different dog breeds and sizes, accommodate neck sizes ranging from 22 to 31.5 inches and chest sizes from 29 to 35.8 inches.
Safety Features for Peace of Mind
The reinforced grab handle, equipped with a UTX-Duraflex clip for leashes, adds an important safety feature. This handle proves especially useful in situations where your dog might need assistance, like if they accidentally slide down an embankment or fall into the water. The handle allows you to easily grab on to help pull your dog back to safety. It's worth mentioning that the wide and padded chest and belly straps contribute to your dog's comfort, but they might retain heat during the hot summer months.
Balanced Weight Distribution
Additionally, the OneTigris Dog Backpack is designed to distribute weight evenly, allowing for slight imbalances without affecting the pack's balance and centered position on your dog. However, it's best to try to make both sides of the pack as even as possible.
✅ Pros:
Durable construction
Mesh lining for breathability and comfort
3L pouch with loop panels for carrying essentials and extra gear
Hidden zippers to prevent fur from getting stuck and accidental unzipping
Safety handle for tricky situations
❌ Cons:
Padded straps may retain heat in warmer weather
Significant weight imbalances could affect stability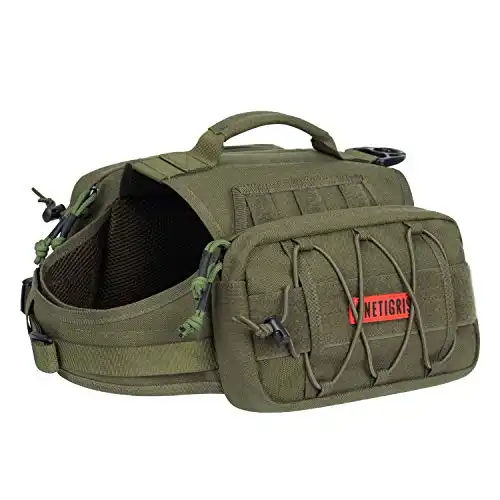 The OneTigris Y-Shaped Dog Pack is a great choice for huskies and their adventurous owners. OneTigris Y-Shaped Dog Pack's best feature is its Y-shaped harness design. This design helps evenly distribute the weight of the loaded packs across the dog's body, so the pack doesn't slide around on their back. Additionally, the Y-shaped design hugs the dog's torso, allowing for a full range of movement without hindering the dog's natural movements.
No-Pull Design
The pack also includes a no-pull D-Ring attachment point at both the front of the chest and the back. This feature is especially beneficial for huskies, known for their pulling tendencies. The front attachment point helps discourage pulling behavior, while the back attachment point can be used for dogs who don't have the tendency to pull as much.
Further reading: How to Train a Husky to Walk on a Leash Without Pulling
Top Grab Handle
The top grab handle on the pack offers a practical solution for lifting the husky, whether it's to help the dog over obstacles, assist in water crossings, or navigate tricky terrain.
Durability and Comfort
Crafted from high-quality nylon, the OneTigris Dog Pack is durable enough to last in all kinds of outdoor conditions. The lightweight and breathable design of the pack, coupled with the no-slide mesh lining, guarantees maximum comfort.
Zippered Side Harness with Pockets
The zippered side harness with pockets is a practical feature that caters to the needs of both the dog and the owner. Huskies can carry essential adventure gear such as water bottles, poop bags, toys, and snacks.
Further reading: Best Dog Treats for Huskies
Safety and Visibility
In terms of safety, the pack includes light reflective trim that enhances nighttime visibility. This feature not only ensures the husky's safety during low-light conditions but also promotes roadside safety for both the dog and its owner.
✅ Pros:
The design prevents slipping, distributes weight evenly, and allows for natural movement
D-Ring attachment points on the front and back for leash control
Includes a top handle for lifting and control of your husky
Reflective trim for visibility during nighttime
❌ Cons:
Designed for short trips, so limited in storage
Some dogs may need time to adjust to wearing a pack
For those who love exploring and going on adventures with their husky, having the right gear is super important. The Ruffwear Front Range Dog Day Pack is a great choice for husky owners who want to get outdoors with their dogs. This day pack is thoughtfully designed with various features that cater to the specific needs of active dogs like huskies.
Stability and Weight Distribution
One of the best features of this pack is the way it is positioned. The saddlebags of the pack not only provide storage for your husky's adventure gear but also help stabilize the pack and its contents. The weight-forward design helps distribute the load evenly, preventing the pack from shifting or bouncing around during vigorous activities.
Efficient Organization
Inside the saddlebags, you'll find internal stretch mesh pockets that allow you to organize your husky's gear efficiently. You can pack essentials like water bottles, treats, and other necessities securely so your husky can carry its belongings easily.
Perfect Fit and Comfort
The Front Range Day Pack can be adjusted in five different places, allowing you to achieve the perfect fit for your husky. The foam-padded construction of the pack ensures extended wear comfort, allowing your husky to enjoy its activities without any discomfort or chafing.
Assistance and Control
For those moments when your husky needs a little assistance, the padded handle on the pack proves invaluable. You can help your dog navigate obstacles or difficult terrain. Additionally, the padded belly strap enhances comfort and stability, ensuring that your husky can move freely and confidently throughout its adventures.
Versatility in Leash Attachment
The pack is really versatile, too. You can attach a leash to different spots on it, depending on what you're doing. For easygoing walks, you can clip the leash to the ring on the middle of their back. If you need more control, there's another loop on their chest.
Further reading: Best Leash for a Husky
Enhanced Visibility
The Front Range Day Pack incorporates tonal reflective accents that enhance visibility. This feature ensures that your husky remains visible even when the lighting conditions are less than ideal, providing an extra layer of security during dusk or dawn adventures.
Ruffwear also has a great guide to backpacking with your dog. This is something that the other brands don't have. Ruffwear certainly knows their backpacks! 👌
✅ Pros:
The weight-forward saddlebags stabilize the pack and its contents
Internal stretch mesh pockets help organize your husky's gear efficiently
With 5 points of adjustment, the pack can be customized to your husky's size
Tonal reflective accents enhance visibility in low-light conditions
Modern style! 😍
❌ Cons:
Careful measurement is necessary before purchase
The pack's quality and features may come with a higher price tag compared to simpler options
The OUOBOB Dog Harness Backpack is a great option for husky owners who want a comfortable and versatile accessory for their pets. This harness backpack boasts an array of features that make it stand out as an excellent option.
Durability and Breathability
The backpack is made from strong, breathable mesh material that consists of two layers of thickened mesh material. This design not only enhances durability but also ensures breathability, making it ideal for those hot summer months. This is especially important for huskies, given their thick coats and how easy it is for them to get too hot.
Comfort for Your Husky
Plus, the backpack is not heavy, so your husky won't feel weighed down, even when carrying essentials. The thoughtful design takes into consideration the comfort of your pet, with soft pads on the back of the backpack.
Multipurpose Design
The backpack is super handy because it works as both a harness and a backpack. This backpack also offers ample space to store supplies, making it ideal for day trips or longer excursions. Whether you're carrying water, treats, poop bags, or other necessities, this backpack has you covered.
Secure and Customized Fit
It also includes a sturdy D-ring and adjustable buckles on the neck and abdomen. The D-ring serves as a secure attachment point for a leash, ensuring that you can maintain control of your husky during walks. The adjustable buckles allow for a customized fit, ensuring that the harness backpack remains snug and comfortable on your dog.
✅ Pros:
Double-layered mesh material keeps your husky cool
Soft pads to ensure husky doesn't experience any chafing
Functions as both a harness and a backpack, making it convenient for carrying supplies on trips
❌ Cons:
Storage space may not be sufficient for longer trips
Finding the right fit for your husky might require careful measurement and adjustment
Recommendation
Finding the perfect backpack for your husky can greatly enhance your outdoor adventures together. From durable materials to comfortable designs, the best dog backpacks offer a convenient way to bring your furry friend along on hikes, walks, and travels while taking some of the weight off of your own backpack!
Remember to consider your husky's size, comfort, and the storage capacity you need before making a decision. With the right backpack, you can gear up and create plenty of lasting memories with your husky while exploring the world together.
Overall we recommend the Excellent Elite Spanker Backpack. 👈
What dog backpacks have your husky used?
Share your experience in the comments below.
Further reading:
FAQ

about Dog Backpacks
What is the best dog backpack for huskies?
The best dog backpack for huskies is the Excellent Elite Spanker Backpack. It is made from durable 900D nylon construction, has soft padded lining to prevent chafing and discomfort for your husky, adjustable front and belly straps for a secure and comfortable fit, quick-release buckle, YKK zipper molle system for adding extra items, spacious side pockets, and has a lightweight design.
Can I use a regular hiking backpack as a dog backpack carrier?
No, it is not recommended to use a regular hiking backpack as a dog backpack carrier. Dog backpack carriers are specifically designed with safety features and comfort in mind to ensure your dog's well-being while being carried. Also, your husky would much prefer to hike alongside you, not inside a backpack carrier! 🤔
How to find the best dog backpack for hiking?
To find the best dog backpack for hiking, consider factors such as size, durability, comfort, and additional features. Read reviews, compare different brands, and consult with other dog owners or professionals to make an informed decision.
Is it necessary to consult with a veterinarian before using a dog backpack?
It is recommended to consult with your veterinarian before using a dog backpack, especially if your dog has any pre-existing health conditions. They can provide guidance on whether it is appropriate for your dog and offer any specific recommendations.