This post contains affiliate links. We will be compensated if you buy after clicking on our links.
Siberian Huskies are a delightful mix of beauty, grace, and spunk. As if that wasn't enough, they are blessed with incredible strength too. A strength that can be arduous to manage on walks.
As a certified dog trainer and a behaviorist, I can vouch for the fact that investing time and effort in leash training early on can go a long way in making sure both you and your dog enjoy and look forward to your walks. However, investing in the right gear is a great starting point and, at times, half the battle won.
After having worked with countless Huskies and Husky pet parents on leash training, my favorite harness to recommend remains the Rabbitgoo Dog Harness with 2 leash clips.
This one ☝️ is the holy grail of harnesses as it has everything you need in a single product – multiple leash clips, sufficient padding, durability, and an excellent fit all at an affordable cost.
Let's take a look at some of the best harnesses out there for Siberian Huskies along with the pros and cons for each.
5 Best Harnesses For Huskies
09/15/2023 04:47 pm GMT
Overall Best Harness For Huskies
The RabbitGoo Dog harnesses are one of the most popular options on Amazon. My favorite part about this harness is that it has both front and back clips – I am able to toggle between the two when I need to.
They are specifically built to distribute pressure evenly around the body. Several harnesses end up leaving scars and rashes in sensitive areas of the dog's body. But when it comes to the RabbitGoo harness, the mesh material is soft on the dog's skin and it doesn't leave behind any marks or bruises.
The versatility they provide across multiple situations is incredible. I have observed that the dual clip harnesses allow pet parents to have a high level of functionality. The front clip-on can be used while training the dog to walk without pulling. The back clip-on can be used for a more relaxed walking experience. It is great for Huskies whose leash pulling is relatively manageable.
Pros:
Dual clips enable you to choose the kind of walking experience you want to have with your Husky.
It is lightweight and suitable for larger dogs like Huskies who have a wider girth.
The 2 metal leash rings, V-ring and O-ring on the chest provide multiple functionalities. So, you can keep switching between casual walking and heeling effectively. The sturdy handle at the back enables seat belt looping, thereby ensuring your dog's safety during car rides.
This pet harness is easy to wear with 2 quick snap buckles and is fully adjustable with 4 buckles, thereby leaving less room for resistance.
It is made with high-quality materials.
Cons:
If not fitted properly, this harness can be counter-productive. Ill-fitted dual harnesses can cause hindrance to the dog while walking and may cause musculoskeletal problems.
The size chart can be tricky to understand when ordering online.
Recommended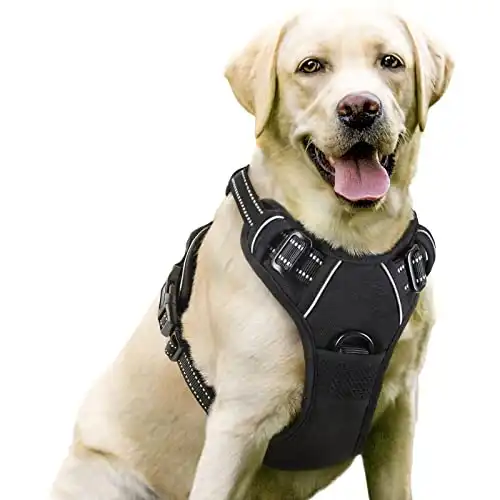 Best Tactical Dog Harness For Huskies
The Wingoin Tactical Dog harnesses are designed specifically for service dogs, military dogs, search and rescue dogs, etc, with features like sturdy handles for better control, padding for better support, and webbing and pockets for carrying gear.
These harnesses have several straps that go around the dog's body and help in keeping the dog close as and when needed. They are well suited to large dogs like Huskies.
If you are living a fairly active lifestyle with your Husky and if packing light is not your thing, the Wingoin tactical Harness is the right one for you. My dog and I are far from being homebodies. On any weekend or a day off, you'd find us on the road or possibly on a hike. This harness has been on almost all our adventures with us.
Whether you are looking to live an outdoor life with your Husky or engage him in a variety of tasks, the Wingoin Harnesses are designed to accomplish the task while enhancing performance and improving safety.
Pros:
They provide excellent support and are multi-functional
They are made with high-quality materials as they are specifically designed to accomplish tasks
They are easy to put on and take off, thereby reducing resistance from the dog
They have a reflective design, which can alert pedestrians and vehicles of the presence of your dog
Cons:
If not fitted properly, this harness can be counter-productive. Ill-fitted dual harnesses can cause hindrance to the dog while walking and may cause musculoskeletal problems.
The size chart can be tricky to understand when ordering online.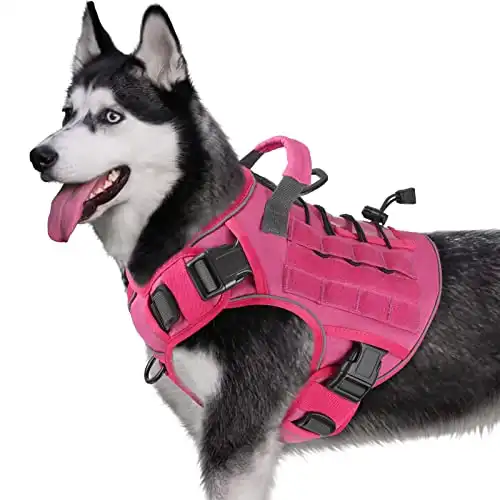 Best Running Harness For Husky
If there was a harness that was specifically designed for Huskies, it would be this one. This one is not just any back clip-on harness; it is a sled-dog harness built specifically for pulling activities. It is lightweight and the design helps in distributing weight evenly across the body.
Apart from using it for sledding activities, it can also be used by pet parents who go running with their husky, skating, cycling, skijoring, bikejoring, etc, with their Huskies.
However, if you have a leash puller at home, stay as far away from this harness as possible. The sled pro harness is designed to work in favor of your Husky's pulling instincts and not against it.
Pros:
The Neewa Sled Pro Harness is super lightweight. It makes sporting activities easier as it does not weigh down the dog.
Designed to evenly distribute pressure across the body, thereby preventing marks and rashes on certain parts of the body.
Perfect for families who engage in pulling-like activities with their Huskies.
Has padding on the neck and back to prevent bruises on the body. This harness is capable of handling intense pulling without hurting the dog in any way.
Durable, breathable, and comfortable.
Cons:
Not meant to stop leash pulling. This harness is designed to make pulling convenient. It would be a poor choice for leash training.
Not suitable for everyday walking as it might only encourage further pulling.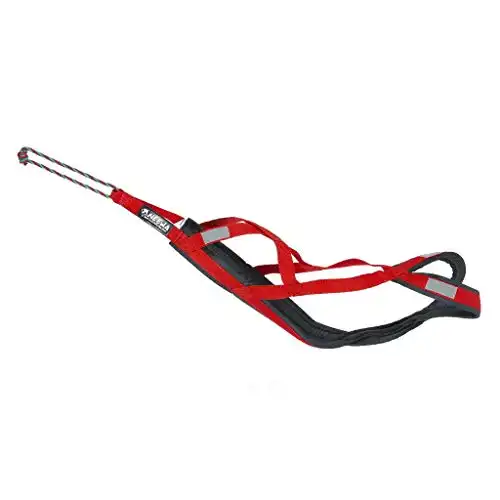 Best No Pull Dog Harness For Huskies
This is a MartingaleTM style harness that tightens and distributes pressure evenly throughout the chest and girth every time the dog pulls. It is one of the most humane and effective ways to correct leash pulling and improve communication on walks.
When adjusted correctly, the Freedom No Pull Harness makes it very difficult for dogs to escape from because of the martingale loop and the highly customizable fit. This is especially important because Huskies are PRO escape artists.
When training with this harness, I have observed that it reduces pulling by a good margin. However, it must be noted that no harness, including the one that says "no-pull" can be trusted completely to put an end to leash pulling. It is only a great training assist. Investing time and effort in teaching your Husky leash skills must go hand in hand with the right kind of tools.
Pros:
The Freedom Harness is super easy to put on and take off, thereby reducing resistance.
Resistance from bigger and more agile dogs like Huskies can be tricky to handle while putting on and taking off a harness.
It has 2 loops, one at the back and one at the front, thereby enabling the pet parents to choose the walking experience they wish to have.
The Freedom Harness fits below the trachea and above the leg muscles and prevents choking. It gives the dog a full range of leg motion.
Cons:
If not fitted properly, it can interfere with movement and may also choke the dog.
It has a minimal design with just 3 belts. There have been multiple reviews of the harness snapping when being used for reactive dogs and excessive, strong pullers.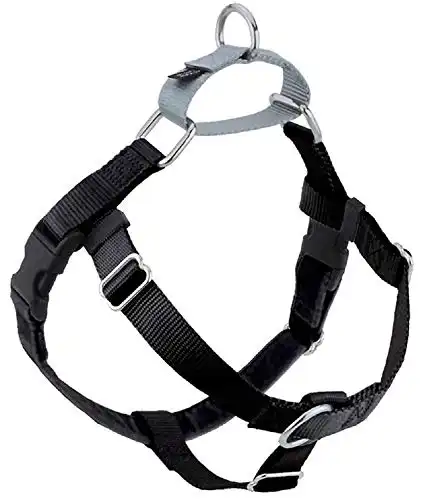 The PetSafe easy walk harness is specifically designed to reduce pulling. It comes with a MartingaleTM loop that evenly tightens every time the dog pulls.
This harness is one of the most widely used when it comes to leash training. I especially love recommending this harness because of its multi-functionality.
The leash that clips on at the chest gives the pet parent direct control of the dog's frontal area. It helps them pivot the dog's chest around to face the pet parent every time the dog pulls on the leash. This mechanism also works great for reactive dogs as it helps in breaking fixation and enables better redirection.
Pros:
The front leash attachment provides excellent control and helps stop pulling. This makes it an amazing choice for leash training.
It is super lightweight and breathable. The harness focuses entirely on its no-pull feature and comes with a minimal design. This makes it easy for pet parents to put it on and take it off with the least resistance from their dog.
It doesn't gag or choke the dog while providing corrections, which makes it a humane correction tool.
With ample usage of the harness, I can vouch that it is durable and does not snap easily, regardless of the severity of leash pulling.
Cons:
The coverage may not be sufficient for some dogs and may leave behind marks after excessive pulling.
If not fitted correctly, it may hamper freedom of movement.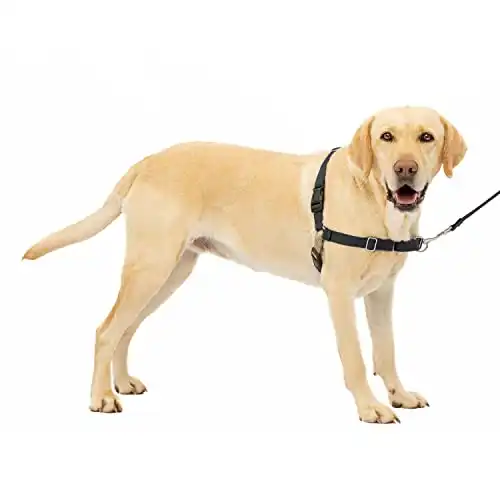 Best Harnesses To Avoid For Huskies
Having used countless types of harnesses, leashes, and collars while leash training Huskies, my least favorite one to recommend is the Chest Strap harness. With only the belt buckles being adjustable, the excess padding and mesh coverage of the harness may or may not fit well on the dog. It is also quite tricky to get the fitting of both belts right.
An ill-fitted chest strap harness can choke your Husky and can cause excessive hindrance while walking, especially if it's too close to the dog's shoulder. This is highly likely to happen as the strap may become loose if your Husky pulls excessively.
Guide to Buying the Best Harness for a Husky
Types of Dog Harnesses
Dog leashes, collars, and harnesses make up a sizeable chunk of the multi-billion-dollar pet industry. Pet parents are spoilt for choices because of the plethora of options available on the market.
Over the course of my training career, I have used almost every kind of harness there is, including but not limited to no-pull harness, tactical harness, sled-dog harness, MartingaleTM harness, step-in harness, safety harness, day-pack harness, etc.
However, all of these harnesses can be broadly classified into 3 types.
Back clip harness
Back clip harnesses are the most popular type and the oldest ones that have been in existence for centuries. These harnesses have a D ring that goes at the back of the dog when fitted properly. They are designed to provide dogs with better body support as compared to a regular collar and are considered to be one of the most affable types of walking equipment.
There are several types of back clip-on harnesses available both online and offline such as mesh harnesses, minimal belt style harnesses, step-in harnesses, etc.
Front clip harness
Front clip harnesses are specifically designed for training a husky to walk on a leash without pulling. This type of harness clips on at the chest of the dog. They provide pet parents with extra control while walking and help reduce pulling by enabling dogs to pivot back to the owner every time they pull on the leash.
Dual clip harness
Dual clip harnesses have a D ring at the front and at the back for the leash to be attached. This is a great option for pet parents who like to toggle between front and back clips depending on how their Husky is walking. Dual clip harnesses generally provide great body support and must be snug when fitted.
The tools that we use for training a husky can make or break the entire process. A good harness has the ability to greatly improve the leash walking experience. A well-fitted harness can keep your dog safe and secure, prevent escapes, enable better leash walking, and prevent musculoskeletal problems.
Size and Fit
A dog harness should be snug when put on but not too tight. It should be loose enough to allow freedom of movement but tight enough to prevent escapes and slip-outs. You should be able to insert 2 fingers between the harness and your dog from all sides of the attachment.
There is a harness for every size out there. When ordering online, make sure to measure your dog's girth, chest, and belly in order to avoid the hassle of returns and exchanges.
The harness must also fit excellently well to improve performance. Eg, if a front clip-on harness is way too close to your dog's legs, it may impede movement and cause joint and musculoskeletal problems.
Intended usage
Just like there is a harness out there for every dog, there is one for every type of intended activity. Eg, sled dog harness, no-pull harness, tactical harness, etc.
If you are dealing with severe leash pulling with your Husky, the no-pull harness is your best bet.
On the other hand, if you are someone who engages in fun activities like skijoring or bikejoring with your Siberian bud, the sled harness is the one for you.
Must reads:
Your Husky's harness preference
Taking your dog's preference into consideration is an equally important aspect of harness shopping. Certain types of harnesses like tactical harnesses and front clip-on harnesses may make some Huskies uncomfortable because of their tendency to weigh the dog down or impede movement.
If the harness is properly fitted, yet makes your dog seemingly uncomfortable, consider buying a different harness. Your dog's safety and comfort must be your primary goal.
Other features
It is always nice to have cherries on top of the cake. In the competitive world of pet supplies, the brand that focuses on providing additional features at an affordable cost usually wins.
Look for features like a reflective material for added safety, ample cushioning for added comfort, multiple rings and handles for better control, and so on to get your money's worth out of a harness.
Final Thoughts
Leash walking is an activity that pet parents spend a lot of time perfecting. A good walk with a Husky is a union of multiple factors – a dog that is willing to learn, a pet parent that is willing to train the right way, and the right gear.
As experts on all things Huskies, we have listed the best harnesses for huskies.
Tell us about your walk stories with your Husky in the comments below!
Prefer to use a collar instead of a harness? Read my guide about choosing the best collar for a husky.
FAQ
What is the best harness for a husky?
The best harness for a husky is one that has multiple leash clips, sufficient padding, durable material, and a good fit to prevent your husky from escaping.
What type of harness is best for a husky?
The type of harness that is best for your husky depends on the intended use. If you want to prevent your husky from pulling while walking, use a no-pull harness. If you want to go running, bikejoring, or skijoring, then use a sled harness. If you are going hiking or on an adventure, a tactical harness would be best.