This post contains affiliate links. We will be compensated if you buy after clicking on our links.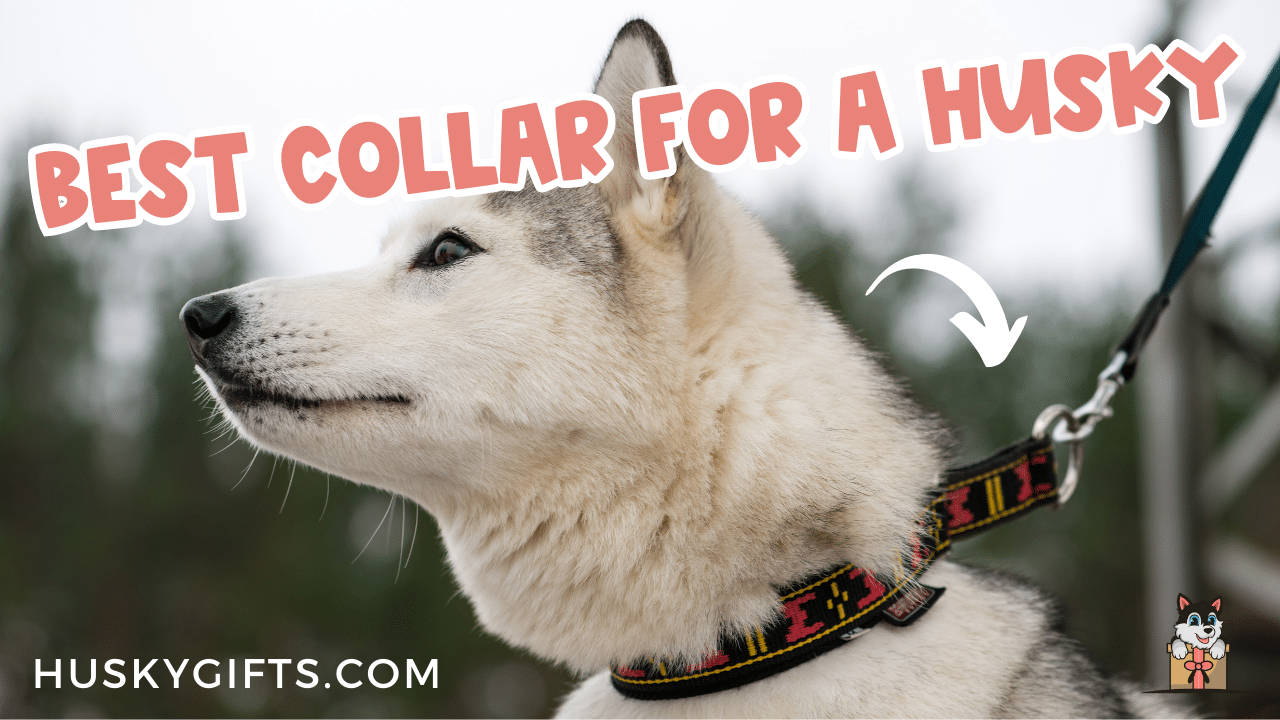 I strongly believe that a collar is like a dog's crown! 👑 When fitted properly, it keeps their head high. Every Husky's needs and preferences are different. And, with the pet industry booming, there is something for everyone out there. You just have to know where to look and what to see. Picking the best collar for a husky is not rocket science.
The right collar makes the leash walking experience a walk in the park, quite literally! As a professional dog trainer, I have tried and tested hundreds of collars and harnesses on Huskies and I'm here to say that choosing a collar eventually boils down to two steps – identify the essential, and eliminate the rest.
For most purposes, my personal favorite is the Wolfgang Man & Beast Martingale Dog Collar. 👈 Not to sound superficial, but apart from its usage, durability, and humaneness, this collar comes in a plethora of dynamic patterns, colors, and designs. Who doesn't like a collar that not only feels good but also looks fashionable?!
Best Collars for Huskies
$13.99

$7.99 ($7.99 / Count)

$14.99

$13.99 ($13.99 / Count)
09/18/2023 06:21 pm GMT
Best Flat Collar for a Husky
These are the traditional style of collars that are most widely used by dog parents. They work great for all dogs in general and for all breeds, ages, and sizes. They work great for daily walks, trails, hikes, and other generic activities.
Who doesn't love a reasonably priced, pretty-looking collar that is not only made of a breathable material but is also padded? The Joytale flat collar has over 42,000 ratings on Amazon and is one of the most popular choices for flat dog collars. When fitted well, this collar is great for walking a Husky that is not big on pulling. Personally, a great fitted flat collar, a standard leash, and some high-value treats can do wonders when training a Husky puppy to walk well on a leash without pulling.
Pros:
Comes in a variety of colors and options to choose from
The reflective material of the collar provides added safety in the dark
The collar comes with soft padding that reduces the impact of sudden pulls
Very reasonably priced for the quality of the product
Cons:
May not be the best option for heavy leash pullers
Flat collars may work well for specific and intensive training purposes
Best Flat Collar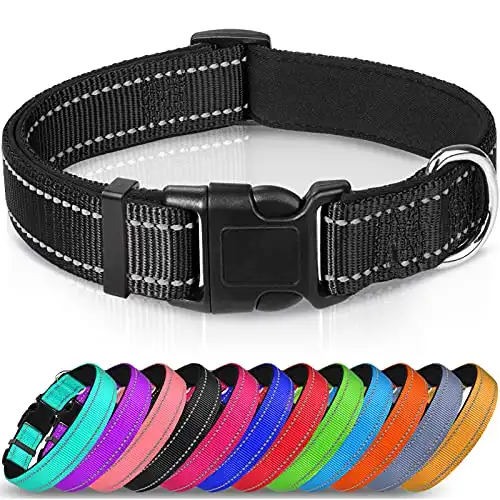 Best Smart Collar for a Husky
We are in the age of all things smart; including smart dog collars. These collars have multiple functionalities like GPS tracker, health monitor, virtual and geo-fencing, activity monitoring, etc, in order to help pet parents better manage and care for their dogs. Pet parents have the option of buying one depending on their requirements and their lifestyle with their dogs.
Further reading: Best tracking device for huskies
The Tractive GPS Tracker for Dogs is not technically a collar, but an attachment to it. It enables you to track your dog's live location and location history. What I also love about this tracker is the extra features that it provides such as a virtual fence, an option to monitor activity levels, and the 'find mode' feature that enables you to find your dog even in low signal zones.
Pros:
Offers a plethora of features like live tracking, virtual fence, activity monitoring, find mode, etc
The Tractive GPS tracker is 100% waterproof and shock resistant and can withstand a little bit of wear and tear
It has an unlimited range
It provides real-time location tracking, which means it is perfect for wanderlust pets
It also has a light and sound feature for sneaky pets
Cons:
It is subscription based, which may not be preferred by several pet parents
There could be occasional interference in GPS signals, especially in remote areas
Best GPS Tracker
Best Prong Collar for a Husky
Prong collars, also known as pinch collars, are widely used for training purposes while tackling behavioral issues like leash pulling, reactivity, aggression, etc. These metal collars have spikes on the inside which are designed to provide correction to the dog when they behave in an undesirable manner while on a leash. The use of prong collars is considered to be an aversive dog training technique and is highly debatable in the dog training industry.
As a dog trainer, my preference leans towards positive reinforcement training. But keeping an open mind is one of my strongest suits. If I were to buy a prong collar for my Husky, I would go for the Supet prong collar with a quick-release buckle. The makers of this collar are sensible enough to understand that a dog's neck is a sensitive area and it should not be tortured with extremely sharp edges.
Pros:
The prongs of the Supet training collar are smooth and rounded and do not hurt the dog's neck as much
The product has a nylon covering to hide the prongs and will let you walk your dog without the judging eyes of people passing by
It is adjustable and has a quick-release buckle
Cons:
If fitted or used incorrectly, this collar may harm your dog
Best Prong Collar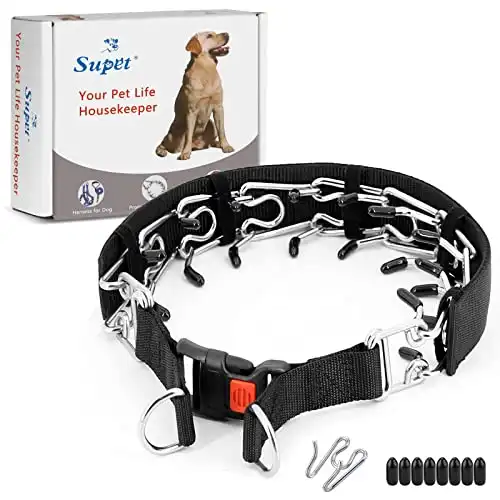 Best Choke Collar for a Husky
The main objective of a choke chain is to tighten around the neck in order to correct the dog when they perform undesirable behaviors. It is used as a corrective measure while leash training a dog. The most important thing to remember about the choke chain is that it is more of a communication tool rather than punishment equipment. It is crucial to strike a balance with positive reinforcement when training with aversive collars like these.
The Max and Neo Stainless Steel Chain Martingale Collar comes close to being a humane version of the traditional choke chain. The part nylon and part stainless steel chain combination makes the collar easier on the dog's neck and does not hurt as much. The best part about this collar is that it only tightens when the dog pulls on the leash, thereby giving effective correction only when needed. The rest of the time, it is slack and barely touches the dog's neck.
Pros:
The Martingale feature of the choke chain makes it a humane tool to use for training purposes
It works better than a regular collar when training a Husky to not pull on the leash
When fitted correctly, it is loose enough for a dog to feel comfortable, yet tight enough to prevent escape attempts
Cons:
Most people do not press down the fur to get a correct measurement. This leads to them over-measuring their dog's neck and they end up ordering an incorrect size
Best Choke Collar
Best Martingale Collar for a Husky
Martingale collars are considered to be a humane form of choke chain that doesn't hurt the dog as much. They are one of the best tools to teach a dog to reduce leash pulling. They provide better control as compared to traditional flat collars as they strategically tighten at the neck to reduce pulling without severely choking the dog.
Amazon has the most versatile and pretty-looking collection of Martingale collars. However, one that really stands out is The Wolfgang Man & Beast Premium Martingale Dog Collar. Not only does it come in a variety of dynamic prints, designs, and colors, but it is also reasonably priced, durable, and built to last.
Pros:
This brand offers a variety of dynamic prints and designs
It is durable and is pull-tested to over 800 lbs! 😯
These collars are easy to clean, stain and UV-resistant, and abrasion-resistant, which means they will keep looking new for a long time
Cons:
If fitted incorrectly, your dog may be able to escape out of the collar
Best Martingale Collar
Best Head Halter for a Husky
Head halters are training tools that are specifically designed to strap around the dog's snout and behind the ears with a ring under the chin to attach the leash. The main objective of the halter is to give complete control of the dog's head to the handler in order to limit their ability to pull, lunge and be reactive.
While there are several options out there with extra padding and thick straps, I personally like to recommend head collars that are as minimalistic as possible. This is because it goes directly on the dog's muzzle and anything extra may be a cause for irritation. The Petsafe Gentle Leader is an excellent head collar and gives you direct control of your dog's head, a necessity while training leash pullers and reactive dogs.
Pros:
The Petsafe Gentle Leader comes from a credible source as it is designed by a veterinary behaviorist
It is designed with minimal straps to minimize frustration and excess weight on the dog's muzzle
It is quite easy to fit with a quick-snap neck strap and adjustable nose loop
Cons:
Several dogs do not take well to Head collars despite several attempts
It won't fit dogs with shorter snouts
Best Head Halter
Best Shock Collar for Huskies
E-collars typically come with a handheld remote control that controls the stimulations and vibrations on the collar from a distance. Most e-collars offer multiple stimulation levels, thereby allowing you to adjust the intensity depending on the level of correction you intend to provide.
Picking the best shock collar for a husky aka e-collar is a massive undertaking. It is crucial to understand your dog's behavior and their responses to triggers before trying to slap on an e-collar in order to nip the behavior in the bud. For this reason, I recommend going for the Mini Educator ET-300-1/2 Mile Remote Controlled E-collar.
It has 100 training levels ranging from extremely mild to severe depending on the intensity of the behavior. It is a highly versatile collar and can be used for a variety of purposes such as competitions, police k-9 work, hunting, large field training, backyards, etc.
Pros:
The range of this collar is up to half a mile with a fully waterproof remote control
The bundle also comes with a clicker. This provides pet parents an option to imbibe clicker-based positive reinforcement training into their behavior modification program
With 100 training levels including tone and vibration modes, this collar allows you to alter your corrections based on the intensity of the behavior
Cons:
If used incorrectly or by inexperienced owners, this collar may cause more harm than good
The biggest con of e-collars is that they do not deal with the root cause of behavioral issues but only act as band-aids over problems
Best E Collar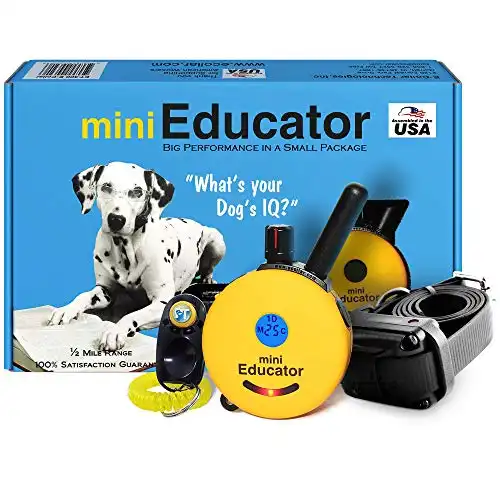 Best Slip Collar for a Husky
Slip collars are designed to tighten and loosen around the dog's neck as and when the leash pressure is applied. This collar should be positioned high on the dog's neck, just behind the ears, with enough slack to easily pass the dog's head but tight enough to prevent slipping off.
The Aiminto Nylon Rope Pro Training Dog Collar is a simple yet effective slip collar that goes on easily on a dog's neck and acts as a training assist when dealing with leash pulling and reactivity issues.
This is also a Martingale-style collar with a slidable O-ring that is hard to move but is important to get the collar to the perfect size. I would recommend using this collar temporarily in the initial phase of dealing with leash walking. Slip leads are not the most humane collars when it comes to daily usage for leash walking your Husky.
Pros:
This collar is extremely durable and is designed to withstand wear and tear from a leash-pulling Husky
The Martingale style combined with the slidable O ring prevents escape attempts
This collar comes in 3 different thickness levels for different breeds and sizes
Cons:
If not used correctly, slip leads can cause harm to untrained dogs because it doesn't stop tightening unless the dog stops pulling
Best Slip Collar
How to Choose the Best Collar for a Husky
Investing in the right walking tools like leashes, collars, and harnesses is imperative considering the sheer number of walks we are going to be taking with our Huskies in a lifetime. Here are some factors to consider while choosing the right collar for your Husky.
Size, Fit, and Adjustability
With all that fur around your Husky's thick neck, it is crucial to select a collar that is snug but not tight. It must be thick and wide enough to distribute pressure evenly but lightweight enough to not weigh your dog down. Avoid collars that may end up trapping their fur.
Husky Collar Size
To determine the correct collar size for your husky, you'll need to measure the circumference of their neck. Use a soft measuring tape or a piece of string to measure around the base of their neck, where the collar would rest.
Siberian huskies have a neck circumference of 16-20 inches, with females having a smaller neck than male huskies. Some huskies, especially husky mixes, can fall outside of this range though. With that being said, most huskies will need a medium or large-sized collar. Most collars are adjustable so a medium collar that is looser or a large collar that is tighter can also work.
2-Finger Rule
Do you know about the two-finger rule while fitting your dog's collar around their neck? According to this rule, there should be enough space between your dog's neck and the collar for two of your fingers to slide in effortlessly. If you are able to slide in three fingers easily, the collar is too loose. If you need to make an effort in sliding two fingers, the collar may be too tight!
Utility
The purpose for which the collar is to be used must be the primary decider of the type of collar to be purchased. A standard, flat collar will suffice for daily walks. However, for a Husky that is a severe leash-puller, a Martingale collar or a gentle leader may be a better choice.
Durability
Huskies are famous for being escape artists. Be it from the backyard or from the collar, they know how to find their way out. A collar and a leash are the only two things that keep your dog close to you on walks. Make sure that they are durable enough to withstand wear and tear.
Recommended: Best leash for a husky
Material
Huskies are furry dogs, so a collar with soft padding is necessary to prevent chafing and discomfort and to ensure proper pressure distribution. Avoid collars with rough materials that may trap their fur or cause skin irritation.
Safety & Additional Features
Reflectiveness, extra padding, and extra D-rings are all good-to-have features that ensure added safety, comfort, and a fashionable look. It never hurts to look and feel good!
Is a Collar or Harness Better for a Husky?
The choice between a collar and a harness for a husky can depend on several factors, including the individual dog's temperament, behavior, and specific needs. Both collars and harnesses have their advantages and considerations. Here's a breakdown of each option:
Collar Pros
Simplicity: Collars are straightforward and easy to use. They consist of a strap around the neck with a buckle or clip for attachment.
Control: For dogs that are well-behaved on a leash and don't pull excessively, a collar can provide sufficient control.
Identification: Collars typically have a place to attach identification tags with important information, such as the dog's name and owner's contact details.
Collar Cons
Neck strain: Some huskies have a tendency to pull hard on the leash, and this can put a strain on their necks and potentially lead to injury.
Escaping: Huskies are known to be escape artists, and if not properly fitted or secured, they may slip out of a collar.
Harness Pros
Control and Reduced Strain: A harness distributes the pulling force across the dog's chest and shoulders, reducing strain on the neck. It can provide better control over strong pullers.
Escape Prevention: Huskies are less likely to slip out of a properly fitted harness compared to a collar.
Training Aid: Harnesses can be helpful during training sessions, as they allow for better redirection and control.
Harness Cons
Extra Adjustments: Harnesses often have more straps and buckles, so they may take slightly longer to put on and adjust compared to collars.
Heat Retention: Some harness styles cover more of the dog's body, potentially leading to increased heat retention, which could be a concern in hot climates.
Check out my recommendations for the best harnesses for huskies.
Ultimately, it's important to consider your husky's individual needs and maybe consult with a professional dog trainer. They can assess your dog's behavior and provide personalized recommendations to determine whether a collar or a harness would be more suitable for your husky.
Recommendation
My favorite is the Wolfgang Man & Beast Premium Martingale Dog Collar. This will suit most huskies in most scenarios, it's durable and comes in a wide range of colors, patterns, and designs.
Let us know in the comments below which of the collars is a right fit for your dog?
Need help with training your husky? Read my ultimate guide about how to train a husky.
Further reading: 👉 Best Dog Backpack for Huskies
What is the best collar for a husky?
The best collar for a husky is one that is made of high-quality materials, is durable, and fits comfortably around your husky's neck. However, for most situations, you can't go wrong with the Wolfgang Man and Beast Premium Martingale Dog Collar.
What should I look for when choosing a collar for my husky?
You should consider the size, fit, adjustability, purpose, durability, material, and safety features like reflectiveness, padding, extra D-rings, etc.
Can I use a regular dog collar for my husky?
Yes, you can use a regular dog collar for your husky, but it is important to make sure that it fits properly and is made of high-quality materials. A collar that is too tight or too loose can be uncomfortable or even dangerous for your husky.
What is the best training collar for a husky?
The best training collar for a husky depends on your training goals and your husky's temperament. Training collar options include the Martingale collar, prong collar, choke collar, slip collar, shock collar, and head halters.
What is the best collar for walking a husky?
The best collar for walking a husky is one that fits comfortably around your husky's neck and has a sturdy leash attachment. The Wolfgang Man and Beast Premium Martingale dog collar is a great option.
Should I choose a buckle-style collar or a quick clip collar for my husky?
Both buckle-style collars and quick clip collars can be safe and effective for huskies. It is important to choose a collar that fits properly and has a sturdy closure.
Are there collars for huskies that use two metal pins to discourage pulling?
Yes, some collars for huskies, like the prong collar, use two metal pins to discourage pulling. However, these collars can be controversial and are not recommended for all huskies or all training situations.