This post contains affiliate links. We will be compensated if you buy after clicking on our links.
Happiness is a long walk with your Husky. Getting a Husky essentially means signing up for thousands of walks over the course of several years. It only makes sense to invest in the right equipment to make these walks as enjoyable and comfortable for both yourself and your Husky. With the plethora of options in the market, there is a leash available to suit every breed, temperament, energy level, and lifestyle.
Over the course of my career as a dog trainer/behaviorist, I have tried and tested hundreds of dog leashes – retractable, standard 4-6ft nylon, rope, slip lead, long lead, and so on. In my experience, simplicity is the ultimate sophistication. For regular, daily walks with a moderate puller, nothing works better than a standard leash with multiple handles.
The Max and Neo Triple Handle Traffic Dog Leash is the overall best leash for a husky and remains one of my highest-recommended leashes. Apart from it being durable, it has 3 handles for better traffic control. It is highly reflective, thereby making your Husky more visible to those around you. 
Best Leashes for Huskies
09/15/2023 02:42 pm GMT
#1 Overall Best Leash for a Husky
The Max and Neo Triple Handle Traffic Dog Leash works great for daily walks with moderate pullers. Its minimal design and weightlessness make it easy for pet parents to use on a regular basis. It is also an excellent leash in unpredictable scenarios like sudden encounters with dogs, traffic, etc., because this leash allows you to hold him closer and quickly restrain him.
Pros:
The Max and Neo triple handle traffic leash ensures maximum safety because of features like triple handle, reflectiveness, and heavy-duty nylon webbing design
It offers great value for money as it is quite reasonably priced
The leash provides better control and will help you handle and train your dog effectively in tricky situations
This leash comes in both 4ft and 6ft options; thus, you can decide how much freedom you want to provide your dog with
Cons:
It may not be the best leash for severe pullers
Although it can withstand moderate amounts of pulling, it may not be able to withstand your dog sinking his teeth into it and trying to shred it
Top Pick
Best Leash for Pulling Husky
The AUROTH No-Pull Dog Leash is a heavy-duty dog leash that is designed to withstand heavy pulling, wear, and tear while at the same time reducing the impact on the dog as well as the pet parent's hand.
The bungee cord design of the leash is not only shock resistant but also provides added freedom and safety while walking. I personally enjoy using this leash while dealing with heavy leash pullers because of the ease of control it provides and its ability to keep the impact at both ends to a minimum.
Pros:
There are two padded handles to this leash; one which can be used for walking and running and one that can be used to get better control of the dog in crowded areas
The bungee cord design works excellently in reducing impact and providing more freedom to sniff
It is made from a durable nylon material and is designed to withstand heavy and regular wear and tear
Its highly reflective feature provides added safety at night
Cons:
Toggling between the two handles, especially with the bungee cord may be tricky for many. While crossing another dog or person, the bungee cord may make it possible for your dog to interact with others if not controlled properly
The leash is durable and can withstand heavy pulling, but does nothing to stop the pulling in any way
Best No-Pull Leash
Best Retractable Dog Leash For Husky
Retractable leashes, when used correctly, have the ability to make walks super enjoyable for both humans and dogs. I personally love the TUG 360° Tangle-Free Retractable Dog Leash, mainly because of its tangle-free feature and ease of use. It works great for Huskies who are low to moderate pullers and don't engage in leash-biting behaviors. Its nylon extension rarely causes leash burns as opposed to wired retractable leashes.
Pros:
It is durable and built for larger dogs, thus it can withstand a little bit of wear and tear from your Husky
Its lock and unlock feature can be toggled with a thumb which ensures safety at the tip of our fingertips, quite literally
Quite often, sudden jerks may lead to the retractable leash slipping out of the human hand. This leash's ergonomic, anti-slip design prevents the scope of such accidents
The leash is designed to have a tangle-free retraction, thereby giving dogs 360-degree freedom of movement
The one-handed break not only has the option to lock and unlock the leash but also pause it
Cons:
The TUG 360° retractable leash may not be the best option for heavy pullers as the extendable nylon leash may not be able to withstand severe wear and tear
It may not be the safest option in crowded areas
Best Retractable Leash
Best Multi Function Dog Leash For Huskies
The Guiding Star Multifunctional 8ft Leather Dog Leash makes the list because of the sheer versatility it offers. It has multiple adjustments for you to be able to use it in different configurations. The multiple D-rings, clasps, and adjustable sections allow you to change the length of the leash and even use it hands-free if needed. Furthermore, if you have multiple dogs, this leash can be tweaked to walk both of them together.
Pros:
The genuine, soft leather material prevents leash burns, is easy to handle, and classy to look at
The leash can be adjusted to be anywhere between 4 to 7.5 ft, thereby giving you the freedom to adapt to different walking environments or activities
It comes with a hands-free option which can be convenient during activities like running or when you have other stuff in your hands
This leash works great for training purposes too. You can adjust the length or configuration of the leash to suit different training exercises or techniques such as heel work or obedience training
Cons:
The different kinds of adjustments may slow some people down and may affect their handling ability
If not used correctly, the adjustable leash may hinder training progress rather than improve it
Best Mult-Function Leash
Best Hands Free Dog Leash For Huskies
The Tuff Mutt Hands-Free Dog Leash makes an amazing tool for activities like running, hiking, etc. that requires minimal dog handling. This leash has a bungee cord which reduces the impact on the waist and on the dog's neck. It works great for breeds like Huskies that make great running companions.
Furthermore, it enables you to multi-task while walking and ensuring that your dog is close to your body all the time. My dog and I do not step out for intensive outdoor activities without this leash connecting the two of us.
Pros:
The Tuff Mutt Hands-free leash provides incredible freedom of movement for both dog and the dog parent
The leash has an easy glide belt clip which allows your dog to move from side to side without hindering your movement in any way
The bungee cord is shock resistant and reduces impact on the human as well as the dog's body
It is also reflective, thereby improving visibility at night
Cons:
The Tuff Mutt hands-free leash may not be the best option for severe pullers. Multiple sudden jerks may cause harm to the human body
It may not be able to withstand your Husky sinking his teeth into it, trying to rip it
Best Hands Free Leash
Guide to Buying the Best Leash for a Husky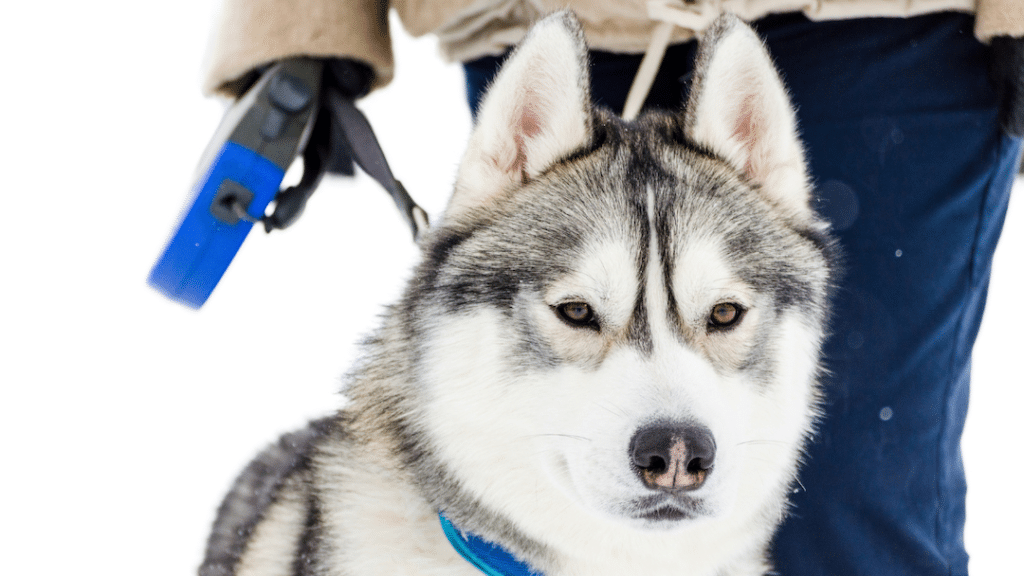 Types of leashes with suggested usage
Nylon leash for daily leash walking purposes
Nylon is the most widely used material in dog leashes. Nylon leashes can withstand low to heavy wear and tear and can hold up well against pulling, tugging, biting, etc. They are lightweight, which makes it easy for pet parents to use them on a daily basis, and also do not wear the dog down. They are affordable, easy to clean, and easily available in all pet stores.
Does your husky pull on the leash during walkies? Read my training guide about how to train a husky to walk on a leash without pulling.
Rope leash for extra durability
Rope leashes typically have a smooth texture that feels comfortable in your hands. Rope leashes are known to provide greater freedom of movement as compared to nylon leashes. They also do not cause as many leash burns. They are more durable, versatile, and have a secure grip, which is important in unpredictable scenarios.
Long lead for recall training purposes
Long leads are typically over 20-30 ft long and work great for recall training purposes. Huskies, as we all know, are wanderers. Long leads not only provide them with plenty of freedom but also ensure safety while helping us build a reliable recall. Make sure to use it in an open space without a lot of trees or shrubs. Long leads getting tangled and stuck is not a pretty sight!
If you are considering a long lead for training purposes, make sure you read my training guide about how to train a husky to walk off leash.
Retractable leash for some extra freedom
Retractable leashes, also known as flexi leashes, allow you to extend or shorten the leash with the press of a button. They give dogs more freedom to roam and explore their surroundings while still maintaining some level of control. They typically range from 9-30ft. Retractable leashes are great if your dog is a wanderer but not a severe leash puller.
Dual dog leash for 2 dogs
The only thing better than being a pet parent to a Husky is being a pet parent to two! However, walking two Huskies together definitely may not be a walk in the park, especially if they have a mind of their own and different personal preferences. Dual leashes allow pet parents to walk two dogs at a time. It is recommended to go for a standard dual leash and not a bungee cord dual leash in order to prevent slip-ups and sudden impacts.
Slip lead for training purposes
Slip leads combine the functionality of a collar and leash into a single piece of equipment. They are typically made out of a single piece of rope with a sliding ring attached to the other end that tightens whenever the dog pulls. Slip leads are generally used while leash training dogs and dealing with reactivity issues because of their ability to provide better control of the dog's head.
Things to look out for while selecting a leash for your Husky
Before picking a leash for your Husky, you must be mindful of their energy levels, activity requirements, level of pulling, and strength. Here are some other things to consider –
Length and weight of the leash: Huskies, as we all know, are wanderers at heart who absolutely love exploring their surroundings. A standard 4 ft leash may not be the most viable option as it does not give your Husky any freedom to sniff or explore. On the other hand, a 6-8 ft leash gives your dog better scope to sniff and play while on walks.
Material and durability: Huskies may not be one of the biggest dogs, but they are definitely one of the strongest dogs in the world. This breed was originally bred to pull! So, the leash that you use to walk your Husky must be strong enough to withstand some amount of wear and tear.
Utility: If you are looking to train your Husky for a specific task or even just to walk better on a leash, it is crucial to invest in the right kind of collar, harness, and leash. Half of your battle will be won with the right equipment.
Ease of use and controllability: I personally love leashes that have multiple handles and adjustments. While I may not always use all the configurations of the leash, it is nice to have an assurance that my dog's leash can be trusted for better control, safety, durability, and utility.
Recommended: Best harnesses for huskies
Leash for Husky puppy vs an adult Husky
A Husky puppy who is just learning to walk on a leash must not be intimidated by heavy metal leashes or slip leads. This may lead to a bad start and the puppy may end up fearing and dreading walks altogether. When choosing a leash for a puppy, go for a design that is as minimalistic and lightweight as possible. As your puppy grows, depending on his walks, energy levels, level of pulling, and lifestyle, choose a leash that accommodates both of your needs.
Recommendation
In conclusion, the Max and Neo Double Handle Traffic Dog Leash emerges as an outstanding choice for daily walks with huskies who exhibit moderate pulling tendencies. This leash's impressive design and weightlessness make it a convenient option for pet parents to use regularly.
Its minimalistic approach, coupled with the double handle feature, proves invaluable in unpredictable scenarios such as sudden encounters with other dogs or navigating through traffic. The dual handles offer better control, allowing you to hold your husky closer and quickly restrain them when necessary.
With the Max and Neo Double Handle Traffic Dog Leash, you can confidently enjoy your daily walks while ensuring the safety and comfort of both you and your husky.
Which leash did you choose for your husky?
Let us know in the comments below.
Now that you have a leash, it is time to invest in the best collar for a husky.