This post contains affiliate links. We will be compensated if you buy after clicking on our links. Read our review process.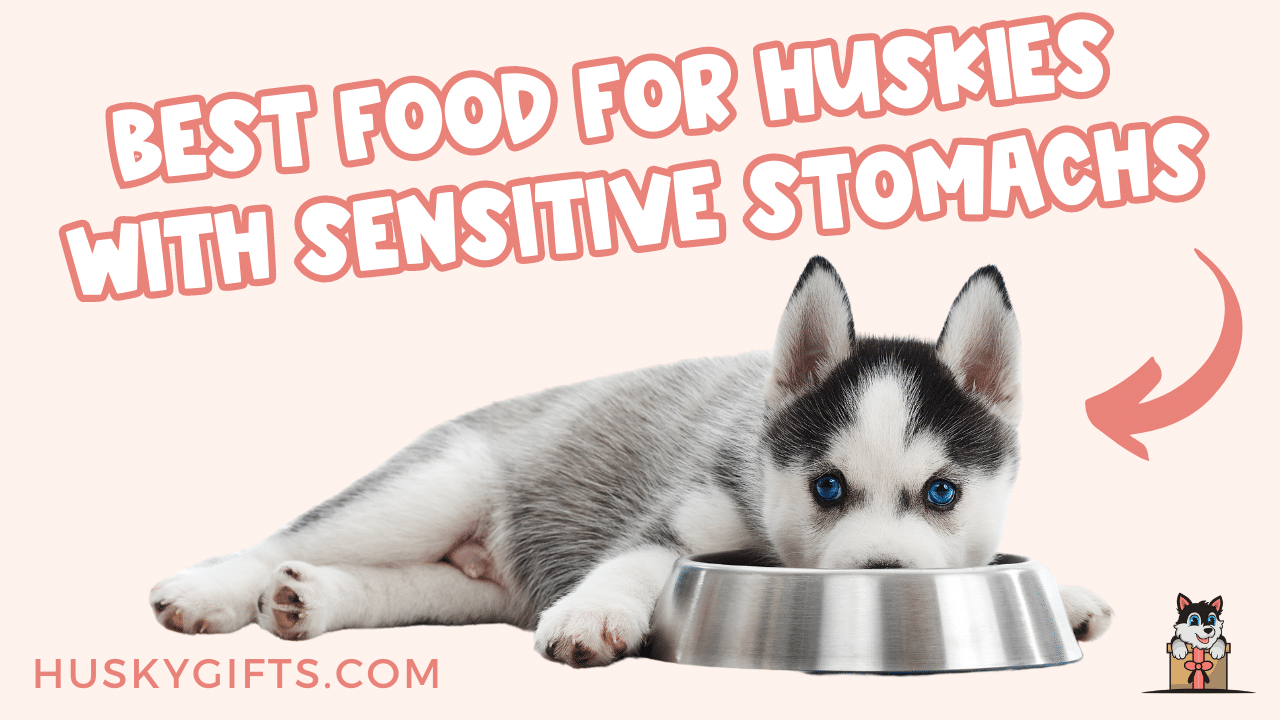 Huskies are such amazing dogs, but one of the hardships of being a husky owner is that it is quite common for them to have sensitive stomachs! I can certainly relate since my own dogs have struggled with stomach issues in the past, too! After some trials, though, I've finally found a few brands of dog food that won't cause any digestive upset for my dogs!
While every dog is different, some foods may work better for one dog than it does for others. Today I'd like to share a few reputable brands for the best dog food for huskies with sensitive stomach.
These can be a good jumping-off point in your search for dog food that doesn't result in messy accidents in your house or toxic gas coming from your dog's rear end!
5 Best Dog Foods For Huskies With Sensitive Stomachs
One of the unique features of Blue Buffalo is what they call their "True Blue Promise," which guarantees that their products will only contain high-quality, natural ingredients and that they will never include any by-product meals from chicken or other poultry, artificial preservatives, colors, flavors, or corn, wheat, or soy.
The company uses only whole grains, fruits, and vegetables in its recipes and sources their ingredients from trusted suppliers.
Blissful Belly by Blue Buffalo is known for its natural, high-quality ingredients and for being free from common allergens and artificial additives. My dog was on this for many years and actually did quite well on it!
✅ Pros:
Contains fiber and probiotics to help support healthy digestion and promote regularity 
Easily accessible as it can be found in numerous retailers
No artificial preservatives, colors, or common allergens like corn or soy
❌ Cons:
On the more expensive side
#1
Science Diet is another great brand that veterinarians often recommend.
In fact, Science Diet has a line of prescription dog food that helps dogs with all sorts of ailments! When my oldest dog developed pancreatitis in his younger years, our vet prescribed Science Diet's i/d low-fat dog food. It worked amazingly well!
The only downside is that because it is a prescription diet, it was quite expensive.
Because of this, we switched over to Science Diet Adult Sensitive Skin and Stomach, which had a majority of the same ingredients and the same benefits but for a lower price point.
✅ Pros:
Veterinarian recommended
Reputable brand
❌ Cons:
Still on the more expensive side
#2
My dogs have not tried this brand themselves, but a good friend of ours has found great success with feeding this food to her Lab! She's been struggling for a couple of years now to get him on a food that doesn't give him digestive upset and helps keep him regular in his bathroom habits.
One of the best parts of this food is that Purina makes several different formulas that have different proteins designed with different life stages and sizes of dogs in mind.
For example, there is a lamb and oatmeal formula as well as a salmon and rice formula. From there, there are various options to choose from, such as a puppy formula, a 7+ or senior formula, a small breed formula, and a large breed formula. I really love how the brand caters to other considerations like age and size, as opposed to just focusing on sensitivity.
Another great product from Purina that my friend and I both use for our dogs is the Purina FortiFormula which is one of the best supplements for huskies. It is a probiotic that comes in tablet and powder form. It has helped both of our dogs become more regular and have firmer stools. 
✅ Pros:
Multiple formula options
Includes fish oil for Omega 3s
Helps dogs become more regular
❌ Cons:
#3
This food is my favorite food that we have transitioned to after my oldest dog suffered from a bout of pancreatitis.
As mentioned earlier, when dealing with pancreatitis and many other digestive issues, most vets agree that dogs should be fed a diet that is lower in fat and easily digestible. Vet Diet Sensitive Skin and Stomach has a crude fat content of 12%, which is lower than several of the others that we have tried.
I noticed that my dog's poop became firmer and that he was also more regular on this diet. He is still on this food to this day, and he looks forward to his meals every day! The cats often try to sneak a bite, too!
Another benefit of this brand is that they have another version of the exact same formula except with a different protein. With Vetdiet Sensitive Skin and Stomach, you can choose between the lamb and rice formula and the salmon and pea formula.
I like to rotate which protein source my dog gets. So after every bag of food is finished, I will switch to the other protein source. Typically, it's not recommended to switch diets without a slow transition. However, I do still try to do a small transition period where I blend the two formulas before completely switching. Doing this seems to work really well for my dog, and he absolutely loves the variety.
✅ Pros:
High-quality protein
Easily digestible
No artificial flavors, colors, or preservatives
Easily accessible as it can be found all over
❌ Cons:
On the more expensive side
Not easily accessible and can typically only be found in small pet shops or on Amazon
#4
Nutrisource Chicken & Rice Recipe is my go-to dog food for my younger dog. While it is not specifically formulated for dogs with sensitive stomachs, it still seems to work wonders for my dog. Ever since he was a puppy, he has been a picky eater and has had a sensitive stomach.
Nutrisource is the only food that he will eat without hesitation and doesn't cause any kind of gastrointestinal upset. I love that this company is family-owned and is based out of a tiny rural town in the Midwest. 
✅ Pros:
Has recipes for all life stages
All recipes are designed with gut health in mind
Family owned
❌ Cons:
Not easily accessible as the brand chooses not to sell in major pet chain stores
#5
Guide to Buying Dog Food for Huskies with Sensitive Stomachs
Importance of choosing quality dog food 
A healthy diet made up of quality, wholesome ingredients is incredibly important to our dogs' health. Dog food that doesn't work well for a husky can not only result in digestive upset but also can result in dry skin, a brittle coat, and lackluster fur.
In order to avoid this, it's best to choose a high-quality dog food brand so you have the best chance of success. To determine if a dog food brand is high-quality, there are a few things you can look for.
How to choose quality dog food:
First, the very first ingredient on the label should be a protein source like chicken, beef, fish, or lamb.
Secondly, the manufacturer of the brand should be transparent about where the ingredients come from, where the food is prepared, and the production process.
And finally, to ensure the food is nutritionally balanced and complete, it should meet the Association of American Feed Control Officers' regulations.
Price and budget
That being said, though, price and budget definitely have to come into play when choosing dog food. When money was tight during my college days, I tried to feed my dog the cheapest dog food I could find. And boy was that a mistake! The smells coming from my dog's rear end were practically toxic!
So while more expensive doesn't necessarily equate to better dog food, it's fair to say that the better brands often start to appear in that mid-price range. Even with the tightest budget, choosing high-quality food is absolutely worth it.
Types of dog foods
Dry kibble: The brands mentioned today are all dry kibble dog food. This is the most common kind of dog food as it is the most easily accessible, the most convenient, and the easiest to travel with and store.
Wet food: You can also find wet dog food in cans. Many of the brands mentioned above have wet dog food options in similar or even the same formulas. Wet food is great for dogs with dental concerns or who tend to be picky eaters and need a little extra motivation. If you have a picky eater, read our guide about the best dog food for picky huskies.
Freeze-dried: Freeze-dried dog food is a type of dog food that is dehydrated at a low temperature. It is typically made from raw meat, fruits, and vegetables and can be rehydrated with water.
Fresh: Fresh dog food is made with real, natural, human-grade ingredients and is cooked by hand at low temperatures in small batches, and most are prepared in a kitchen that is regulated by the U.S. Food and Drug Administration. Most fresh food companies offer subscription services that ship the food straight to your door.
Fresh dog food from whole ingredients is usually the best dog food for huskies. 
Raw: Raw dog food can be found in some stores or online in its raw form, dehydrated, or freeze-dried. It typically includes muscle meat, organ meat, eggs, bone, and fresh fruits and vegetables.
If you have a husky puppy, see our recommendations for the best dog food for husky puppies.
Signs of digestive upset in dogs
An upset stomach and/or gastrointestinal issues can be a serious health problem for huskies.
Doggy farts
There are several key signs or indications of digestive upset in dogs. First is typically excessive gas or flatulence. Some dogs are just gassier than others, but I know for my dog, gassiness is definitely a sign of an upset tummy! 😷
Diarrhea or constipation
Other major indicators include diarrhea and constipation. If your dog has loose, watery, messy stools, it is likely a sign of digestive upset. Similarly, if your dog is not pooping regularly or seems to be straining when trying to poop, it is likely that something is causing your dog to feel constipated.
Find out why your husky has diarrhea, how to help them, and how to prevent diarrhea in the future.
If your husky has diarrhea, try feeding them the best dog food for huskies with diarrhea.
Vomiting
Another indicator of digestive upset would include vomiting. Vomiting and diarrhea can both lead to serious dehydration in dogs, so it will be important to closely monitor your dog if you notice these symptoms and take them to the vet, especially if combined with other indications like lethargy.
Abdominal pain
Your dog may also show signs of abdominal pain. This could include signs like restlessness, pacing, whimpering and whining, or being protective of their belly area and not wanting to be touched.
Lethargy or loss of appetite
Lethargy and a loss of appetite are often both signs of gastrointestinal problems or digestive upset as well.
Eating grass
If your husky is eating grass, they could be trying to induce vomiting because of an upset stomach.
Conclusion
There are so many dog foods on the market today that it can absolutely feel overwhelming to try and find the best dog food for your husky.
And unfortunately, because every husky and every dog food is different, it takes a fair amount of trial and error to figure out which works best for your dog.
As you can probably tell, my dogs have tried plenty over the years!
What dog food has worked well for your husky's sensitive stomach?
Let me know in the comments below.
Do you have a senior husky? Find the best dog food for senior huskies.
FAQ
Is it common for huskies to have sensitive stomachs? 
While it is not entirely understood why, huskies seem to be more prone than other breeds to have gastrointestinal problems like sensitive stomachs, digestive issues, as well as food allergies and sensitivities. According to a recent study, larger dog breeds are more likely to have sensitive stomachs.
What foods are huskies sensitive to?
Huskies can be sensitive to just about any food that is out there. Often, they are sensitive to foods like milk, cheese, yogurt, corn, and eggs. But sometimes, they can also have or develop allergies or sensitivities to popular dog food ingredients like chicken and beef. 
What is good for a husky with a sensitive stomach? 
It is hard to say whether one food will be better than another in terms of a husky with a sensitive stomach. That said, however, there are some things you can do to help improve their digestive health. Of course, consult with your veterinarian to rule out any major health concerns. 
From there, focus on ensuring your husky is drinking plenty of water. As water helps improve digestion.
Also, try to choose a high-quality dog food brand. It is typically best to avoid any brands that use filler ingredients, preservatives, and common allergens like corn and soy.
It may also be helpful to consider a limited ingredient dog food as this can help narrow down what might be causing the sensitivity.