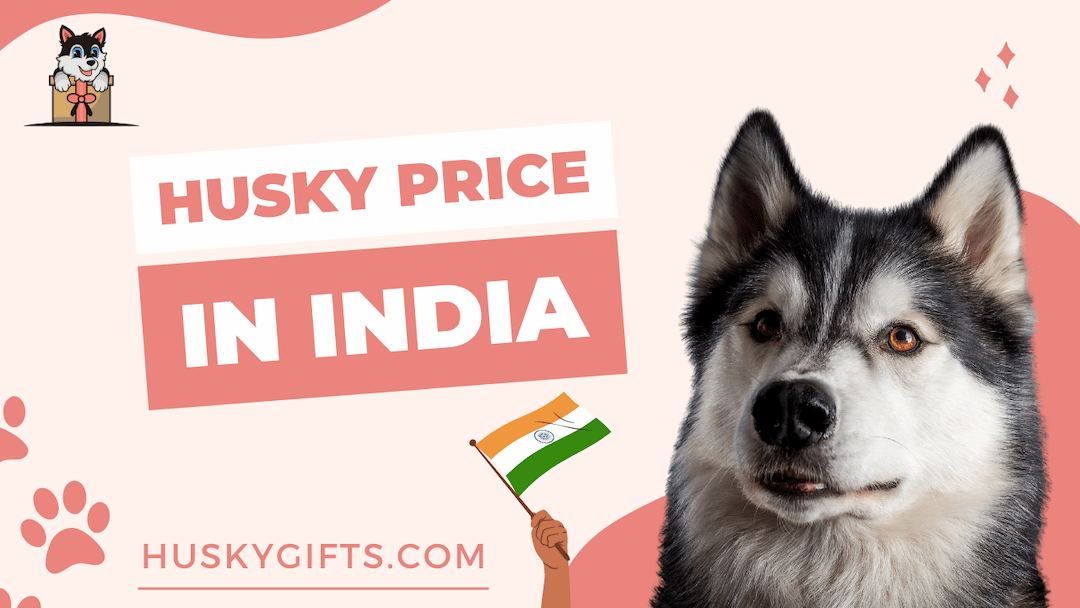 The Siberian Husky price in India is typically 30,000 INR to 80,000 INR.
Siberian Huskies are among the smartest, most expressive, and most devoted dog breeds in the world, though they are also costly. Because of this, you must do adequate research regarding Siberian Husky prices and ongoing upkeep expenses before obtaining one.
In general, Siberian Huskies are regarded as an expensive breed of dog, especially in countries with warmer climates like India. Age, sex, the breeder's reputation, location, and availability are all major factors that affect the price of a Siberian Husky.
You've come to the right place if you live in India and want to get a Siberian Husky but are unclear on how much it would cost to acquire and maintain. Read on for a list of all the costs you may incur if you decide to purchase a Siberian Husky in India.
👉 Husky Essentials
Siberian Husky Essentials
We understand that huskies are unique and require special care, so we've created this one-stop shop to help you find the must-have items for your furry friend.
Supplies:
Grooming Tools
Dog Food, Treats & Supplements
Toys & Enrichment
Training Aids
Comfort & Safety
Husky Supplies
Notes:
Huskies are not suited to hot climates. We don't recommend getting a Husky unless you have air conditioning to keep them cool (when they need).
All the prices mentioned in this article are in INR.
Prices are averages and can vary depending on the location and other factors.
Siberian Husky Prices in India
| Location | Price |
| --- | --- |
| India | 30,000 INR to 80,000 INR |
| Delhi | ~55,000 INR |
| Kolkata | ~45,000 INR |
| Kerala | ~38,000 INR |
| Pune | ~50,000 INR |
| Mumbai | ~50,000 INR |
| Hyderabad | ~50,000 INR |
As India is such a large country, there are many reputable dog breeders in India who breed and sell Siberian huskies. In general, buying a Siberian Husky from a local breeder will be less expensive than importing one into India from another country.
A Siberian Husky puppy from a local breeder in India typically costs between 30,000 INR to 80,000 INR. Costs for adult Siberian huskies or puppies with champion bloodlines can range from 100,000 INR to 150,000 INR.
Husky Price in Delhi
The Siberian Husky price in Delhi is approximately 71,000 INR for a good quality Husky and 55,000 INR for an average quality Husky.
Husky Price in Kolkata
The Siberian Husky price in Kolkata is approximately 45,000 INR for pet quality and 84,000 INR for show quality.
Husky Price in Kerala
The Siberian Husky price in Kerala is approximately 38,000 INR for pet quality and 75,000 INR for show quality.
Husky Price in Pune
The Siberian Husky price in Pune ranges from approximately 50,000 INR to 64,000 INR, depending on the dog's quality.
Husky Price in Mumbai
The Siberian Husky price in Mumbai from local pet stores or breeder is typically around 50,000 INR for a healthy Husky puppy and 70,000 INR for a champion-quality Siberian Husky.
Husky Price in Hyderabad
The Siberian Husky price in Hyderabad from a well-known breeder is 50,000 INR to 65,000 INR. You may get one for a cheaper price, but you have to compromise with quality.
Imported Price
Importing a Siberian Husky into India can be highly expensive because in addition to the price of the dog you also have to pay for transportation, customs (if necessary), documentation costs, and so forth. In India, imported Siberian Husky costs range between 650,000 INR to 700,000 INR.
Ongoing Costs of a Siberian Husky in India
| Item | Price |
| --- | --- |
| Commercial Dog Food (monthly) | 12,000 INR to 15,000 INR |
| Home-Made Dog Food (monthly) | ~7,500 INR |
| Grooming Cost (per visit) | 3,500 INR to 7,000 INR |
| Vet checkup (annual) | 4,000 INR to 5,000 INR |
| Vet treatment (one-time) | 10,000 INR to 20,000 INR |
| Spaying/Neutering (one-time) | 5,000 INR to 20,000 INR |
| Husky Training (monthly cost) | 15,000 INR to 30,000 INR |
| Husky Training (per hour) | ~4,000 INR |
| Air Conditioning (monthly) | 50,000 INR to 150,000 INR |
| Dog Treadmill | 20,000 INR to 45,000 INR |
| Dog Jump Bar | 2,500 INR to 6,000 INR |
| Dog Rolling Ball | 500 INR to 2,500 INR |
| Dog Rope | 350 INR to 500 INR |
Cost of Food
The cost of feeding is greatly influenced by the diet you offer your dog; normally, homemade dog food, which contains a variety of components such as boiled rice, raw meat, eggs, vegetables, and fruits, is less expensive than commercial dog food.
Commercial Dog Food
Quality commercial dog food with real meat as the primary ingredient costs a bit more than most commercial brands that don't include real meat. Commercial dog food can cost 1500 INR to 8000 INR depending on the brand and package (quantity), and the monthly price of feeding can be up to 12,000 INR to 15,000 INR.
Home-made Dog food
The price of homemade dog food depends on which ingredients you use, if you use cheap ingredients like corn in combination with other raw meats the price will be low. However, I highly discourage using low-quality cheap ingredients.
Huskies are amazing animals, and they need a properly balanced diet to remain healthy. If you go with high-quality food ingredients like good meat cuts the price can go up to 7,500 INR per month. Generally, the cost will range between 4000 INR to 8000 INR.
Cost of Grooming
The basic grooming cost of a Siberian Husky which includes bathing, hair trimming and brushing, and nail clipping can be around 3,500 INR to 7,000 INR, depending on the experience and services provided by the groomer.
Cost of Veterinary Services
The cost of all vaccinations, dewormings, and vet checkups for a Siberian Husky puppy's first year can range between 10,000 INR to 20,000 INR in India.
After the first year, annual vaccines can cost you between 4,000 INR to 5,000 INR, and if your dog becomes ill and requires treatment, you can expect to pay another 1,000 INR to 3,000 INR.
However, the cost of surgeries is high, ranging from 5000 INR to 20,000 INR depending on the surgery and the veterinarian's experience.
Cost of Dog Training
In India, basic dog training can start from 4,000 INR per session. A professional and reputable dog trainer or dog training facility will charge you between 15,000 INR to 30,000 INR a month.
Additional Costs
The following are some unconventional expenses you might be required to pay if you own a Siberian Husky in India:
Electricity Bills
Siberian Huskies are indigenous to Siberia, where the mercury can drop as low as -70 degrees Celsius. Huskies have a double coat, including a silky, thick undercoat that keeps them well insulated from the cold. Because of this, it is uncomfortable for them to live in a country with a hot climate like India, where the average temperature is between 30 and 45 degrees Celsius.
Unquestionably, you need air conditioning if you want a Siberian Husky as a pet in India as they prefer a chilly environment. Depending on the type of AC and your city, the electricity cost in India for running AC full-time for your dog can range between 50,000 INR to 150,000 INR.
Others Expenses
Siberian Huskies are sled dogs so they require regular exercise otherwise they can suffer from bone deformities and health issues. Since India has a hot climate, you might not get the chance to go outside for runs all the time.
Hence you may require particular indoor exercise machines and equipment for your Siberian Husky including:
Treadmill – 20,000 INR to 45,000 INR
Jump bar – 2,500 INR to 6,000 INR
Rolling ball – 500 INR to 2,500 INR
Dog rope – 350 INR to 500 INR
Husky Breeders in India
Here is a list of Husky breeders in India that have Siberian Huskies for sale.
Short Faced Wolves
The main priority of this highly-regarded Husky breeder revolves around care, love, and compassion. Unlike some breeders, they do not prioritize eye or coat color in their breeding practices.
They ensure that their puppies are at least 60 days old before placing them in new homes, and all of their puppies are toilet trained, providing their clients with a seamless transition to life with a new puppy.
This breeder is also dedicated to responsible breeding practices, and as such, their dogs and puppies are KCI registered. In contrast to the kennel system used by some breeders, they do not keep their dogs in enclosures.
Instead, all of their huskies are free to move around the house and are raised as loving members of the family.
For added peace of mind, this breeder provides a Certificate of Physical Health for each of their puppies, issued by a qualified veterinarian. They also offer air travel transportation for their dogs, ensuring that puppies can safely and comfortably make their way to their new homes.
Website: https://shortfacedwolveskennel.com/index.php
Facebook: https://www.facebook.com/SFWKennel
The Sahyadri Husky
A family-operated husky kennel is managed by a husband-and-wife duo, Amol and Priyanka, who reside near the Sahyadri Mountain range with their two children. Amol is an engineer, and Priyanka is a doctor.
The couple owns a husky pair, including Nymeria, a super charming female Husky, and Togo, a beautiful Bi-colored eyes dog. Both of these Huskies are Russian and Indian champions and were originally imported from Russia.
The kennel specializes in providing top-quality Husky puppies, so those interested may contact them.
Facebook: https://www.facebook.com/thesahyadrihusky
Raviraj Kennels
This kennel is renowned for being the home to top breeds such as Siberian Husky, French Bulldog, Labrador, and Rottweiler. They have acquired numerous 5-star ratings from satisfied clients who have experienced their superior breeding program and top-quality Siberian Huskies.
Those seeking to obtain a Siberian Husky from this exceptional kennel are encouraged to follow their Facebook page, where they post updates about their available litters or Huskies.
The kennel prides itself on breeding Huskies of top-notch quality, resulting in exceptional puppies that are well-tempered and true to breed standards.
Whether you are an experienced owner or a first-time Husky parent, you can trust this kennel to provide you with a healthy and happy puppy that will bring joy to your life for years to come.
Facebook: https://www.facebook.com/profile.php?id=100063945484487
Husky prices around the world
Looking to compare the price of huskies in other countries? We have done the research so you don't have to.
Husky price guides:
Final Thoughts: Should You Get a Husky?
Husky prices in India vary depending on the city and whether the dog is imported or local. There are various costs associated with owning a husky, including food, veterinary care, grooming, training, and other incidental costs.
While huskies can be expensive to purchase and maintain, they provide companionship and love that is worth the cost.
Why do you want to own a Husky?
Let us know in the comments below.