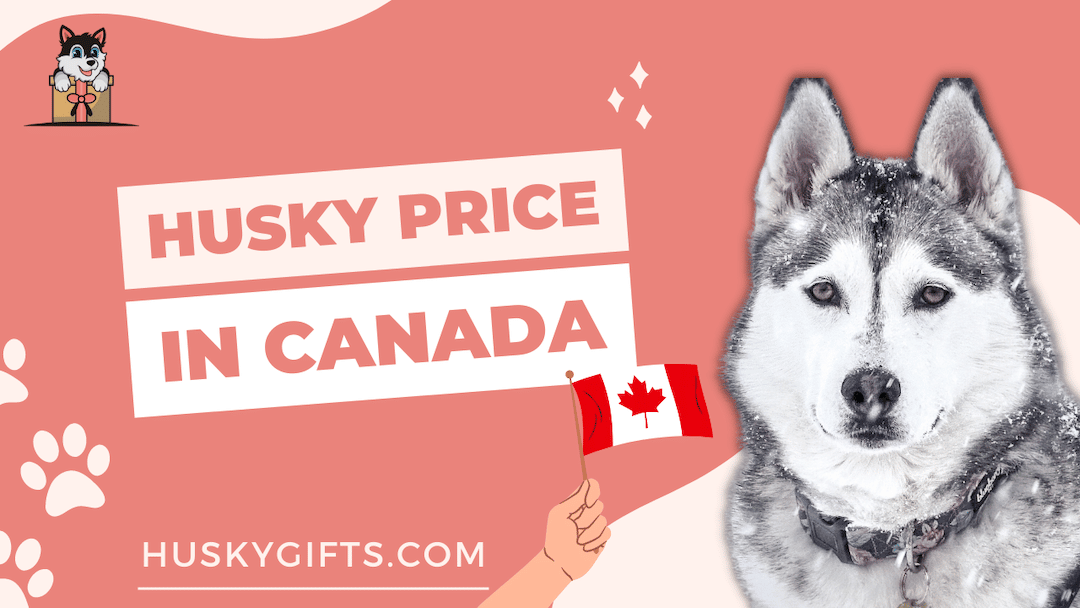 The price of a Siberian Husky in Canada is usually $1000 CAD to $2800 CAD.
Siberian Huskies are one of the most admired dog breeds in Canada since they are well-adapted to the harsh Canadian winters and don't need as much upkeep and supervision as some other dog breeds. This makes them one of the priciest dog breeds as well.
In Canada, the average price for a Siberian Husky ranges from $1000 CAD to $2800 CAD. Purebred Huskies that have received all requisite vaccines, and deworming, and have been medically inspected by vets may cost even more.
We are here to provide you with guidance if you reside in Canada and want to purchase a Siberian Husky. This article includes a breakdown of all potential costs related to owning a Siberian Husky in Canada, in addition to the price of the dog, so keep reading.
👉 Husky Essentials
Siberian Husky Essentials
We understand that huskies are unique and require special care, so we've created this one-stop shop to help you find the must-have items for your furry friend.
Supplies:
Grooming Tools
Dog Food, Treats & Supplements
Toys & Enrichment
Training Aids
Comfort & Safety
Husky Supplies
Notes:
All the prices mentioned in this article are in CAD (Canadian Dollars).
Prices are average estimates and can vary depending on the location and other factors.
Siberian Husky Prices in Canada
| Location | Price (CAD) |
| --- | --- |
| Canada | $800 - $2800 CAD |
| Ontario | $800 - $2500 CAD |
| Toronto | $1000 - $2800 CAD |
| Vancouver | $1200 - $1500 CAD |
| Ottawa | $800 - $1500 CAD |
Siberian Huskies are in high demand since they make lovely companions and can survive Canada's harsh winters without difficulty. The price of Siberian Huskies in Canada has been significantly impacted by the rise in demand and the covid epidemic.
The price of these dogs may vary depending on the state, the breeder's reputation, the dog's physical traits, its deworming and vaccination status, and most importantly, its genetic heritage.
In Canada, Siberian Huskies cost between $1000 and $2800 CAD. Husky pups that have been vaccinated, dewormed, genetically tested for illnesses, and have received basic training, will cost more.
Siberian Huskies that are available for adoption typically cost less than the usual price, and it is not uncommon to see one being offered for adoption for between $400 and $800 CAD. However, to locate people who are offering their Huskies for adoption, you must conduct some research.
Ontario
In Ontario, you can expect to pay $800 CAD to $2500 CAD for a Siberian Husky.
Toronto
In Toronto, a Siberian Husky puppy can be purchased anywhere between $1000 CAD to $2800 CAD.
Vancouver
In Vancouver, the price of a Husky puppy normally runs between $1200 CAD to $1500 CAD, however, you can expect to pay more depending on the reputation of the dog breeder.
Ottawa
For a Siberian Husky puppy in Ottawa, you should be ready to spend between $800 CAD to $1500 CAD.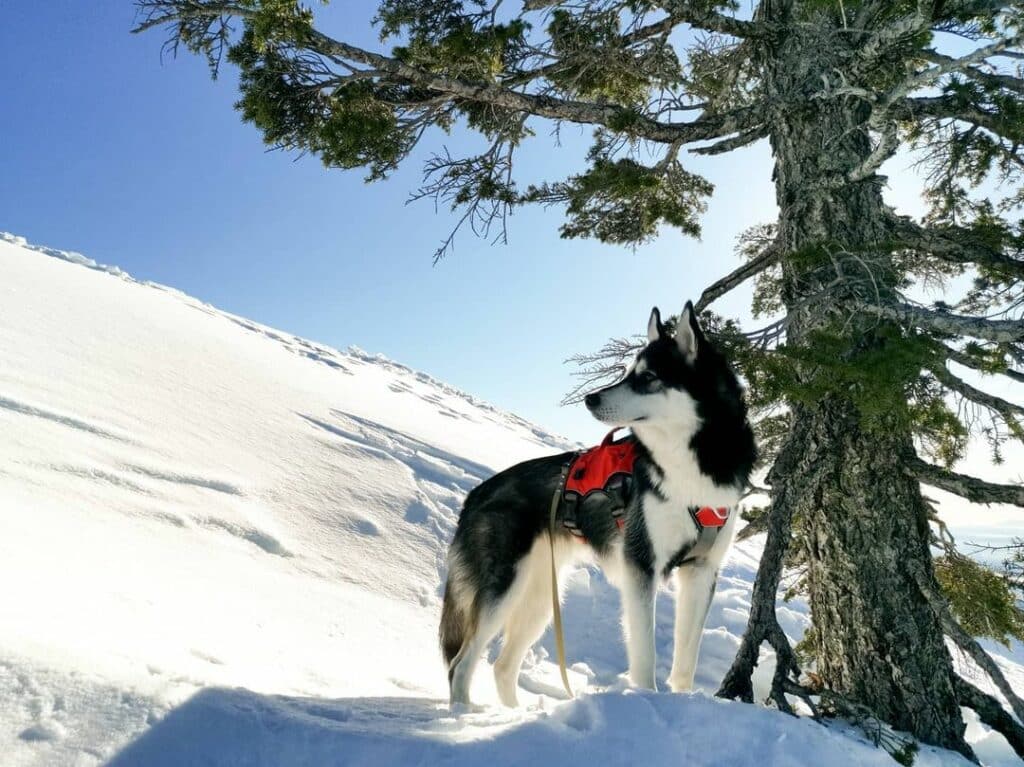 Imported Price
Importing a dog into Canada can be costly. In addition to the cost of a Siberian Husky, you must pay for transportation, vet checkups, quarantine (if necessary), microchipping, and lab tests. You also have to pay a $295 CAD customs release fee in addition to these costs. If you pay with a credit card, you must also pay a minimum of $7.5 CAD in federal (GST) and/or provincial tax (PST or HST), which can be roughly 5%.
Airport call-out charges range from $150 to $225 CAD per hour (2 hr minimum). If you add up all of these expenses, you may anticipate spending between $3,000 and $5,000 CAD to import a Siberian Husky into Canada.
Ongoing Costs of a Siberian Husky in Canada
| Item | Cost |
| --- | --- |
| Commercial Dog Food (monthly) | $80 - $150 CAD |
| Home-Made Dog Food (monthly) | $100 - $200 CAD |
| Grooming Cost (per visit) | $60 - $200 CAD |
| Vet Consultation (checkup) | $150 - $200 CAD |
| Initial Vaccinations | $250 - $400 CAD |
| Spaying/Neutering (one-time) | $500 - $800 CAD |
| Husky Training (package) | $150 - $250 CAD |
| Essentials like dog bed, dog toys, leashes, etc. | $400 CAD |
| Microchipping | $60 CAD |
The following is a list of the maintenance costs for Siberian Huskies in Canada, which include the cost of food, grooming, training, veterinary expenses and more.
Cost of Food
The cost of food is largely determined by whether you feed your Husky commercial dog food or a home-made/raw food diet.
Commercial Dog Food
The price of commercial dog food typically varies on the brand, the quality of the ingredients, as well as the size and weight of your dog. A 14kg bag of premium quality dog food can cost up to $100 CAD. In Canada, the typical cost of a commercial dog for a Siberian Husky can range from $80 CAD to $150 CAD per month.
Home-Made/Raw Dog Food
The price of raw dog food is usually determined by the quality of the ingredients used. If you feed your Husky high-quality meat, minced meat, eggs, and bones in Canada, you should budget between $10 and $15 CAD every day. In Canada, the monthly expense of feeding a raw food diet to your Husky can range from $100 to $200 CAD.
Cost of Grooming
A dog grooming session in Canada can cost you between $60 CAD to $200 CAD depending upon the location and expertise of the dog groomer along with the services provided.
A full dog grooming package which includes bathing, hair cutting, and nail trimming will usually cost high.
Cost of Veterinary Services
Initial vaccinations, boosters, deworming medications, and tick prevention can cost you anywhere between $250 CAD to $400 CAD for a Husky in Canada.
Spaying and neutering can cost anywhere between $500 CAD to $800 CAD.
Regular vet visits will cost you about $150 to $200 CAD.
Cost of Dog Training
Training a Husky can be expensive in Canada. The average cost of training a Siberian Husky in Canada is between $150 CAD to $250 CAD for a training package that includes multiple sessions usually up to eight.
Additional Costs
Siberian Huskies do not require air conditioning during the warmer months because Canada has an extremely cold climate. Therefore, if you live in Canada, you won't need to worry about paying for air conditioning.
Some of the common costs associated with Siberian Huskies in Canada include the following:
Toys for Siberian Huskies cost between $50-150 CAD
Dog treats for Huskies can cost you between $300 CAD
Microchipping costs about $60 CAD
Bed, crate, and basic Huskies supplies will cost you about $400 CAD
Siberian Husky Breeders in Canada
Here is a list of Siberian Husky Breeders in Canada that have Huskies for sale.
Kybra Kennels
Kybra Kennels is a Canadian Kennel Club-registered dog breeder in Ontario that produces puppies who are joyful, well-tempered, and friendly.
They are among the top breeders of Siberian Huskies in Ontario, Canada, and have been in business for more than 15 years. They cater to any dog lovers looking for a new companion or family pet to call their own.
They have had clients from all over Ontario in the past, and can even transport your pet to an airport near you if needed. All of their adult dogs have Canadian Kennel Club registration certificates because they are CKC-registered breeders.
Kybra Kennels started in the fall of 2002 with three Siberian Huskies and has been continually growing ever since. They strive to produce healthy puppies that will bring you and your family years of delight.
Website: www.kybrakennels.ca
Facebook: www.facebook.com/kybrakennels/
COPPER SKY Huskies
COPPER SKY Huskies is located in scenic southern Ontario, Canada. At Copper Sky Huskies they believe that dogs aren't just dogs, they are family. By extension, everyone who has one of their puppies becomes a member of their family.
You can depend on this breeder's premium Husky family for high-quality breeding of well-behaved family dogs, lifelong support, and a sincere love for each of their puppies and their families.
Website: copperskyhuskies.ca
Facebook: www.facebook.com/CopperskyHuskies.ca
OKIOK KENNEL
Husky Puppies and adults of the highest caliber are available at OKIOK KENNEL. They've spent more than 50 years selectively breeding (not line breeding) intelligent companions to enrich your life with love.
Thanks to their years of commitment to comprehensive genetic research, they have a great diversity of colors and patterns available in Huskies.
Their dogs are well-socialized, gentle, well-conformed, and come with basic training. For the duration of your dog's life, the proprietor is available to offer guidance. They only offer dogs to loving, responsible, and permanent households.
Website: okiokkennel.com
Facebook: www.facebook.com/260906977584496
Green Spruce Kennels
Green Spruce Kennels has two female Huskies and two male Huskies. They are all registered with the Canadian Kennel Club as purebred Siberian Huskies. They adore being outside. This kennel does not exhibit their dogs because it does not interest them.
The owners of this kennel are a married couple who work together to run it as a side business and this kennel has been a lot of joy for them. All of their puppies are purebred Siberian Huskies with beautiful personalities and blue eyes (with the occasional brown eye). They are extremely outgoing and never run out of energy.
They have a one-year guarantee against genetic conditions, which is extended to two years provided they continue to eat TLC puppy or dog food. They are sold on a non-breeding agreement.
Prior to moving into their new homes, their puppies will have received a complete deworming course, been examined by a veterinarian, received their initial vaccinations, and been microchipped. Additionally, they include a TLC puppy pack, CKC registration, and 6 weeks of free puppy health insurance.
Website: greensprucekennels.com
Facebook: www.facebook.com/greensprucekennels
Siberian Husky Prices Around the World
Compare the price of huskies in other countries.
Husky price guides:
Final Thoughts
If you are looking to purchase a Husky, it is important to know the average price in your city or province. Additionally, be prepared for the maintenance costs as they can add up!
Fortunately, there are many reputable breeders in Canada who can help guide you through the process of finding and raising your new furry friend.
How much did you pay for your Husky?
Let us know in the comments below.