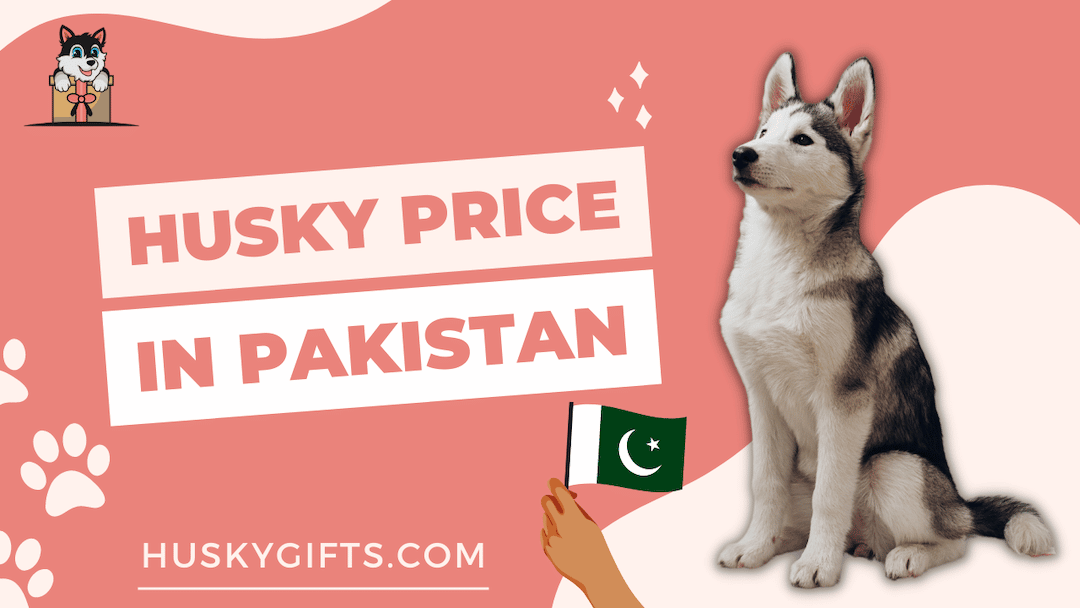 The price to buy a Siberian Husky from a local breeder in Pakistan is typically 65,000 to 200,000 PKR.
Siberian Huskies are one of the world's most expressive and loyal dog breeds, but they are also considered an expensive dog breed in many parts of the world, including Pakistan. Therefore, you must conduct extensive research into Siberian Husky prices and general maintenance costs before making a purchase.
Siberian Huskies are generally thought of as a high-maintenance dog breed, particularly in countries with warmer climates like Pakistan. Even though they are a costly breed and require special care and attention, they are in high demand, and dog lovers are obsessed with them.
If you reside in Pakistan and are interested in owning a Siberian Husky but are unsure of the price and maintenance cost of this dog breed, you have come to the right place. We've compiled a list of all the expenses you might incur if you want to own a Siberian Husky in Pakistan.
👉 Husky Essentials
Siberian Husky Essentials
We understand that huskies are unique and require special care, so we've created this one-stop shop to help you find the must-have items for your furry friend.
Supplies:
Grooming Tools
Dog Food, Treats & Supplements
Toys & Enrichment
Training Aids
Comfort & Safety
Husky Supplies
Notes:
Huskies are not suited to hot climates. We don't recommend getting a Husky unless you have air conditioning to keep them cool when they need it.
All the prices are in Pakistani Rupees (PKR).
Prices are average estimates and can vary depending on the location and other factors.
Husky Price in Pakistan
| Location | Price |
| --- | --- |
| Pakistan | 65,000 PKR to 200,000 PKR |
The Husky dog price in Pakistan or anywhere else in the world is determined by a variety of factors, including the dog's purebred status, the breeder's reputation and the location from where the dog is purchased. However, the price of a Siberian Husky in Pakistan is primarily determined by whether it is purchased from a local breeder or imported from its native country.
The cost of purchasing a Siberian Husky from a local breeder in Pakistan will typically be less than the cost of an imported dog. If you decide to purchase a Siberian Husky from a local breeder in Pakistan, you can expect to pay anywhere from 65,000 to 200,000 PKR. Because there are only a few Siberian Husky breeders in Pakistan, make sure the dog you buy is purebred and not a crossbred.
Imported Price
Since Siberian Huskies are not native to Pakistan, most people choose to import them. In addition to the cost of the dogs themselves, the process of importing these dogs into Pakistan can be costly. Additional costs include those associated with paperwork, vaccination cards, tests and permits.
The price is also influenced by the country from which the dog is imported. Depending on where you import the dog, you can generally expect to pay from 400,000 to 900,000 PKR.
Ongoing Costs for a Siberian Husky in Pakistan
Siberian Huskies are regarded as high-maintenance breeds, particularly when they are kept outside of their natural habitat, particularly in countries with hot climates. The following provides a summary of some expenses associated with Husky ownership in Pakistan.
| Item | Price |
| --- | --- |
| Commercial Dog Food (monthly) | 8000 PKR to 20,000 PKR |
| Home-Made Dog Food (monthly) | 8000 PKR to 15,000 PKR |
| Grooming Cost (per visit) | 5000 PKR to 15,000 PKR |
| Vet checkup (annual) | 5000 PKR to 8,000 PKR |
| Vet treatment (one-time) | 3000 PKR to 10,000 PKR |
| Spaying/Neutering (one-time) | 20,000 PKR to 30,000 PKR |
| Husky Training (monthly cost) | 15,000 PKR to 50,000 PKR |
| Husky Training (per hour) | 2000 PKR to 5,000 PKR |
| Air Conditioning (monthly) | 30,000 PKR to 100,000 PKR |
| Ice Slabs (per day) | 1500 PKR to 2,500 PKR |
Cost of food
The cost of food largely depends on the diet you offer to your dog; typically, homemade dog food, which combines a variety of ingredients like boiled rice, raw meat, eggs, vegetables, and fruits, is less expensive than commercial dog food.
Commercial dog food
If you feed commercial dog foods to your dog, the price will vary depending on the brand, but dog foods usually range from 3000 to 24,000 PKR in Pakistan. A Siberian Husky's average monthly dog food expenditure in Pakistan is from 8000 to 20,000 PKR.
Home-made dog food
If you prefer homemade dog food, it will usually be less expensive than commercial dog food. On average, homemade dog food for Siberian Huskies consists of a combination of raw meat, animal bones, vegetables, and other ingredients, with a monthly cost from 8000 to 15000 PKR.
Cost of grooming
Siberian Huskies normally need lots of grooming. The cost of grooming an adult Siberian Husky in Pakistan, which includes bathing, minor hair trimming as needed, and nail trimming, ranges from 5000 to 15000 PKR.
Tip: If you regularly groom your husky at home, they won't need to go to the groomer as often!
Cost of veterinary services
General veterinary expenses, such as annual vaccinations and deworming procedures, will range from 5000 to 8000 PKR for Siberian Huskies in Pakistan. If a Siberian Husky gets ill, the cost of treatment can be around 15000 PKR. If the condition is mild, the cost should be less. If the condition is severe and requires a long course of treatment and follow-ups you can expect to pay more.
However, surgical procedures for Siberian Huskies can be expensive in Pakistan, with a spay surgery costing from 20,000 to 30,000 PKR and neutering costing from 10,000 to 15,000 PKR.
Cost of dog training
Training costs for Siberian Huskies can vary depending on the trainer's experience and reputation, as well as the location. In Pakistan's major cities, the cost of training Siberian Huskies with reputable dog training organizations or dog trainers ranges from 15,000 to 50,000 PKR per month, and some training sessions may even be more expensive than this.
Some locations may even charge by the number of training hours, normally from 2000 to 5000 PKR.
Additional costs
The climate in most areas of Pakistan is hot, with temperatures reaching as high as 45°C or 113 °F in summer. This can be a little too hot for Siberian Huskies, so you may need to provide them with some cooling options.
Hefty electricity bills
Siberian Huskies must be kept in air-conditioned rooms or enclosures nearly constantly to stay cool during Pakistan's hot summers, which can be expensive for some owners. If you keep your dog in an air-conditioned room for nearly 24 hours each day, you can expect electricity costs of from 30,000 to 100,000 PKR.
Expenditure on cooling your husky down
If you keep your Siberian Husky outdoors during the summer in Pakistan, you must give them access to a cooling setup. The majority of people will place large ice slabs in the dog's enclosure, but these only last one day, so you must add new ones every day. In Pakistan, ice slabs usually cost from 1500 to 2500 PKR, depending on the city where you live.
Siberian Husky Breeders in Pakistan
While there are no officially registered Siberian Husky breeders in Pakistan, there are several families and small breeders that own and breed these dogs at home and sell their puppies.
These breeders typically advertise their Husky puppies through online marketplaces or public Facebook groups. In addition, there are a few pet shops and kennels that import and sell Huskies locally.
It is important for potential buyers to exercise caution and ensure that they personally examine the dog and all of its documents before purchasing a Husky in Pakistan.
Here is a list of Husky breeders in Pakistan that have Siberian Huskies for sale.
Siberian Husky Club Pakistan
The Siberian Husky Club Pakistan is a public Facebook group that comprises many Husky owners from across the country. While the group itself doesn't breed Siberian Huskies, many of its members are small breeders who do so at home.
They regularly post details and pictures of their dogs and litter in the group, making it an excellent platform for those looking to buy a Husky puppy in Pakistan. The group is known for offering high-quality Huskies.
Thus, if someone in Pakistan is looking to purchase a Siberian Husky, the Siberian Husky Club Pakistan is a great resource to explore.
Facebook: https://www.facebook.com/groups/548962378888389/
Islamabad Pet's
Islamabad Pets is a reputable pet shop located in the capital city of Pakistan that offers dog-buying and selling services.
Although they are not registered as official Siberian Husky breeders, interested individuals can still inquire about the availability of Huskies or the possibility of arranging one for purchase.
It is recommended to personally examine any potential pets and ensure that all necessary documents are in order before finalizing any transactions.
Website: https://islamabadpets.business.site
OLX pets
Due to the absence of registered Siberian Husky breeders in Pakistan, interested individuals may browse OLX pets, the largest online pet website in the country.
On this platform, various Husky owners who raise and breed Huskies at home have advertised their dogs for sale. Interested buyers can view the photos of the dogs and negotiate the price with the owners.
However, it is highly recommended to exercise caution when purchasing and ensure that the dog is physically inspected and all necessary documents are obtained to avoid any potential risks.
Website: https://www.olx.com.pk/dogs_c139/q-siberian-husky
Husky Prices Around the World
Looking to compare the price of huskies in other countries? We have done the research so you don't have to.
Husky price guides:
Final Thoughts: Should you get a Husky?
Only you can answer that question. But hopefully, this post has helped to give you a better understanding of what goes into owning one of these beautiful dogs and the costs associated with owning them in Pakistan.
Do you have a Husky? How much did they cost?
Let us know in the comments below.