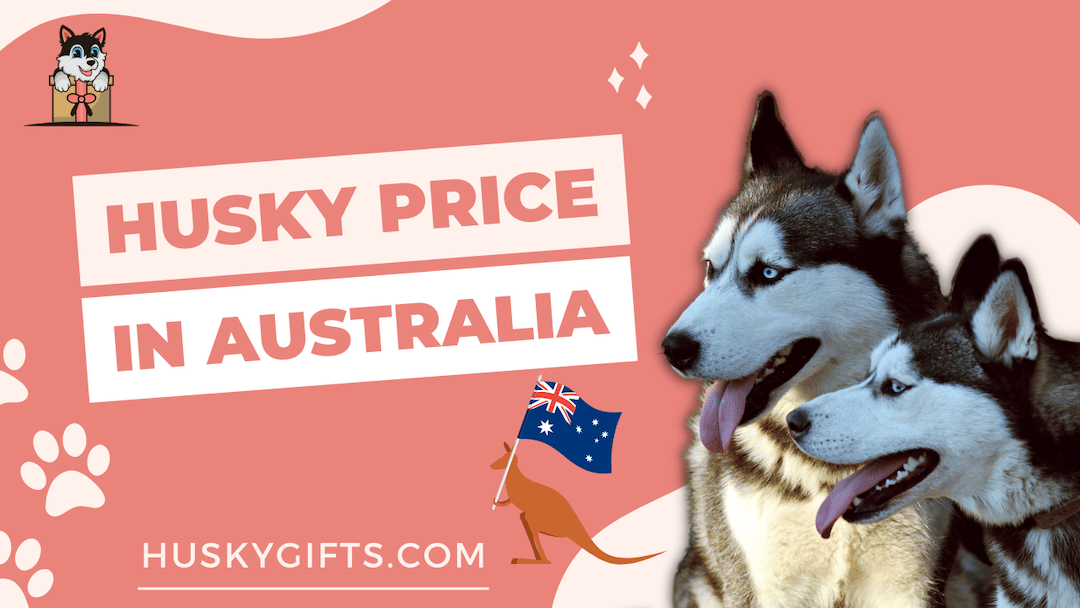 The price to buy a Siberian Husky puppy from a local breeder in Australia is typically 800 AUD to 4000 AUD.
Siberian Huskies can be pricey in Australia. Age, bloodline, coat color, eye color, and breeder reputation all affect a Siberian Husky's price. Generally speaking, trained Huskies and adult Huskies cost more than puppies in Australia.
There is no denying that Siberian Huskies are very popular and adored by dog lovers all across the world, including in Australia. However, owning and caring for Siberian Huskies can be very expensive in Australia, so if you live in Australia and want to get a Husky, this article is for you.
👉 Husky Essentials
Siberian Husky Essentials
We understand that huskies are unique and require special care, so we've created this one-stop shop to help you find the must-have items for your furry friend.
Supplies:
Grooming Tools
Dog Food, Treats & Supplements
Toys & Enrichment
Training Aids
Comfort & Safety
Husky Supplies
Notes:
All the prices mentioned in this article are in AUD.
Some of the prices are average estimates and can vary depending on the location and other factors.
Husky Prices in Australia
| Location | Price (AUD) |
| --- | --- |
| Australia | $800 - $4000 AUD |
| New South Wales | $800 - $3500 AUD |
| Queensland | $1000 - $2500 AUD |
| Western Australia | ~$2500 AUD |
| Victoria | $1500 - $3500 AUD |
| South Australia | $1100 - $2000 AUD |
The Siberian Husky's age, physical traits, bloodline, and breeder are the key factors that affect the price of a dog in Australia or any place else in the world. However, whether or not a Siberian Husky is vaccinated, microchipped, trained, or imported from another country has a significant impact on the cost in Australia.
In Australia, the normal price range for a Siberian Husky puppy is between 800 AUD to 4000 AUD, depending on the vaccination status, DNA testing for diseases, microchipping status along with the breeder's reputation, age, gender, coat color, and eye color of the dog.
In general, well-trained adult Siberian Huskies cost more than puppies, thus it is not surprising that the cost in some Australian states exceeds 4000 AUD.
You can discover breeders selling Siberian Husky puppies for less than 1000 AUD in several Australian areas, sometimes even for as little as 500 AUD.
The majority of the time, these inexpensive Huskies are mixed breeds, therefore we strongly recommend looking at the paperwork and parents of the pup to ensure the dogs are purebred Siberian Huskies.
New South Wales
In New South Wales, the most populous state in Australia, a Siberian Husky puppy typically costs between 800 AUD to 3500 AUD. The cost can be higher if the puppy has good genetics, is vaccinated, is microchipped, and has been DNA tested for diseases.
Queensland
In Queensland, a Siberian Husky puppy can be purchased for anywhere between 1000 AUD to 2500 AUD, though rates can vary significantly depending on the dog's quality.
Western Australia
In Western Australia, you may anticipate spending roughly 2500 AUD on a Siberian Husky puppy.
Victoria
For a Siberian Husky puppy in Victoria, you should be ready to spend between 1500 AUD to 3500 AUD, depending on the breeder and the quality of the dog. Some Husky breeders in Victoria, however, claim that the price is negotiable.
South Australia
In South Australia, the price of a Husky puppy normally runs between 1100 AUD and 2000 AUD, however, you can expect to pay more depending on where you acquire the dog.
Imported Price
It might cost a lot of money to bring a Siberian Husky to Australia. Depending on the country from where you import the Siberian Husky, the total cost, including the 480 AUD import fee, transportation expenses, documentation fees, vet inspection fees, vaccine fees, lab test fees, and quarantine fees, is likely to be between 5000 AUD to 10,000 AUD.
The cost of the Siberian Husky is not included in all of the above expenses and if you hire a pet transportation agent or service, you have to pay them as well.
Ongoing Costs of a Siberian Husky in Australia
| Item | Costs |
| --- | --- |
| Commercial Dog Food (monthly) | $60 to $100 AUD |
| Home-Made Dog Food (monthly) | $450 AUD |
| Grooming Cost (per visit) | $50 - $150 AUD |
| Dog Vaccinations (initial) | $170 - $250 AUD |
| Dog Vaccinations (annual) | $80 - $100 AUD |
| Vet Checkup (one-time) | $50 to $100 AUD |
| Dog Dental Treatment | $300 - $2000 AUD |
| Spaying (one-time) | $300 - $400 AUD |
| Neutering (one-time) | $180 to $250 AUD |
| Husky Training (hourly) | $40 to $120 AUD |
| Husky Training (per session) | $30 to $50 AUD |
| Air Conditioning (monthly) | $100 - $200 AUD |
| Dog Walking (15-30 min) | $15 - $25 AUD |
Ongoing costs which include the cost of food, grooming, training, and veterinary expenses for Siberian Huskies in Australia are detailed below.
Cost of Food
Commercial Dog Food
In Australia, the average cost of commercial dog food for Siberian Huskies is between 60 to 100 AUD per month; but, if you feed your dog a lower-quality brand, you can anticipate paying less. Note that your dog's age and size also have an impact on the overall cost.
For Siberian Huskies, high-quality dog food typically costs between 800 to 1300 AUD per year in Australia, while lower-quality dog food usually costs around 600 AUD.
Home-made Dog food
In Australia (not surprisingly), a homemade raw diet for Siberian Huskies can be more expensive than commercial dog food. The average daily price of homemade raw dog food for Siberian Huskies in Australia is between 5 to 15 AUD, and the monthly price may be as high as 450 AUD depending on all the factors, including the quality of the ingredients, the dog's age, size, etc.
If you don't like preparing raw dog food at home, you could find it easier to buy from one of the few companies that offer it in Australia instead of making your own, but they can be expensive. Pet Circle is a great affordable option for dog food deliveries to your home.
Below is the average cost of branded raw dog food per day:
Darwin's Natural Pet Products (8 AUD)
Steve's Real Food Online (12 AUD)
BJ's Raw (15 AUD)
Cost of Grooming
Depending on your dog's lifestyle and the services you select at the groomer, the cost of grooming a Siberian Husky in Australia can vary, but in general, a total package that includes a haircut, hair styling, coat stripping, nail clipping, bathing, and blow drying will cost you about 200 AUD.
The cost of basic services might range from 50 to 150 AUD. In Australia, prices for dog grooming can vary slightly from one city to the next.
Cost of Veterinary Services
The initial vaccinations for a Siberian Husky puppy will cost you between 170 and 250 AUD, and the following annual vaccination charges are between 80 and 100 AUD.
The price of a basic vet appointment ranges from 50 to 100 AUD, and the price may go up if procedures and treatments are performed.
Depending on your Husky's health, dental treatments can cost anywhere between 300 to 2000 AUD. You will pay between 300 to 400 AUD for surgeries like spaying, and between 180 to 250 AUD for neutering.
Cost of Dog Training
In Australia, you'll pay between 30 to 50 AUD per training session and 40 to 120 AUD for hourly training sessions for a Siberian Husky.
A weekly dog training package can be expensive and often costs between 200 to 600 AUD. With an average dog training cost of about 275 AUD, New South Wales has the highest rates of dog training.
Additional Costs
Electricity Bills
Depending on the time of year and location in Australia, the average temperature can get quite hot for your Husky with Summer temperatures being anywhere from 25 – 40 degrees celsius. Running your air conditioner for your Husky could be a necessity from November to February.
The cost of electricity in Australia can range from 100 to 200 AUD per month when using your air conditioner for your Husky.
Other Costs
Since Siberian Huskies require regular exercise to stay healthy and if you are a busy person and don't have time to talk to your dog on a walk you might need to hire a dog walker. Dog walkers in Australia will charge you about 15 to 25 AUD for 15 to 30-minute walks. Prices can go up depending on the duration and location of walks.
Siberian Husky Breeders In Australia
Aeukanmanuva Kennels
Aeukanmanuva is a distinguished kennel situated in Wagga Wagga, NSW, Australia, known for its top-quality and world-renowned bloodlines of Siberian Huskies from the U.K. and U.S.A.
Their dogs have been shown across the globe in countries such as Russia, Belgium, the Philippines, the USA, Singapore, New Zealand, and Australia, and have consistently garnered admiration and recognition for their excellence.
At Aeukanmanuva, the utmost care and attention are given to their breeding program, resulting in exceptional litters of Siberian Husky puppies. All of their puppies are available to go to their new homes at 8 weeks of age, fully vaccinated, microchipped, registered with the ANKC, and de-sexed (if going to a pet home).
For those seeking to acquire one of their exceptional puppies, Aeukanmanuva encourages interested parties to contact them to inquire about available litters. With a passion for the breed and a dedication to quality, Aeukanmanuva is an excellent choice for anyone looking to welcome a Siberian Husky into their home.
Website: www.aeukanmanuva.com
Husky Australia
HUSKY AUSTRALIA is a reputable breeder specializing in purebred Siberian Huskies with a focus on quality over quantity. The kennel prides itself on breeding and showing only the finest dogs, with a commitment to health, aesthetic beauty, presence, soundness, and balance.
The puppies at HUSKY AUSTRALIA are thoughtfully cared for, with proper weaning and socialization including exposure to small pets and children.
The kennel aims to breed Siberian Huskies that excel in temperament and conformation, ensuring that each puppy is a true representation of the breed's finest traits.
All puppies are vaccinated, undergo regular veterinary checks, are microchipped, and are free from worms and fleas. With beautiful Husky puppies available throughout most of the year, HUSKY AUSTRALIA provides a unique opportunity for individuals seeking a well-behaved, healthy, and registered purebred Siberian Husky.
HUSKY AUSTRALIA is a registered breeder with the QLD government, dogs QLD, and Queensland Govt dog breeders registration. Situated near a forest lake on acreage, HUSKY AUSTRALIA provides a serene and comfortable environment for their dogs, ensuring that each puppy receives the care and attention they deserve.
Website: https://huskyaustralia.business.site
Roguehusky Kennels
This Australian kennel is pleased to announce that its breeding program has reached new heights, with a group of young Huskies now in their prime, as well as a new generation of upcoming youngsters. Their dedication and hard work have paid off, and they are excited about the future.
After years of careful planning and building a strong foundation, the kennel is now seeing its efforts come to fruition. Their first-generation Huskies have achieved great success in the ring, and they look forward to continuing this legacy as they become part of the breeding program.
The kennel's Siberian Huskies are versatile and can excel in various areas, including showing, breeding, and racing. They are committed to learning everything they can about the breed, with a strong desire to improve their dogs continually.
If you have any questions or are interested in their Huskies, do not hesitate to contact them. They are happy to provide additional information about their breeding program and the dogs they love.
Website: www.roguehusky.com
Pets For Homes
Pets For Homes is 'Australia's #1 free pets classifieds'. A great website to connect with responsible breeders Australia wide.
So, if you are looking for a Siberian husky puppy from a local breeder in Australia, visit Pets For Homes.
Siberian Husky Prices Around the World
Looking to compare the price of huskies in other countries? We have done the research so you don't have to.
Husky price guides:
Final Word About the Husky Price in Australia
So, is a husky worth the price in Australia? It really depends on your personal circumstances.
If you're prepared to put in the work to look after your dog and are located in an area where there are no prohibitively high costs associated with keeping a husky, then go for it! But if you're not sure whether you'll be able to meet all of the dog's needs, it might be wiser to opt for a different breed.
Have you got a husky?
How much did you pay for them?
How much do you spend each month on them?
Let us know in the comments below.
We love hearing from our readers!