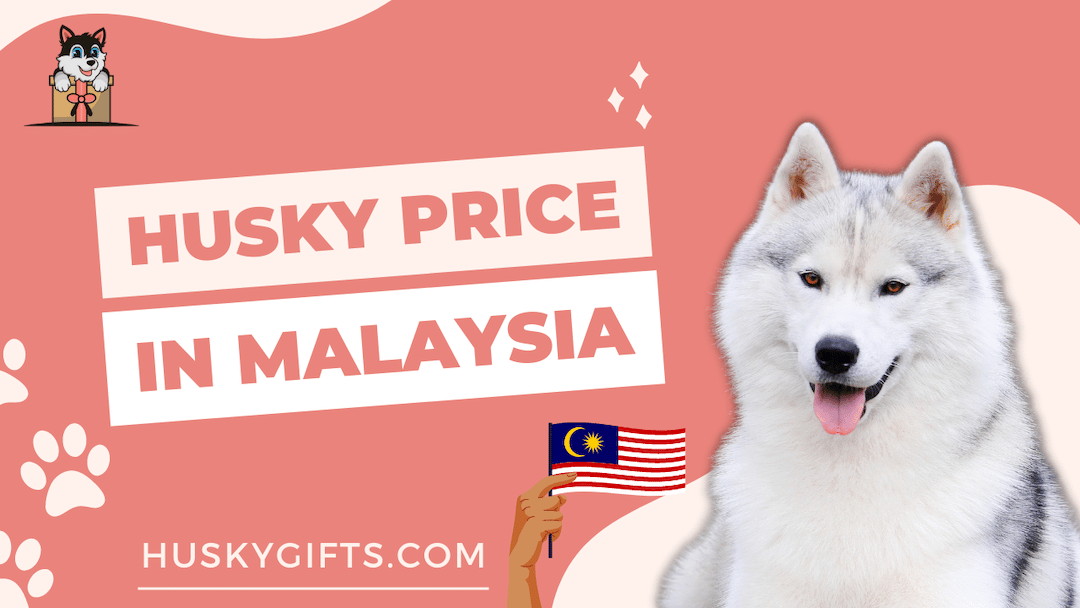 The price of a Siberian Husky in Malaysia is typically 1000 to 3800 MYR.
If you're thinking about getting a husky in Malaysia, be aware that they are among the most expensive breeds. Make sure to do your research and have an accurate estimate of all maintenance costs before making this decision (detailed below).
In Malaysia, the typical price for a Siberian Husky ranges from 1000 MYR to 3800 MYR. Puppies from champion parents who have received all necessary vaccinations, and deworming, and are medically examined by vets usually cost more than 3000 MYR.
If you live in Malaysia and want to own a Siberian Husky we are here to guide you. Along with the cost of the dog, we have listed all possible expenses associated with owning a Siberian Husky in Malaysia.
Let's get into it!
👉 Husky Essentials
Siberian Husky Essentials
We understand that huskies are unique and require special care, so we've created this one-stop shop to help you find the must-have items for your furry friend.
Supplies:
Grooming Tools
Dog Food, Treats & Supplements
Toys & Enrichment
Training Aids
Comfort & Safety
Husky Supplies
Notes:
Huskies are not suited to hot climates. We don't recommend getting a Husky unless you have air conditioning to keep them cool (when they need it).
All the prices mentioned in this article are in MYR (Malaysian Ringgit).
Prices are average estimates and can vary depending on the location and other factors.
Siberian Husky Prices in Malaysia
| Location | Price (MYR) |
| --- | --- |
| Malaysia | 1500 - 3800 MYR |
| Kuala Lumpur | 3200 - 3800 MYR |
| Selangor | 1500 - 3200 MYR |
| Pahang | 1700 - 2400 MYR |
| Putrajaya | 3200 - 3800 MYR |
Due to their novelty and high demand, Siberian Huskies are one of the most expensive dog breeds in Malaysia. The cost of these dogs may vary based on the region, the dog's physical characteristics, vaccination status, deworming status, and most significantly, their bloodline.
Locally, Siberian Huskies are being sold in the price range of 1000 MYR to 3800 MYR in Malaysia. Usually, Husky pups that are fully vaccinated, dewormed and are inspected by vets, and belong to a champion bloodline are above 3000 MYR.
It is not unusual to find Siberian Huskies being sold for 1000 MYR or even lower prices but make sure to check the documentation of these dogs and also look at their parents to confirm they are purebred Siberian Huskies.
Kuala Lumpur
In addition to being the capital of Malaysia, Kuala Lumpur is also one of the most well-known cities in the world, which contributes to its high costs. In Kuala Lumpur, a Siberian Husky normally costs between 3200 MYR and 3800 MYR.
Selangor
In Selangor, a Siberian Husky puppy can be purchased for anywhere between 1500 MYR and 3200 MYR, though rates can vary significantly depending on the dog's quality.
Pahang
In Pahang, the price of a Husky puppy normally runs between 1700 MYR to 2400 MYR, however, you can expect to pay more depending on where you acquire the dog.
Putrajaya
For a Siberian Husky puppy in Putrajaya, you should be ready to spend between 3200 MYR to 3800 MYR.
Imported Price
Importing a Siberian Husky into Malaysia will cost you a hefty amount. The cost of importing Siberian Huskies varies based on the country they are coming from. Husky airline tickets usually cost 2200-6800 MYR.
When you add together the costs of the flight ticket, quarantine, import permits, vaccinations, medical documents, and vet checkups, along with the price of the dog you can anticipate paying upwards of 5000 MYR.
Siberian Husky Breeders in Malaysia
Here is a list of Siberian Husky breeders in Malaysia that have Huskies for sale.
Aleskin Siberians Kennel
Ben Lim Wei Tsuan, also known as Ben Eversman, founded the Aleskin Siberians Kennel on September 23, 2015. They are offering Siberian Husky puppies to pet homes, however before they decide to place the dog in your home, they will conduct a complete interview process.
They breed for quality rather than quantity, therefore they only have a certain number of litters each year. They are registered with the Malaysian Kennel Association (MKA), which is recognized by the Fédération Cynologique Internationale (FCA).
Website: http://www.aleskinsiberians.com/
Huskyzone Malaysia
The Huskies bred at Huskyzone Malaysia are of the finest quality. They have both common Huskies and the extremely rare wooly husky. They have been doing this for a long time and are aware of the qualities necessary to produce stunning Husky puppies.
Their puppies have stunningly attractive coats that can be long or short, fluffy or silky, and have distinct colors and markings. Every single pup that is born in their kennel is raised with an enormous amount of time, compassion, love, and care.
Their objective is to improve the standard of the breed by making sure that they are free of hereditary defects like hip dysplasia and eye abnormalities.
Website: https://huskyzone.wixsite.com/huskyzone-/home
The Huskitory
The Huskitory has Award-Winning Siberian Huskies. Their dogs not only excel in dog sports, but they also bring their owner's love and happiness. To find out if they currently have Huskies available, get in touch with them via their website below.
Facebook: https://www.facebook.com/huskitory
Ongoing Costs of a Siberian Husky in Malaysia
| Item | Cost (MYR) |
| --- | --- |
| Commercial Dog Food (monthly) | 50 - 200 MYR |
| Raw Dog Food (monthly) | 40 - 100 MYR |
| Grooming Cost (per visit) | 200 - 300 MYR |
| Vet Consultation | 35 MYR |
| Vaccination Shots (each) | 50 - 100 MYR |
| Deworming (tablets) | 10 - 20 MYR |
| Spaying/Neutering (one-time) | 300 - 800 MYR |
| Husky Training (basic) | 300 MYR |
| Husky Training (advanced) | 380 MYR |
| Air Conditioning (monthly) | 100 - 150 MYR |
| Dog collar, leash, dog bed, toys, etc. | 55 - 150 MYR |
| Dog Registration (yearly) | 5 - 20 MYR |
| Dog-friendly swimming pool visits | 35 MYR |
| Husky treats & toys | 50 MYR |
The following is a list of the maintenance costs for Siberian Huskies in Malaysia, which include the cost of food, grooming, training, and veterinary expenses.
Cost of Food
The cost of food for your Siberian Husky is dependent on whether your buy commercial dog food or raw/fresh dog food.
Commercial Dog Food
Your Husky's size and weight, as well as the type and quality of dog food you choose, will all affect how much you pay each month for dog food in Malaysia. Usually, you can expect to spend between 50 and 200 MYR each month for dog food in Malaysia. Cost may increase if you choose more premium dog food brands.
Raw Dog Food
Companies in Malaysia that sell and deliver raw dog food to your home would charge you between 40 and 100 MYR per month based on your dog's weight and size. It will cost about the same even if you prepare your Husky a raw dog diet at home.
Cost of Grooming
A full package of grooming which includes bathing, hair cutting, and nail trimming will cost you about 200 to 300 MYR depending on the experience and location of the groomer.
Cost of Veterinary Services
Veterinary consultations will cost you roughly 35 MYR per visit
Single vaccination shots will cost you anywhere from 50 to 100 MYR
Deworming costs between 10 and 20 MYR for each tablet
Spaying and neutering costs can range from 300 to 800 MYR
Cost of Dog Training
In Malaysia, it can be expensive to train a Siberian Husky. A basic dog training course costs around 300 MYR, while an advanced dog training course may cost up to 380 MYR.
The membership price for some dog training facilities in Malaysia can be as high as 100 MYR. Costs for certain expert puppy training programs in Malaysia range from 500 to 1250 MYR.
Additional Costs
Malaysia is a tropical country located close to the equator, thus summers there can be hot and humid. For Siberian Huskies to live comfortably in Malaysia, air conditioning is necessary.
Electricity Cost
On average you can expect a monthly electricity bill of between 100 and 150 MYR if you run an air conditioner for your Husky. Depending on usage, the cost of electricity can be higher.
Other Costs
In Malaysia, the cost of basic items for a Siberian Husky, such as a food bowl, water bowl, leashes, brushes, and bed, can range from 55 to 150 MYR
Dog registration costs between 5 to 20 MYR each year
Dog-friendly swimming pool visits will cost you roughly 35 MYR
Husky treats and toys can cost up to 50 MYR
Siberian Husky Prices Around the World
Compare the price of huskies in other countries.
Husky price guides:
Final Thoughts
That is everything you need to know about husky prices in Malaysia! Huskies can be more expensive to import but getting a Husky locally is by no means a cheap option either.
Ultimately, the decision of whether or not to get a husky will depend on your own personal circumstances and budget. Bear in mind though that these furry friends do come with some hefty maintenance costs – so make sure you're prepared for those before making your final decision!
Do you have a Husky? How much did they cost?
Let us know in the comments below.
Can Huskies live in Malaysia?
Huskies are not suited to hot climates. We don't recommend getting a Husky unless you have air conditioning to keep them cool (when they need).