This post contains affiliate links. We will be compensated if you buy after clicking on our links.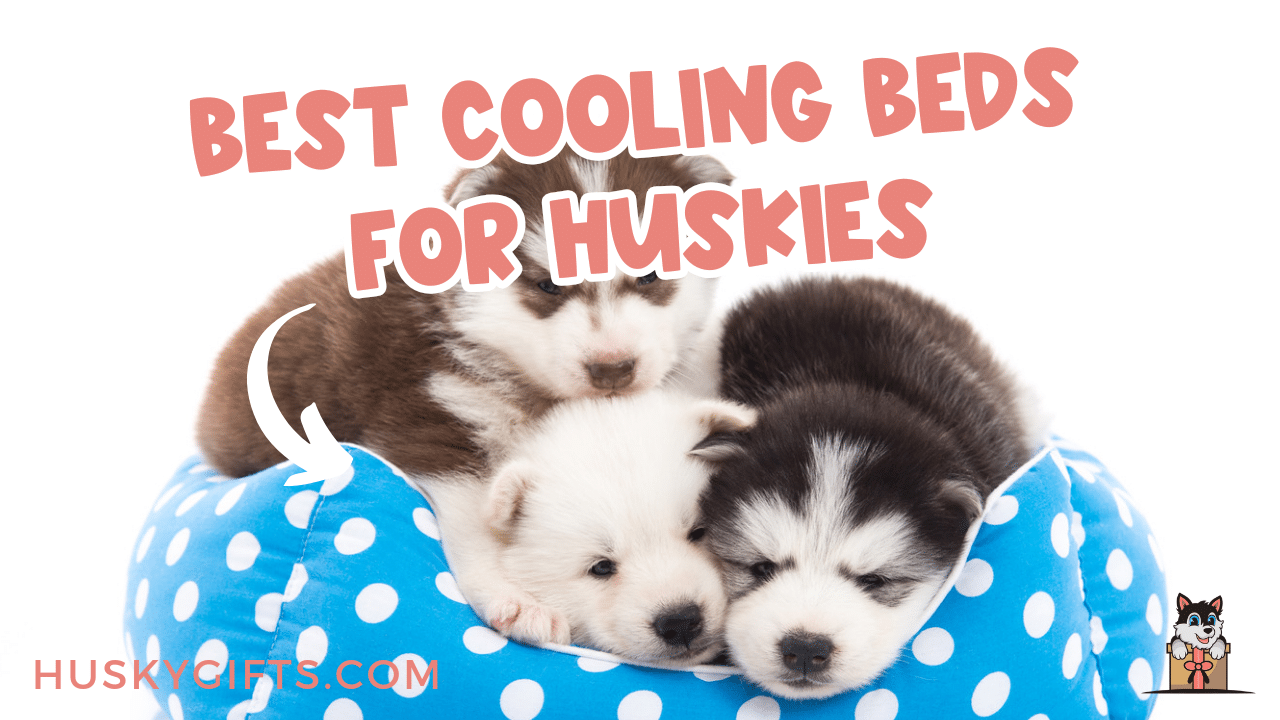 As temperatures rise, ensuring the comfort and well-being of our furry companions becomes paramount, especially for breeds like huskies that are known to thrive in cooler climates. The quest for effective and practical cooling solutions has led to a burgeoning market of cooling beds and mats designed specifically to cater to the unique needs of huskies.
In this article, we'll explore the world of temperature-regulating innovations, exploring a range of options that promise to keep huskies cool and content even during the hottest of days. Whether you're a seasoned husky owner or a newcomer to the breed, discovering the best cooling beds for huskies is essential for fostering a comfortable and enjoyable living environment for your four-legged friend.
5 Best Cooling Beds For Huskies
09/15/2023 01:18 am GMT
Best Cooling Cot for Huskies
The Amazon Basics Elevated Pet Bed is a highly beneficial accessory for huskies, offering a comfortable and supportive resting place that caters to their specific needs. Huskies, known for their energetic nature, require a comfortable spot to relax, and this pet bed delivers several advantages to ensure their well-being.
With an elevated design, the bed promotes air circulation, preventing overheating—an important feature for huskies with their thick double coats. The sturdy construction of the bed provides crucial joint support, reducing pressure on their joints that might be strained due to their active lifestyle.
Additionally, the durable materials used in its construction can withstand huskies' playful behavior! This durability is especially valuable considering huskies' tendency to play hard, and the elevated design also aids in easy cleaning by preventing fur and debris from accumulating underneath.
Furthermore, the elevated platform keeps huskies off cold or damp floors, providing insulation and comfort, which is particularly beneficial during colder seasons. Whether indoors or outdoors, this versatile pet bed suits various settings, accommodating huskies' adaptable nature.
Lastly, the design also aims to discourage chewing, addressing a potential issue for some huskies. In essence, the Amazon Basics Elevated Pet Bed offers a comprehensive solution for husky owners, ensuring a comfortable, cool, and supportive resting space that aligns with huskies' distinct characteristics and requirements.
✅ Pros:
The elevated design promotes air circulation, keeping huskies cool
Can withstand huskies' energetic behavior and potential chewing
Sturdy construction provides comfort and supports huskies' joints
❌ Cons:
Some users might find assembly slightly time-consuming.
Some huskies might need time to get used to the elevated platform
Best Cooling Bed for Huskies
The Furhaven Cooling Gel Dog Bed is a superb choice for huskies, providing a blend of style, comfort, and cooling technology tailored to their unique needs. With its chic L-shaped chaise design, the bed not only adds a touch of elegance to your home but also creates a cozy haven that fosters both comfort and security – essential elements for huskies who thrive in reassuring environments. The inclusion of supportive bolsters caters to their inclination to rest their heads on elevated surfaces, offering an optimal lounging experience.
Crafted with a plush faux fur main sleep surface and velvety micro velvet bolsters, the bed indulges your husky in ultimate luxury. The standout feature, however, lies in the cooling gel top layer that not only dissipates heat but also molds to your husky's body, alleviating pressure points and promoting better alignment. This attribute is especially beneficial for huskies, as it aids in easing discomfort and joint stress. The well-placed fluff-filled bolsters provide crucial support to the neck, back, hips, and joints, which is particularly significant given the breed's susceptibility to joint issues.
To address the practical aspects, the bed's cover is conveniently machine washable, accommodating huskies' active and sometimes messy nature. The two-zipper design facilitates easy removal for washing and grants access to the foam base and bolsters. Furthermore, the cooling gel foam technology employed in the bed serves as a boon for temperature-sensitive huskies. This feature can lower the sleeping surface temperature by 1 or 2 degrees, efficiently dissipating your husky's body heat and ensuring a comfortable slumber, particularly during warmer periods.
✅ Pros:
Machine washable cover
Fluff-filled bolsters support joints, easing any discomfort for huskies prone to joint issues
Cooling gel top layer dissipates heat and alleviates pressure points
❌ Cons:
Faux fur and velvet materials could attract pet hair and require frequent cleaning
Not suitable for pets with excessive teething or destructive chewing behavior
Best Cooling Bed
Best Cooling Mat for Huskies
The Green Pet Shop's Dog Cooling Mat is a revolutionary product designed to provide essential relief to huskies and other pets during periods of hot weather. With its pressure-activated cooling technology, this mat offers instant relief without the need for electricity, water, or refrigeration. Particularly beneficial for huskies with their thick double coats that make them susceptible to overheating, the mat's patented gel formula recharges automatically after 15-20 minutes of non-use, ensuring continuous cooling comfort.
Upon contact, the mat springs into action, delivering immediate relief as your husky rests on it. Its lightweight and foldable design makes it an excellent travel companion, accommodating huskies' adventurous spirit. Maintenance is hassle-free, as the mat can be wiped clean with a damp cloth or washed with soap and water. However, caution should be exercised to avoid direct sunlight exposure, as it can affect the mat's performance.
✅ Pros:
Instant relief for huskies and pets in hot weather.
Pressure-activated cooling technology
No electricity, water, or refrigeration is required
The patented gel formula recharges automatically for continuous cooling.
Lightweight and foldable design, ideal for travel.
Easy maintenance, can be wiped clean or washed with soap and water.
❌ Cons:
Effectiveness may be reduced if exposed to direct sunlight.
Cooling may not be sufficient for extremely high temperatures.
Requires periodic recharging after periods of non-use.
The material needs to be way more durable
Best Cooling Mat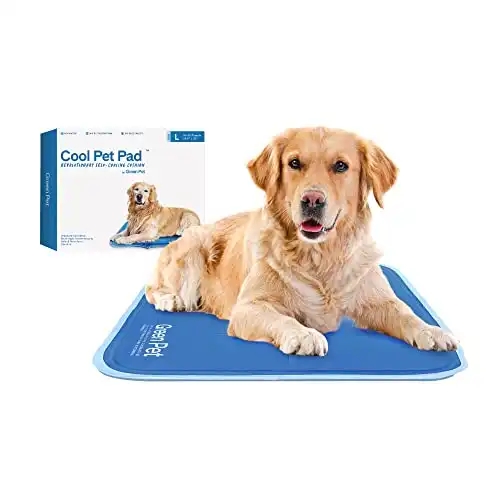 Best Cooling Blanket for Huskies
This innovative Cooling Blanket for Dogs is a remarkable solution designed to keep your beloved furry companion comfortable in every season. This exceptional blanket stands out with its ability to effectively lower the surrounding temperature by an impressive 3-5°C (5-9°F), providing much-needed relief during scorching summer days. The blanket's thoughtful dual-sided design is a true highlight, featuring a cooling side that ensures your dog stays refreshed when the heat is on, while the soft cotton side offers a cozy haven during cooler months.
What sets this blanket apart is its unparalleled durability, attributed to the densely woven threads that are five to ten times stronger than those found in ordinary dog blankets. With this robust construction, you can rest assured that your dog's playful antics won't result in premature wear and tear.
Safety is of utmost importance, and the Cooling Blanket for Dogs takes this to heart. Crafted without harmful substances like formaldehyde or fluorescent agents, it prioritizes your pet's well-being above all else.
However, it's worth noting that while this blanket is a fantastic cooling solution, its effectiveness can be compromised with prolonged exposure to direct sunlight. To preserve its cooling properties, it's recommended to keep the blanket shaded, as the sun's UV rays can gradually diminish its cooling capabilities over time. Whether it's a scorching summer day or a chilly winter evening, this blanket is poised to become your dog's year-round companion, offering them the ultimate in cozy relief.
✅ Pros:
Lowers the temperature by 3-5°C (5-9°F).
Features a cooling side for warm weather and a soft cotton side for cooler seasons.
Woven threads are denser, making the blanket more resistant to damage.
Free from harmful substances like formaldehyde and fluorescent agents.
❌ Cons:
The cooling fabric's effectiveness can be diminished with prolonged exposure to direct sunlight.
Best Cooling Blanket
Best Orthopedic Cooling Bed for Huskies
The GOHOO PET Orthopedic Cooling Bed for Dogs combines comfort, support, and temperature regulation for your special canine companion. This exceptional dog bed is meticulously designed to cater to your pet's needs in the most thoughtful ways.
The heart of the GOHOO Pet dog bed features advanced cooling gel memory foam that ensures a consistent temperature effect, offering warmth during winter and a cool oasis during hot summers. Complemented by high-density support foam, the bed not only cradles your dog's body with unmatched comfort but also alleviates joint pressure, promoting better sleep and overall well-being.
To ensure durability and longevity, this dog bed is equipped with a waterproof lining that acts as a reliable barrier against liquid penetration, keeping the core pristine and free from stains and odors. The non-slip bottom guarantees stability, even during lively playtimes, while the cleverly designed zipper system enables effortless removal of the outer cover for machine washing, simplifying maintenance. The discreetly hidden zipper maintains a sleek and stylish appearance.
Getting your dog's new bed ready is a breeze, as the cooling bed arrives vacuum-packed in a box. Simply unzip it and let it naturally inflate over the course of up to 72 hours, transforming it into a luxurious haven for your four-legged friend. However, it's important to note that this bed may not be suitable for highly destructive dogs due to its design and materials.
✅ Pros:
High-density foam molds to the dog's body, reducing pressure on joints
The waterproof lining prevents liquid penetration
The cooling gel memory foam maintains a constant temperature effect, providing warmth in winter and cooling comfort in summer
A non-slip bottom prevents the bed from moving around, even during play
The zipper design allows for easy removal of the outer cover, which is machine washable
❌ Cons:
The bed may not be suitable for dogs that are highly destructive or prone to chewing
The bed requires up to 72 hours to fully expand after unboxing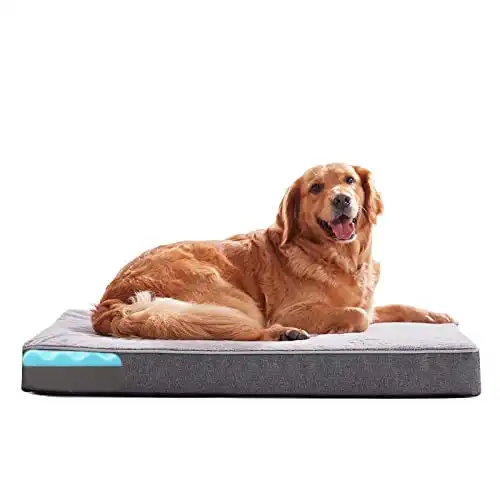 Other Ways to Keep Your Dog Cool
There are several additional strategies that husky owners can employ, especially if their husky lives in hot weather. First, ensuring access to ample fresh water at all times is crucial. Dogs, especially those with thick coats like huskies, need to stay hydrated to regulate their body temperature.
Providing shaded areas in the yard or using portable shade structures can offer relief from direct sunlight. Regular grooming is essential to prevent matting and help with air circulation through the coat. Frozen treats, like ice cubes with a touch of peanut butter or fruit, can be a fun and cooling snack. Freeze dog toys or treat-dispensing toys to create a longer-lasting cooling activity for your husky to enjoy indoors. You can even try soaking a vegetable like a carrot or celery stick in low-sodium chicken broth and then freezing it! They make great chews on hot days.
Limiting exercise and outdoor activities to cooler parts of the day, such as early morning or late evening, can also prevent overheating. Additionally, cooling bandanas or vests designed for dogs can offer localized relief, and allowing your husky to rest indoors in air-conditioned spaces during peak heat can be beneficial.
Recommended: 👉 Best Cooling Vests for Huskies
Setting up sprinklers or a shallow kiddie pool in the yard can give your husky a place to cool off and have some fun at the same time. Some folks even like to purchase several pounds of ice and place it in the kiddie pool for the husky to lounge and play in.
And if it's too hot outside, engage your husky with indoor games and activities that don't require strenuous physical exertion. Or limit time outdoors into smaller periods of time, allowing the dog to come inside to cool off a bit before going back outside. By combining these methods with the cooling mats, blankets, and beds you've already explored, husky owners can ensure their furry companions stay comfortable and safe during hot temperatures.
Further reading:
Recommendation
Ensuring the comfort and well-being of your beloved Husky during hot weather is a responsibility every pet owner should prioritize. By investing in the best cooling beds and mats tailored for Huskies, you provide them with a cozy retreat that effectively regulates their body temperature and safeguards them from overheating.
Additionally, integrating a combination of cooling techniques, such as proper hydration, shade provision, controlled exercise, and thoughtful grooming, can further contribute to maintaining your Husky's health and happiness in the face of soaring temperatures.
If you want to keep your husky cool, these are the essentials:
Have you tried any other cooling beds for your husky?
Share your experience in the comments below.
Looking for a standard dog bed? Read our guide to the best dog beds for huskies.
FAQ
What are the best cooling beds for huskies?
The best cooling beds for huskies are designed to provide comfort and help regulate body temperature. We recommend the cooling mat by The Green Pet Shop, the cooling blanket by Rywell, the cooling cot by Amazon Basics, and the cooling bed by Furhaven.
What should I look for in a dog bed for huskies?
When choosing a dog bed for your husky, it's important to consider factors such as size, comfort, durability, and support. You should also consider different beds for different locations. e.g. a cooling mat that can be placed anywhere, a cooling blanket for your bed and couch, a cooling cot for outside, and a quality cooling bed for inside. Orthopedic dog beds are also often recommended for huskies as they provide joint support and relieve pressure points.
Can I use a regular dog bed for my husky?
While you can use a regular dog bed for your husky, it's generally recommended to invest in a bed specifically designed for huskies or large breeds. These beds are typically sturdier and provide better support for your husky's body.
What are the benefits of an orthopedic dog bed for huskies?
Orthopedic dog beds provide several benefits for huskies, including joint support, pressure point relief, and improved circulation. These beds are particularly beneficial for older huskies or those with joint issues.
Are cooling beds suitable for huskies?
Yes, cooling beds are suitable for huskies, especially during hot weather or if your husky is prone to overheating. Cooling beds are designed to regulate body temperature and keep your husky cool and comfortable.
How do I choose the best dog bed for my husky?
When choosing a dog bed for your husky, consider factors such as size, material, support, and your husky's specific needs. It's also helpful to read reviews and select a reputable brand.
Why should I choose an elevated pet bed for my husky?
Elevated pet beds, like the one we recommend above by Amazon Basics, have several advantages for huskies. They provide airflow, keeping your husky cool, and also prevent pests from hiding in the bed.
How can I keep my husky cool while sleeping?
To keep your husky cool while sleeping, you can use a cooling dog bed, provide access to a cool and well-ventilated sleeping area, and ensure there is plenty of fresh water available for your husky to drink.