This post contains affiliate links. We will be compensated if you buy after clicking on our links.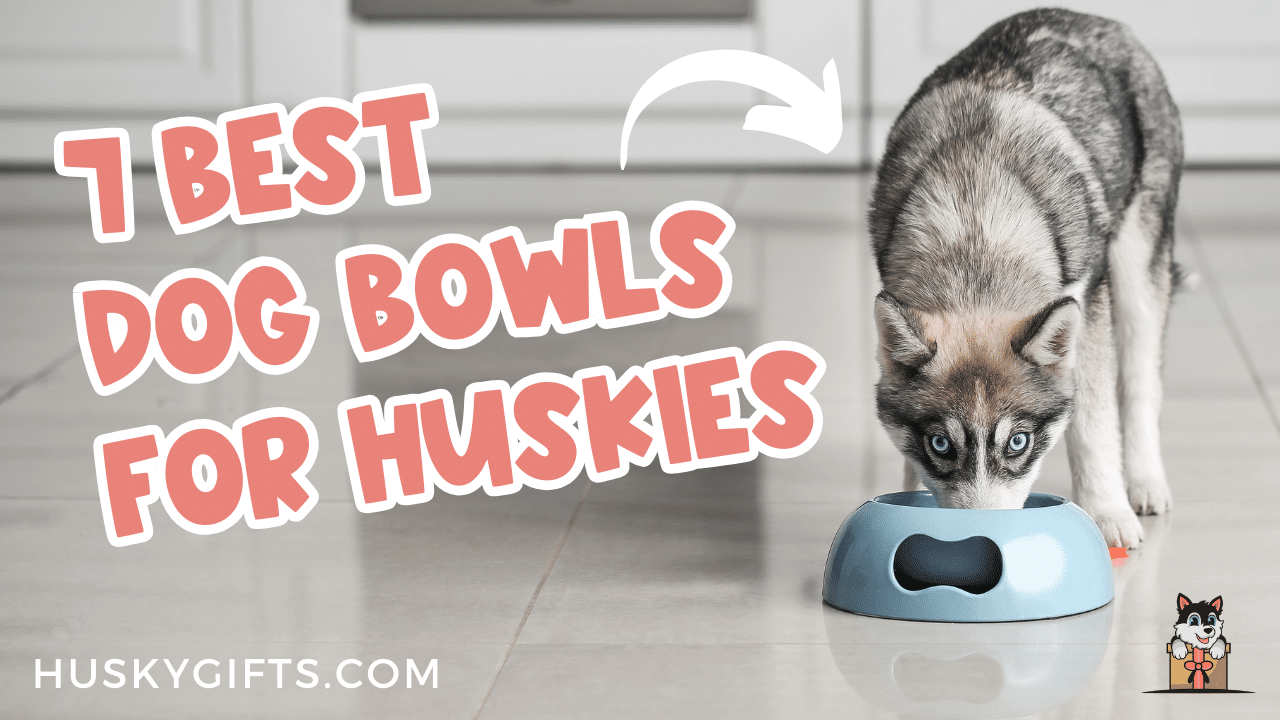 While it may seem like a simple task, choosing the best dog bowl for huskies can really improve your husky's eating habits. The right bowl can help promote proper posture, aid in digestion, and even make mealtime a mentally stimulating and fun experience! Different options can include elevated bowls that encourage a comfortable feeding posture, automatic feeders that ensure consistent meal times, and innovative slow feeders that engage their active minds.
Today, we will go over the features and benefits of all the best dog bowls for huskies.
7 Best Dog Bowls for Huskies
$138.99

$129.99 ($129.99 / Count)

$29.99

$24.98 ($24.98 / Count)
09/15/2023 02:26 am GMT
Overall Best Dog Bowl for Huskies
I'm always on the lookout for high-quality products that make husky owner's lives easier! The Amazon Basics Stainless Steel Non-Skid Water And Food Bowl are quality dog bowls for huskies. These stainless steel bowls are a perfect addition to any husky owner's arsenal, offering durability, convenience, and a clean feeding solution.
Durable Stainless Steel Bowls
First and foremost, these bowls are constructed from stainless steel. With a capacity of 32 oz (4 cups) each, they are well-suited for husky puppies, adult huskies, and senior huskies. Stainless steel not only ensures longevity but also provides a healthy alternative to plastic. Unlike plastic, these bowls don't retain odors or stains, ensuring that each meal is fresh and clean for your dog.
Versatile Feeding Options
Whether your husky prefers dry kibble, wet food, treats, or water, these bowls are up to the task. With a recommended fill of up to 32 oz (3.5 cups) per bowl, you can easily customize your pet's meal to suit their needs. This versatility is a big plus for dogs with a variety of dietary requirements.
No-Tip Design for Stability
One of the standout features of these bowls is their no-tip design. The rubber base at the bottom of each bowl not only prevents them from sliding around but also protects your floors from scratches. This feature is especially handy if you have an enthusiastic eater who tends to nudge their bowl during mealtime. With these bowls, mealtime is mess-free and stress-free.
Easy Maintenance with Dishwasher-Safe Convenience
Cleaning pet dishes can be a chore, but not with these bowls. They are dishwasher-safe, making cleanup a breeze. After each meal, simply toss them in the dishwasher for quick and easy cleaning. This feature is a time-saver for busy pet owners.
The Amazon Basics Stainless Steel Non-Skid Water And Food Bowl is a good choice for any dog owner. They offer durability, versatility, stability, and easy maintenance, all in one package. With these bowls, you can ensure that your pet's meals are always fresh, clean, and hassle-free. I highly recommend them to fellow husky owners looking for a practical and reliable feeding solution.
✅ Pros:
Durable stainless steel construction
Versatile capacity suitable for various dog diets
No-tip design with rubber base for stability
Safe alternative to plastic and doesn't hold odors
Dishwasher-safe for easy cleaning
❌ Cons:
Overall Best Dog Bowl
Best Gravity Feeder and Waterer for Huskies
The Amazon Basics Dog Feeder and Waterer offers a great solution for husky owners looking to simplify their pet's mealtime routine. These feeding and watering units operate using a gravity-based system, automatically refilling the base bowls as your husky consumes food and water. This is really helpful for huskies, known for their big appetites and active lifestyles.
Generous Capacity for Huskies
The feeder can accommodate up to 12 pounds of dry food, while the waterer can hold up to 2.5 gallons of water. This ample space ensures that your husky has access to nourishment and hydration throughout the day.
Stability and Mess Prevention
These units feature a non-slip rubber bottom that prevents them from sliding or moving while your husky eats or drinks. This stability reduces the chances of messes, providing a more pleasant mealtime experience for both you and your pet.
Easy Cleaning
Cleaning the Amazon Basics feeder and waterer is easy, thanks to their removable parts. This design allows you to remove the components and clean them thoroughly, ensuring your husky's feeding area remains hygienic. However, these parts are not dishwasher safe and should only be washed by hand.
Hassle-Free Setup for Fresh Water
The initial set-up of the pet waterer is straightforward and hassle-free, unlike many water systems for pets. To set it up, you simply need to remove the cap from the water bottle, fill it with water, tightly seal the cap, and place the bottle into the base. This quick process ensures your husky has a steady supply of fresh water, which is crucial for their well-being, especially after physical activities.
✅ Pros:
Removable parts make cleaning easy
It can hold up to 12 pounds of dry food and 2.5 gallons of water
❌ Cons:
Hand washing required
The units are made of plastic, which may not be as durable as other materials
Best Gravity Feeder
Best Automatic Feeder for Huskies
The DoHonest Automatic Feeder with Camera is a great choice for husky owners who want to make feeding their dogs easier. This innovative device uses cutting-edge technology to ensure that your husky's feeding experience is convenient.
Remote Feeding and Monitoring
One of the best features of the DoHonest Automatic Feeder is that you can easily feed and monitor your husky from anywhere, at any time. Thanks to its Wi-Fi connectivity, you can control the feeder using the Smart Life app on your iOS or Android phone. This means that even if you're away from home, you can ensure that your husky receives their meals on time and in the right quantities. This is particularly beneficial for husky owners with unpredictable schedules or who need to travel frequently.
Freshness and Hygiene
The set includes a special bag that helps reduce moisture and a firm lid that work together to maintain the freshness of your pet's food. Similarly, hygiene is also a priority when it comes to your husky's feeding routine. The removable tray design ensures easy cleaning, which is essential to prevent any buildup of bacteria or unpleasant odors. This ensures that your husky's feeding environment remains safe and hygienic.
Peace of Mind with Built-in Camera
One extra feature that this unit has is a built-in HD camera with audio and video recording. For husky owners who are concerned about their pets while they're away, the IR night vision camera provides a clear view even in low light conditions. This allows you to visually check on your husky and ensure they are comfortable and content.
Ample Capacity and Personalization
The DoHonest Automatic Feeder can hold up to 8L, a significant amount of food, making it suitable for huskies who have hearty appetites. The ability to record custom voice messages adds a personal touch to the feeding process. Recording voice messages can help your husky associate the feeder with your presence, making the transition to automatic feeding smoother.
Reliable Power Options
In some areas, power outages can be a concern, but the DoHonest Automatic Feeder offers a reliable solution. It can be powered through the included power adapter or 3D batteries. This dual power source ensures that your husky continues to receive their meals even during unexpected power disruptions.
✅ Pros:
The removable tray is easy to clean
The bag and firm lid included in the set help maintain the freshness of your husky's food
HD camera with night vision
You can set up a feeding schedule or feed your husky remotely through the Smart Life app
❌ Cons:
Setting up the Wi-Fi connection and configuring the feeder might be time-consuming
Higher price point compared to traditional feeding methods
Best Automatic Feeder
Best Raised Dog Bowl for Huskies
The MDEHOPET Elevated Dog Bowl Set is the perfect solution to improve your furry friend's mealtime experience. With three adjustable height settings, this set provides the flexibility to accommodate your pet's unique requirements. No matter how tall your husky stands or what age your husky is, you can easily adjust the feeding height to suit them. The adjustable heights of 2.5 inches, 7.8 inches, and 11.8 inches ensure that your pet's posture is good, which helps reduce strain on their neck and back.
Promoting Healthy Digestion
The MDEHOPET Elevated Dog Bowl Set also helps aid in healthy digestion for your pets. The set's thoughtful design encourages slower eating, which can significantly reduce the risk of bloating, a common issue among dogs. By incorporating a plastic slow feeder bowl into the set, your pet's meals become engaging experiences that allow them to savor each bite while improving their digestive process.
Durable and Easy to Clean
The set includes two stainless steel bowls that are not only durable but also easy to clean. The dishwasher-safe feature ensures convenient maintenance, allowing you to keep your pet's feeding area clean and hygienic without any hassle.
Ergonomic Design
One of the best elements of the MDEHOPET Elevated Dog Bowl Set is its approximately 15-degree tilt. This ergonomic angle offers your dog even easier access to their food and water, reducing the strain on their neck muscles and joints during mealtime.
✅ Pros:
The bowls are dishwasher safe
Has an adjustable height
Has an ergonomic tilt to reduce strain
❌ Cons:
Some report that the stand isn't as sturdy as it should be
Best Elevated Dog Bowl
Best Slow Feeder Dog Bowl for Huskies
The Tivray slow feeder bowl is a specialized bowl that includes raised ridges and obstacles that make it more difficult for the dog to get to its food, thereby slowing down their eating pace. This feature is particularly relevant for huskies who tend to eat too fast! By promoting a more controlled eating speed, the bowl helps prevent issues like choking and indigestion.
Size and Mental Stimulation
The bowl has a diameter of 9.5 inches and a capacity to hold up to 3 cups of dog food. Furthermore, the maze-like design of the bowl engages the dog's mind, offering mental stimulation for huskies during mealtime. Given that huskies are intelligent and active breeds, this enrichment aspect is particularly beneficial for their overall mental health.
Durability for Huskies
What sets the Tivray slow feeder bowl apart is its sturdy and durable construction. Weighing more than 3.5 lbs., the bowl is designed to withstand the efforts of even strong chewers, a trait that is especially relevant for huskies. Additionally, the bowl can be paired with a compatible wooden stand that raises it off the floor. The stand's stable four-legged support ensures a wobble-free feeding experience.
Non-Slip and Floor Protection
The bowl also includes multiple non-slip stickers. These stickers not only prevent the bowl from sliding across the floor, but they also protect the flooring from potential scratches caused by the bowl's movement. This is particularly useful for huskies, known for their energy and vigor during mealtime.
✅ Pros:
Slows down eating pace, preventing choking and rapid eating
It comes with non-slip stickers, which help prevent the bowl from moving
It can be used with a stable stand for a comfortable feeding posture
Engaging design stimulates the dog's mind during mealtime
❌ Cons:
The maze-like design might require more thorough cleaning
The stand is an additional purchase if desired
Best Slow Feeder Bowl
Best Dog Bowl for Travel 
The Healthy Human travel dog bowls are a fantastic option for huskies while on the go. These interlocking bento bowls are designed with the needs of active dogs in mind.
Customizable Travel System
The set includes multiple bowls that can be interlocked together using a simple mechanism, allowing you to create a customized travel system. You can connect 2, 3, or 4 pet bowls together, depending on your needs, making it easy to carry dog food, treats, leashes, and other supplies in a neat and organized manner.
Durable and Safe Materials
The bowls are crafted from human-grade stainless steel, which is both durable and safe for your pet. The stainless steel construction ensures that the bowls are resistant to rust and corrosion, while the BPA-free plastic components ensure your dog's food and water remain free from harmful toxins.
Leak-Proof Design
The top water bowl has a vacuum-sealed, leak-proof design with a quick-release valve. This means the water remains securely in place until you're ready to serve it to your husky.
Compact and Convenient
The set of 4 pet bowls measures 6″ across and 8.5″ in height, making them compact and easy to carry. Though they're small and easy to carry, many people who own dogs weighing 50 pounds or more find these bowls work perfectly for their needs.
Spare Parts for Peace of Mind
The set includes two spare interlocking clips and a spare easy-grip handle. This ensures that you have replacements in case any parts are lost or damaged during your travels, providing you with peace of mind on the go.
✅ Pros:
Leak-proof water bowl
Interlocking customizable design
Made of stainless steel, a durable and safe material for your pet's food and water
❌ Cons:
Only the upper water bowl is leak-proof
It might not be suitable for very large dogs
Best Travel Dog Bowl
Best Spill-Proof Water Bowl for Huskies
The Upsky No Spill Water Bowl for dogs is a great choice for husky owners due to its thoughtful features that cater to the unique needs of these energetic and active pets.
Ample Water Supply
This water bowl can hold up to 70 oz. or 2 L, ensuring that your husky has an ample supply of water, which is particularly important for staying hydrated after play or exercise.
Transparent Design for Water Quality
The bowl's transparent design allows you to easily monitor the water quality, ensuring that your husky drinks from a clean source. The added water level reminder helps you keep track of your pet's water consumption.
Automatic Adjustable Floating Disk
The best part of this bowl is its automatic adjustable floating disk. This design element slows down your husky's drinking speed, preventing wet mouths, floors, and potential choking, which is common among larger breeds. Additionally, keeping the water bowl clean is hassle-free, thanks to the easy-to-disassemble floating disk. Regular cleaning is recommended, ensuring a hygienic drinking environment for your husky.
✅ Pros:
Significantly slows down how fast dogs can drink, so there is less mess and less risk of choking
Has a large capacity and holds 70oz (2L) of water
The transparent design ensures pet owners can monitor the water quality and amount easily
❌ Cons:
Doesn't hold as much water as some other regular bowls
Priced slightly higher compared to basic water bowls due to its innovative features
Some huskies might prefer drinking from a conventional bowl, and it might take time for them to adapt to the new design
Best No-Spill Water Bowl
Recommendation
Selecting the best dog bowl for your husky is an important decision when it comes to their eating and drinking habits. Stainless steel offers durability, hygiene, and resistance to chewing, while slow-feed bowls help regulate eating speed and promote healthy digestion. And, of course, there are adjustable dog food bowls and stands that reduce the strain of dogs having to stoop over to eat or drink.
By investing in the best dog bowls for huskies, you're taking a significant step towards ensuring a happy and healthy life for your furry friend.
Overall I recommend the Amazon Basics Stainless Steel Dog Bowls. 👈
Once you have the right dog bowl, it's time to invest in the best dog food for huskies. ✅
What dog bowls have your husky used?
Share your experience in the comments below.
Further reading:
FAQ about Dog Bowls for Huskies
What are the best dog bowls for huskies?
The best dog bowls for huskies are typically made of stainless steel. They are durable, resistant to rust and corrosion, and easy to clean.
Why are stainless steel dog bowls the best choice for huskies?
Stainless steel dog bowls are the best choice for huskies because they are sturdy, hygienic, and do not retain odors. They are also less likely to develop scratches and dents compared to other materials.
Can I use a stainless steel dog bowl for both food and water?
Yes, a stainless steel dog bowl can be used for both food and water. It is a versatile option that can accommodate your husky's needs.
Are there any other materials that are suitable for dog bowls?
Yes, besides stainless steel, ceramic dog bowls are also a popular choice. They are heavy, which helps prevent tipping, and they come in various sizes and designs.
Are there dog bowls specifically designed for wet food?
Yes, there are dog bowls specifically designed for wet food. These bowls usually have a wider and shallower design, making it easier for huskies to access the food.
How can I prevent the dog bowl from sliding around?
To prevent the dog bowl from sliding around, you can choose a bowl with a non-slip base or use a mat underneath the bowl to provide stability.
Is it better to use a raised bowl for my husky?
Using a raised bowl for your husky can be beneficial, especially for larger dogs. It helps promote better posture and digestion by reducing the strain on their neck and joints.
Can I use a collapsible dog bowl for traveling with my husky?
Yes, a collapsible dog bowl is a convenient option for traveling with your husky. It is lightweight, easy to pack, and can be quickly unfolded when needed.
How much food and water should I put in the dog bowl?
The amount of food and water you should put in the dog bowl depends on the size and needs of your husky. It's important to provide enough food and water to keep them properly nourished and hydrated. For more information, read our feed guide about how much should huskies eat.
How often should I clean the dog's food and water bowls?
It is recommended to clean your dog's food and water bowls daily. This helps prevent bacterial growth and keeps the bowls hygienic for your husky.