This post contains affiliate links. We will be compensated if you buy after clicking on our links.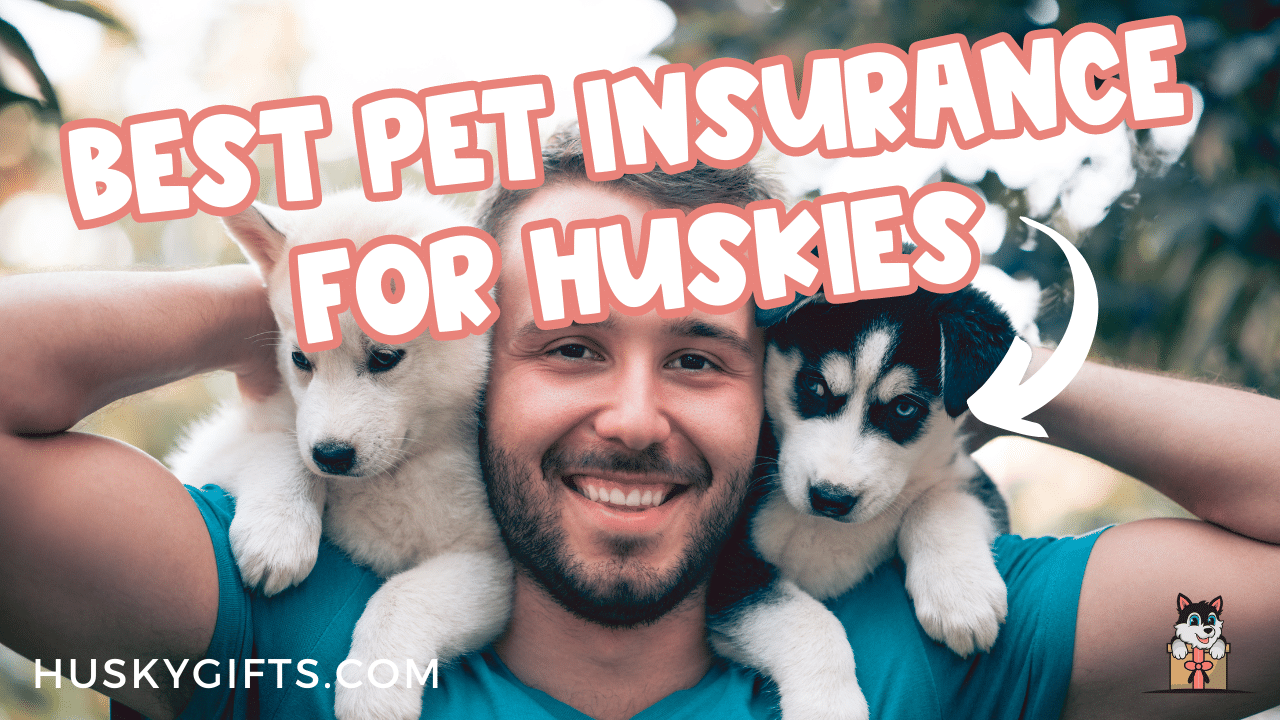 Welcoming a majestic and spirited Husky into your family is undoubtedly an exciting venture. However, as much as we adore our furry companions, it is essential to prepare for the unexpected challenges that may arise during their journey with us. From unforeseen accidents to unexpected health issues, safeguarding your husky's well-being is a paramount responsibility.
Fortunately, the world of pet insurance offers a helping hand, providing a safety net to ensure your four-legged friend receives the best possible care without financial strain.
In this article, we'll explore the best pet insurance for huskies and look at the top companies dedicated to protecting the health and happiness of Huskies. Our carefully curated list will help you navigate the vast market and make an informed decision that aligns with your pet's well-being and your own peace of mind.
How Does Pet Insurance Work?
Exploring Pet Insurance Basics
Before we jump into the best options on the market today for pet insurance, let's delve into the fundamentals of how pet insurance operates. While bearing similarities to human healthcare insurance, there are distinct differences that every pet owner should grasp.
Enrollment and Cost Structure
When you enroll in a pet insurance plan, you commit to paying a monthly or annual fee based on the coverage level you choose, along with considerations such as your pet's age, breed, and health status. This payment structure allows you to secure coverage for potential future medical expenses.
Accessing Treatment and Reimbursement
In the unfortunate event of an accident, illness, or injury, you hold the freedom to seek medical attention for your pet from any licensed veterinarian. Once you've covered the veterinary expenses out of your own pocket, you have the opportunity to submit a claim to your chosen pet insurance provider. Subsequently, the provider will review the claim, and if the expenses fall within your policy's coverage, you'll receive a reimbursement for a portion of the eligible costs.
Understanding Policy Elements
Be aware that certain pet insurance plans might encompass deductibles, co-pays, and annual limits. These factors play a role in determining the eventual reimbursement you'll receive. It's crucial to thoroughly evaluate the policy terms and coverage options to make an informed decision that aligns with your pet's unique requirements.
Differentiating From Human Health Insurance
A vital distinction between human health insurance and pet health insurance lies in their coverage scope. While most, if not all, pet insurance companies do not extend coverage to preventative or routine care, they focus on safeguarding your pet against the unforeseen challenges of accidents, injuries, or illnesses.
Certain pet insurance providers do offer wellness plans, which provide benefits for essential preventative care like examinations and vaccinations. However, it's important to note that this preventive coverage is typically offered separately from the core insurance plan.
In summary, grasping the essence of pet insurance empowers you to navigate the options effectively, ensuring that you secure the most suitable coverage for your beloved furry companion.
5 Best Pet Insurance Providers for Huskies
Get Odie pet insurance offers affordable and flexible treatment plans for dogs and cats of any breed, starting from just seven weeks old. One of their standout features is the complimentary 24/7 access to tele-vets via text chat that comes with every plan, ensuring you can always get professional advice for your pet's health concerns.
Enrollment and Convenient Coverage
To enroll in their insurance, all you need to do is submit your pet's medical records through the member portal. Their team will review the records and assess any pre-existing conditions. The insurance allows you to visit any veterinarian or clinic of your choice, including emergency hospitals and after-hour care facilities.
Straightforward Payment and Reimbursement Process
The payment process is straightforward; you pay for the treatment upfront and then submit the invoice. You will be reimbursed for covered treatments, typically within as little as five days (excluding pre-existing conditions and subject to policy terms).
Flexible Insurance Options and Wellness Plans
Get Odie offers two primary insurance options: Injury and accident insurance, as well as Accident-only insurance. Additionally, you can customize your policy with a wellness plan to cover vaccinations, flea and tick medications, wellness exams, and more. Plans start at $14 a month, and with the $14 plan, you can receive up to $305 in annual reimbursements without a deductible.
Satisfaction Guaranteed and Comprehensive Coverage
One of the impressive aspects of Get Odie is their 30-day money-back guarantee. If you're not entirely satisfied with your purchase and haven't made any claims, they offer a full refund.
Comprehensive Coverage for Peace of Mind
The coverage provided is comprehensive, including injuries, illnesses, hereditary and congenital conditions, diagnostic and testing, emergency care, hospitalization, surgery, specialist care, cancer treatment, imaging services like MRI, CT scans, and X-rays, outpatient care, ongoing and chronic conditions, dental disease, and fractures. They even cover rehab, acupuncture, and chiropractic care to support your pet's mobility and function after an injury or accident.
Personalized Pricing Examples
As an example of their pricing, for a two-year-old husky in my area, I could choose a plan with a $10,000 annual limit, a $100 deductible, and a 90% reimbursement rate, costing $32 per month. Alternatively, I could opt for a $1,000 deductible with the same annual limit and reimbursement rate but at a much lower monthly cost of $10.
Overall Value and Well-being
Overall, Get Odie pet insurance offers comprehensive coverage, flexibility, and great value for pet owners who want to ensure their furry companions' well-being.
Pros:
More affordable than most pet insurance companies
Covers things like rehab, acupuncture, and chiropractic care
Offers an incentive with a yearly discount if no claims are made.
30-day money-back guarantee
24/7 access to an online vet
Cons:
Six-month waiting period for some orthopedic concerns
Best Pet Insurance
Pin Paws Pet Insurance offers comprehensive plans for your pets with annual reimbursement amounts, making it easy to manage expenses. The plans are fully customizable, allowing you to choose from various deductible and maximum annual payout options based on your needs and preferences. The best part is that there are no age or breed restrictions, ensuring all pets are eligible for coverage.
Tailored Coverage with Customizable Options
There are specific waiting periods for certain conditions, with a 14-day waiting period for illnesses and a 6-month waiting period for conditions like Intervertebral Disc Disease (IVDD) and various Cruciate Ligament issues.
Beyond Accidents and Illnesses: Ensuring Overall Well-being
Pin Paws Pet Care goes beyond just covering accidents and illnesses. They offer an optional Routine Care Benefit plan that helps pay for preventative care for your cats and dogs, ensuring their overall well-being.
Comprehensive Coverage for Peace of Mind
The coverage is extensive, including accidental injuries, illnesses, exam fees, surgeries, medications, ultrasounds, hospital stays, X-rays, and diagnostic tests. It also covers conditions like hip dysplasia, hereditary conditions, congenital conditions, holistic care, chronic conditions, and alternative therapies.
Incentives for Responsible Pet Owners
Moreover, Pin Paws offers incentives for responsible pet owners. If you have a claim-free policy year, they automatically decrease your deductible by either $25 or $50.
Discounts and Special Offers
I also love that Pin Paws offers various discounts available for specific groups, including serving and retired members of the Armed Forces & First Responders, active healthcare workers, and staff/owners of animal care facilities.
Costs and Additional Services
The cost of the insurance depends on the coverage you choose. For example, a plan for a two-year-old husky in my area, with an annual benefit of $10,000, a deductible of $50, and a reimbursement rate of 90%, would cost $55 per month. A plan with an annual benefit of $2,000, a deductible of $500, and a reimbursement rate of 90% would cost around $30 per month.
For additional services, you can opt for the Pin Paws add-on services for $12 per month. This includes Pin Paws, whiskerDocs (a 24/7 Telehealth service), Rx Valet for Pets (discount medications and supplies delivered to your door), and Wigglepon (discounts on pet food, apparel, subscription boxes, and more).
Membership Benefits
Every Pin Paws Pet Care plan comes with a membership to Pin Paws. This membership includes an online pet profile to store important information and documents, along with a lost-pet notification tag to ensure a lost pet can be easily returned when found.
Pros:
Every plan comes with access to Pin Paws, a program to help ensure lost pets are easily found.
Can opt in for additional programs like routine wellness, 24/7 telehealth service, discount prescriptions, and discounts on food, supplies, and even apparel.
Offers an incentive with a yearly discount if no claims are made.
Many great discount options for service members, healthcare workers, and more.
No age or breed restrictions.
Cons:
Six month waiting period for several orthopedic concerns
Embrace Pet Insurance stands out as a preferred choice for many pet owners due to its comprehensive coverage and customizable options.
No Network Restrictions and Easy Claim Process
One of the main advantages of Embrace Pet Insurance is the absence of network restrictions. This means you can choose any vet, including emergency and specialist vets, without worry. The claim and reimbursement process is also user-friendly. Embrace offers an app where you can effortlessly submit claims by uploading pictures of your invoices, eliminating the need for paperwork.
Coverage Focus and Diagnostic Testing
Embrace's coverage centers on accidents and illnesses, omitting preventative care. The policy caters to veterinary bills when your pet is sick or injured. Diagnostic exam fees are typically covered under most policies. They also extend coverage to all diagnostic testing for covered illnesses or conditions, encompassing biopsies, X-rays, MRIs, and more.
Embrace, like most pet insurance providers, excludes pre-existing conditions from coverage. To ease the confusion, you can request a medical history review. This involves their claims adjusters reviewing your pet's medical records to identify any pre-existing conditions. This free service offers peace of mind before you file a claim.
Coverage of Recurring Pre-existing Conditions
Embrace strives to cover curable pre-existing conditions that resurface in the future. If a condition reoccurs after a symptom-free, treatment-free period of one year from the last treatment date, it becomes eligible for coverage. Records from the last 12 months are evaluated to determine pre-existing status.
Orthopedic Waiting Period and Customization Options
There's a six-month waiting period for orthopedic-related claims such as fractures and joint issues. An orthopedic report card can waive this period, ensuring seamless coverage. Additionally, there's a 14-day waiting period for illnesses and a two-day waiting period for accidents.
Customizable Policy Options
Embrace allows policy customization. You can choose coverage percentages from 70% to 90%, annual deductibles ranging from $100 to $1,000, and annual reimbursement limits. Even unlimited reimbursement is an option. For instance, in my area, for a two-year-old husky, premiums could range from $19 with minimal coverage and a high deductible to $65 for maximum coverage with the lowest deductible.
Additional Payment for Extra Coverage
For prescription drug coverage or exam fee coverage, an additional monthly payment is required, varying from $2 to $10 per option. Note that after a certain age, such as 15 years, Embrace ceases to offer illness insurance and provides coverage only for accidents and injuries.
Balancing Cost and Peace of Mind
Overall, considering the potential expenses of emergencies, Embrace offers reasonable options. Reflecting on the countless dollars spent on my pets' accidents and illnesses over the years, Embrace's offerings seem like a practical and financially savvy choice.
Pros:
24/7 pet helpline
10% Multi pet discount
Offers 90% reimbursement rate
Customization available for exam fee coverage and prescription drug coverage
Cons:
No preventative care coverage
Healthy Paws emerges as a top contender for pet insurance with its expansive coverage and impactful philanthropy.
Effortless Claim Submission and Swift Processing
Much like Embrace, Healthy Paws offers a user-friendly app for seamless claim submission. By capturing a photo of your invoice, you can initiate claims and receive reimbursement without hassle. Notably, they process most claims within two business days.
Unlimited Payouts
A distinctive feature of the Healthy Paws plan is the absence of maximum payout limits. This encompasses payouts per incident, annually, and over your pet's lifetime.
Contributing to Pets in Need
Healthy Paws' commitment to giving back is commendable. For each insurance quote and referral, they make contributions to support pets in need. As of December 31, 2022, their donations exceeded $2 million, with this figure continuously growing.
Coverage and Exclusions
Healthy Paws provides extensive coverage, yet some limitations exist. While they cover various diagnostic procedures such as X-rays, ultrasounds, and bloodwork, certain exclusions apply. They exclude pre-existing conditions, preventative or routine care, and spay/neuter procedures. Notably, they do not include coverage for veterinary exam fees linked to accidents and illnesses.
Flexible Pricing Options
For a two-year-old husky in my area, Healthy Paws offers customizable coverage choices. Opting for 70% reimbursement with a $500 deductible incurs a monthly cost of $33. Opting for 90% reimbursement and a $100 deductible results in a higher monthly cost of $70. This pricing is competitive with Embrace pet insurance and appears reasonable.
Exam Fee Coverage Consideration
Prospective policyholders should recognize that while Healthy Paws provides compelling coverage, they do not include coverage for veterinary exam fees. This limitation might impact the overall cost-effectiveness of the policy.
In summary, Healthy Paws pet insurance offers extensive coverage options and a laudable commitment to supporting pets in need. However, potential policyholders should evaluate coverage gaps, particularly concerning exam fees, before making their decision.
Pros:
Offers 90% reimbursement rate
Donates to help pets in need
Competitive pricing
Fast claim response
Cons:
Does not cover veterinary exam fees
Does not cover or have a wellness plan for routine care
Nationwide emerges as a standout option due to its exceptional customization and distinctive coverage features.
Tailored Coverage Options
Nationwide surpasses many competitors with its customizability. Notably, you can opt for accident insurance alone, excluding illness coverage. Moreover, you have the flexibility to adjust the reimbursement percentage (ranging from 50% to 80%) and select deductibles of $500, $250, or $100.
Reimbursement Rate Differentiation
In contrast to the industry norm of 90% reimbursement, Nationwide deviates by not offering this choice. Nevertheless, the monthly premiums and deductibles remain competitively priced.
Affordable Pricing Illustrations
For instance, with an 80% reimbursement rate and $100 deductible, the monthly premium would amount to $59. Conversely, choosing a 70% reimbursement rate with a $500 deductible results in a cost of $44 per month. Nationwide also introduces an option for unlimited annual maximum, enhancing coverage options.
Innovative Wellness Coverage
Nationwide goes beyond the conventional by introducing an option for routine wellness coverage with no deductible. This unique offering is available in two tiers: $450 worth of coverage or $800 worth of coverage.
Wellness Coverage Savings
Considering the $450 coverage option, Nationwide estimates an additional $26 per month (totaling $312 annually). This investment in wellness coverage could potentially yield savings of $138, effectively covering a significant portion of two or three routine vet visits. This distinctive benefit showcases Nationwide's commitment to providing advantageous solutions.
In summary, Nationwide pet insurance distinguishes itself with comprehensive customization, a departure from traditional reimbursement rates, and an innovative wellness coverage option. These distinct features position Nationwide as a compelling choice for pet owners seeking tailored coverage and unique benefits.
Pros:
Customizable rates
Multi pet discount
Option to add routine wellness coverage with no deductible
Cons:
Doesn't offer a 90% reimbursement rate
Doesn't cover ACL issues for the first year
7 Key Considerations When Choosing Pet Insurance
Before finalizing a pet insurance policy, it's crucial to evaluate several important factors that can significantly impact coverage and benefits.
1. Bilateral Conditions Coverage
Investigate the insurance company's stance on bilateral conditions. Some policies might categorize a recurring issue on the opposite side of the body as a pre-existing condition. For instance, if your dog receives treatment for hip dysplasia on the right hip and later develops the same problem on the left, certain insurers might consider it pre-existing and deny coverage.
2. Network and Approved Veterinarians
Be mindful of insurance providers that collaborate with specific veterinarians. Some policies necessitate visits to approved veterinarians within their network. Coverage might be limited or denied for treatments outside this network.
3. Alternative Therapies Coverage
Considering potential health needs as your Husky ages, explore coverage for alternative therapies like acupuncture or physical therapy. These treatments can be beneficial for Siberian huskies and other breeds, so verify if they are included in the insurance plan.
4. Exclusions and Limitations
Thoroughly review the policy to comprehend any exclusions or limitations. Some plans might have exclusions tailored to certain breeds or age groups. Understanding these restrictions prevents unwelcome surprises.
5. Breed-Specific Health Concerns
Huskies are prone to specific hereditary and genetic conditions such as hip dysplasia, eye issues, and autoimmune disorders. Confirm that the chosen pet insurance plan covers these breed-specific concerns and provides suitable protection.
Further reading: Common Husky Health Problems
6. Annual Benefit Limits
Consider if the policy imposes annual limits on benefits. Some plans cap the total payout for claims within a year. This aspect could be crucial if your Husky requires costly medical treatments.
7. Waiting Periods
Be aware of any waiting periods before coverage begins. Various providers may impose waiting periods for specific conditions. Understanding these periods helps you gauge when the coverage will be effective.
Selecting the right pet insurance for your Husky involves careful consideration of these key factors. Ensuring comprehensive coverage for breed-specific conditions, understanding limitations, and clarifying terms will empower you to make an informed decision about your pet's well-being.
Recommendation
When it comes to safeguarding the health and well-being of our beloved huskies, pet insurance emerges as an indispensable investment. Throughout this article, we have explored the top pet insurance companies that stand out for their comprehensive coverage, transparent policies, and exceptional customer service tailored specifically to the unique needs of huskies.
Embracing pet insurance not only provides financial peace of mind but also ensures that our loyal companions receive the best possible care in times of illness or injury. While each company reviewed offers distinct advantages, it is essential for husky owners to carefully evaluate their individual requirements and budgetary considerations to make an informed decision.
Ultimately, by partnering with one of these leading pet insurance providers, husky owners can rest assured that they are providing their four-legged friends with the protection they deserve.
We recommend Odie Pet Insurance, because it's affordable, you have 24/7 access to an online vet and you get a money-back guarantee (which is unheard of!).
Further reading: Siberian Husky Price in USA
FAQs about the Best Pet Insurance for Siberian Huskies
What is the best pet insurance for huskies?
The best pet insurance for huskies may vary depending on your specific needs and budget. However, some popular options for pet insurance companies that offer coverage for huskies include Odie, Pin Paws, and Embrace.
What are the common health issues in huskies?
Huskies are prone to certain health conditions such as hip dysplasia, eye disorders (such as cataracts and progressive retinal atrophy), and skin issues. It is important to consider these common health issues when looking for pet insurance coverage for your husky.
How much does pet insurance for Siberian huskies cost?
The cost of pet insurance for Siberian huskies can vary depending on factors such as the age of your pet, the level of coverage you choose, and the insurance company you select. On average, pet insurance for huskies can cost between $30 to $50 per month.
Is pet insurance worth it?
Pet insurance can provide financial assistance in case of unexpected vet bills or medical treatments for your husky. It can help you manage the cost of healthcare for your pet and provide peace of mind. However, it is important to carefully review the coverage and costs of different pet insurance plans to determine if it is worth it for your individual needs.
How do I find the best pet insurance for my Siberian husky?
To find the best pet insurance for your Siberian husky, consider factors such as coverage options, exclusions, deductibles, and reimbursement levels. We recommend using Odie for your pet insurance.
Does pet insurance cover vet bills?
Pet insurance can cover a portion of your vet bills depending on the policy you choose. It typically reimburses you for eligible expenses such as exams, diagnostics, treatments, and medications related to covered conditions or accidents.
How do I choose the right pet insurance for my husky puppy?
When choosing the right pet insurance for your husky puppy, consider factors such as coverage for hereditary conditions, wellness care, and the ability to customize your policy. You may also want to review the insurance company's reputation, customer reviews, and claims process.
Are sled dogs covered by pet insurance?
Yes, sled dogs such as huskies can be covered by pet insurance. However, it is important to review the terms and conditions of the policy to ensure that it provides coverage for sled dog activities and any related injuries or accidents.
What is the average cost of pet insurance for Siberian huskies?
The average cost of pet insurance for Siberian huskies can range from $30 to $50 per month. However, the actual cost may vary depending on several factors, including the age of your husky, the level of coverage you choose, and the insurance company you select.
How can pet insurance help me with my husky's health issues?
Pet insurance can help you manage the cost of your husky's health issues by providing coverage for vet visits, medications, diagnostic tests, surgeries, and other treatments related to covered conditions. It can help ease the financial burden and ensure that your husky receives the care they need.