This post contains affiliate links. We will be compensated if you buy after clicking on our links.
A crate provides a home within a home for your husky. Crate training has the potential to make or break a dog. When done correctly, crates make wonderful training assists in terms of potty training, obedience training, calmness, and independence training. If done incorrectly, it can give rise to severe behavioral issues like anxiety and vocalization. Choosing the right crate is as important as the process of crate training your husky. We got you covered.
As a dog trainer, crate training is one of the primary things I like to focus on while training and raising a puppy. For most purposes, my absolute favorite crate to recommend is the 👉 Midwest Homes iCrate for dogs. It is a great one to begin crate training at home, is well-ventilated, durable, collapsible, and value for money. It has all the desirable qualities that a dog crate must have and as we all know, well-begun is half done.
I've reviewed the best crates for huskies relating to 5 different crate types including metal wire, mesh, furniture, heavy-duty, and plastic dog crates.
09/14/2023 03:42 pm GMT
Best Metal Wire Crate for Huskies
The wire/metal crate is one of the most widely used household crate types. They provide great visibility, ventilation and are available in a variety of sizes. They are sturdy and leave low to no scope for escape artists to get out of the crate. They are also chew resistant as compared to other materials like plastic and mesh.
They work great for a wide variety of purposes like crate training, boarding, kenneling, temporary confinement, etc, and are available in various size options to suit the needs of a variety of dog breeds and pet parents.
This is perhaps the most bought crate on Amazon with over 150,000 reviews. It comes in single and double-door options and a variety of sizes. This crate can serve a Chihuahua, a husky, and a Great Dane! As a trainer, this would be my top recommendation only because of the simplicity of it. It is well-ventilated, provides great visibility, and is durable enough to not let your husky pull a Houdini!
The Midwest iCrate dog crates are a great starting point for introducing your husky to the concept of crates. If your husky likes to be a part of all the action and has major FOMO, make sure to set it up in a spot where they can get a good view of the majority of the household. Trust me, this will make crate training easier.
Pros:
The Midwest iCrate dog crate comes with a divider panel so that you do not have to invest in multiple crates during the growth phase of your husky. Just use the divider to adjust the space within as your pup grows. Make sure to not give too big a space for a puppy. This is crucial to prevent potty accidents and behavioral issues like pacing.
It has a single and double door option which certainly adds to the overall convenience
This crate is easy to assemble and disassemble, with no tools required, and can be easily relocated anywhere
The metal wired panels are chew-proof and leave no room for escape
Cons:
The ridges of the crate may attract a lot of dust which may be tedious to clean frequently. If your dog is prone to chewing a lot on the crate, he may consume a lot of dust on a daily basis.
Metal crates have the potential to cause injury to dogs, especially if they have any kind of exposed sharp edges. Several puppies who try climbing up the panels may also end up injuring their paw pads
Best Metal Wire Crate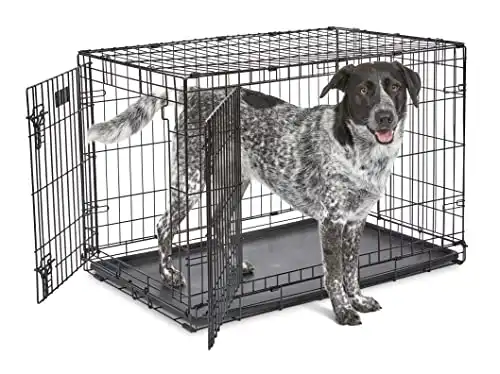 Best Mesh Crate for Huskies
Mesh crates are typically made of polyester. The airy material and diaphanous nature of the crate make them stand out and one of the most preferred choices for pet parents looking for portable options. They are super lightweight and can be easily carried on road trips and camping trips. The mesh panels provide a great blend of a considerable amount of visibility and some amount of seclusion.
Having said that, I wouldn't recommend this crate for boisterous and destructive dogs and heavy chewers. They may be one of the most cozy crates out there, but rank last in terms of durability.
The JESPET mesh dog crate combines the best features in a mesh dog crate – a variety of sizes, durability, ventilation, portability, and ease of use. In my experience as a dog trainer, I have seen this crate work best for anxious and fearful dogs. This is because of the perfect blend of visibility and darkness that it provides. This crate is one of the best investments I've made as I can now take my dog along for overnight camping trips without worrying about his safety and sleeping arrangements.
This lightweight and compact crate makes an incredible choice for dogs that lead an outdoorsy life or for pet parents who prefer a movable base for the crate.
Pros:
The Jespet mesh crate is made of soft, breathable materials that ensure ample ventilation
The crate has 3 entrances, which significantly improves ease of use and plenty of sunlight
It comes with a soft fleece mat so that pet parents do not have to look anywhere else for additional comfort for their dogs
The crate boasts reliable sturdiness as the mesh material is quite durable and does not tear down easily
Cons:
Although the mesh of this crate might be robust, it cannot be compared to the durability of a hard crate
It absorbs odor from bodily fluids and anything else that might make a mess in the crate. This makes it imperative to wash the crate frequently
While the dog inside may get a view of what is going on outside, pet parents may not be able to get a good view of the dog inside. This may make it challenging for pet parents to keep an eye on smaller puppies
Best Mesh Crate
Best Furniture Style Crate for Huskies
This one is for pet parents who are looking for utility with a dash of style. Traditional dog crates may be an eyesore for several pet parents. Furniture-style dog crates typically double up as a side table or as an extension to a bigger cabinet. Many pet parents custom-make these crates to blend in seamlessly with their home décor and reduce clutter in their living space.
They are usually more expensive as compared to traditional crates because of the added element of style and utility. When investing in one, make sure to plan in advance by keeping in mind your dog's breed size at adulthood.
Dog crates do not necessarily have to be an out-of-place eye-sore in the house. Here's a crate that will seamlessly blend in with your home décor while being highly functional. The wide top of the crate doubles up as a tabletop that can hold classy pieces of décor and other things. However, no matter what you keep on the top, we both can agree that the dog inside the crate will be the one to grab the most eyeballs!
The Dwanton Dog Crate makes for an incredible furniture-style crate and comes in a variety of classy color options. With a double door, it makes it easy for your husky to go in and out of the crate effortlessly.
Pros:
This multi-functional crate doubles up as a nice piece of furniture
The base of the crate is made of wood, thereby preventing the dog's paws from getting stuck in metal wires and avoiding accidents
It is sturdy and chew-proof
It is durable and prevents escapes
It is easily cleanable with a rag and the cushion is washable
Cons:
The colors may not suit all types of home décor and may not be a great fit in all homes
It may be a pricier option as compared to other traditional crates
It is not easily collapsible and may be quite heavy to move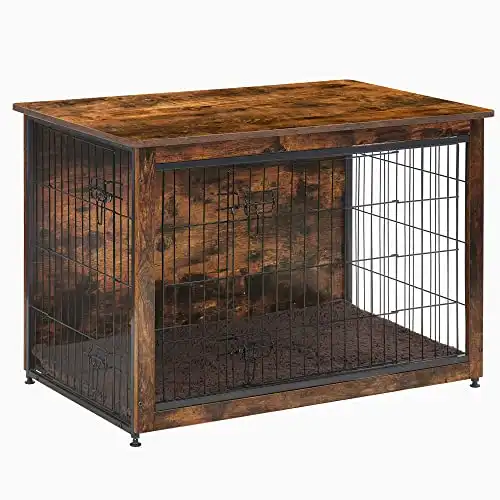 Best Heavy Duty Crate for Huskies
Did you know, Siberian huskies have a bite force of 320 PSI? A force that strong can easily chew through several crates. No wonder they are such incredible escape artists! Heavy-duty dog crates are built to be exceptionally strong and durable and are constructed with heavy-gauge steel and other strong materials to withstand a powerful and determined dog. They usually include a robust locking system and chew-proof panels while offering ample ventilation, visibility, and versatility.
They may not be as portable to move around. They are meant for semi-permanent or permanent setups. Be careful to not stub your toe on this one!
The LUCKUP Heavy Duty Dog Cage is perfect for those huskies that are more active, strong or have a tendency to escape. Constructed with industrial corrosion-resistant steel and other indestructible and durable materials, this crate is resistant to chewing, scratching, and a great amount of wear and tear. With extra locks and hinges and wheels that carry the crate, this crate is a perfect blend of durability and portability.
Contrary to popular belief, heavy-duty crates like these also make great options for travel because of their robust build and ability to keep the animal inside secure from any kind of impact. The LUCKUP crate will last you longer than the traditional wired crate and save you a ton of money in the long run.
Pros:
The heavy-duty nature of the crate gives it longevity and protects it against daily and heavy wear and tear
It will prevent escape attempts and will keep your husky secure inside
It has a modern 360 degree rotated locking casters that can help you to move the crate anywhere easily. The wheels can be locked to keep the crate in place.
The crate is easy to clean and assemble
Cons:
They are more expensive as compared to traditional crates
The Heavy duty dog crate may be great for dogs that tend to chew and engage in destructive behavior. But it doesn't address the root cause.
This crate may not provide as much visibility as the traditional wired crate
They are bulky because of their make and may not be the most portable option
Best Plastic Dog Crate for Huskies
Plastic dog crates provide a cozy space for dogs to rest in and are quite durable. They are commonly used for travel purposes and most of them match air travel size criteria. Their smooth surface is quite easy to clean as they can just be wiped down with a wet cloth. Their solid walls and sturdy make ensure safe containment, particularly for dogs who have separation anxiety and a tendency to escape.
Although they are not the lightest option, they still make the best option for travel purposes owing to their build and durability. They can handle impact to a great extent, thereby ensuring the safety of the dog confined within.
The Petmate ASPEN PET dog kennel is a popular choice among dog owners, especially the ones traveling with their dogs. Any kind of travel, especially air travel, involves accident risks. In my experience, plastic pet crates make an amazing choice for travel because of how sturdy they are and their ability to protect pets from any kind of external impact. They provide a safe and secure environment for dogs to rest in with limited outdoor visibility, which is helpful for fearful and overstimulated dogs.
Pros:
The Petmate kennel is super easy to clean because of its removable trays and smooth surface
It has plenty of ventilation holes to maintain enough airflow for your pet. This helps in keeping the temperature inside regulated
Its chew-proof walls are durable and are resistant to pets who tend to engage in destructive behavior
It has a secure latching mechanism and can effectively prevent escapes and accidents
Cons:
They have limited visibility which might make several dogs quite anxious
They have a fixed shape and size, which means they provide less scope for customization unlike traditional wired crates that have the option to install barriers within
Crate Alternatives
Playpen
Playpens are extended versions of crates. These are suitable for puppies who need a little more space to feel at ease in confinement. Playpens are generally able to fit in a bed, several toys, a pee pad, and a couple of other essential resources. They are best suited to high-energy dogs that spend several hours a day away from their pet parents. Make sure to leave them with safe forms of physical and mental enrichment that will keep them engaged in your absence.
The panels of playpens are typically adjustable and can be modified to either form a crate-like structure, to block off certain sections of the household, or even as a secure, outdoor play area. They are great for Husky puppies who would rather play and move around in a confined space than be restricted to a spot.
Common Problems When Crate Training Your Husky
When crate training a Husky, owners may encounter the following problems:
Escape attempts: Huskies are known for their intelligence and athleticism, and they may try to escape from the crate. They can be quite determined and persistent in their escape efforts, which can be frustrating for owners.
Excessive vocalization: Huskies are a vocal breed and may express their discontent or anxiety through excessive barking or howling when confined to a crate. This behavior can be disruptive, especially in environments where noise is an issue. If your husky is crying, read our guide about how to stop a husky puppy crying in their crate.
Separation anxiety: Huskies are social animals and can experience separation anxiety when isolated in a crate. They may whine, pace, or exhibit destructive behaviors like chewing or scratching in an attempt to escape the confinement and reunite with their owners.
Reluctance to enter the crate: Some huskies may initially resist entering the crate. They may exhibit signs of fear or anxiety, such as backing away, trembling, or cowering. This can make the crate training process challenging and require patience and positive reinforcement techniques.
Crate soiling: Huskies, like any other dog, prefer to keep their sleeping area clean. However, accidents can occur during the crate training process, especially if the crate is too large, as it may provide enough space for the dog to relieve themselves without soiling their sleeping area. Make sure you know how to potty train a husky puppy.
Time commitment: Crate training requires consistency, time, and effort. Huskies are intelligent and independent, but they can be stubborn and may take longer to adjust to crate training compared to some other breeds. Owners need to invest time in establishing a positive association with the crate and gradually increasing the duration of crate time.
It's important to remember that each husky is an individual, and the challenges faced during crate training may vary. Patience, positive reinforcement, and seeking guidance from professional trainers can help owners overcome these difficulties and establish a successful crate training routine for their huskies.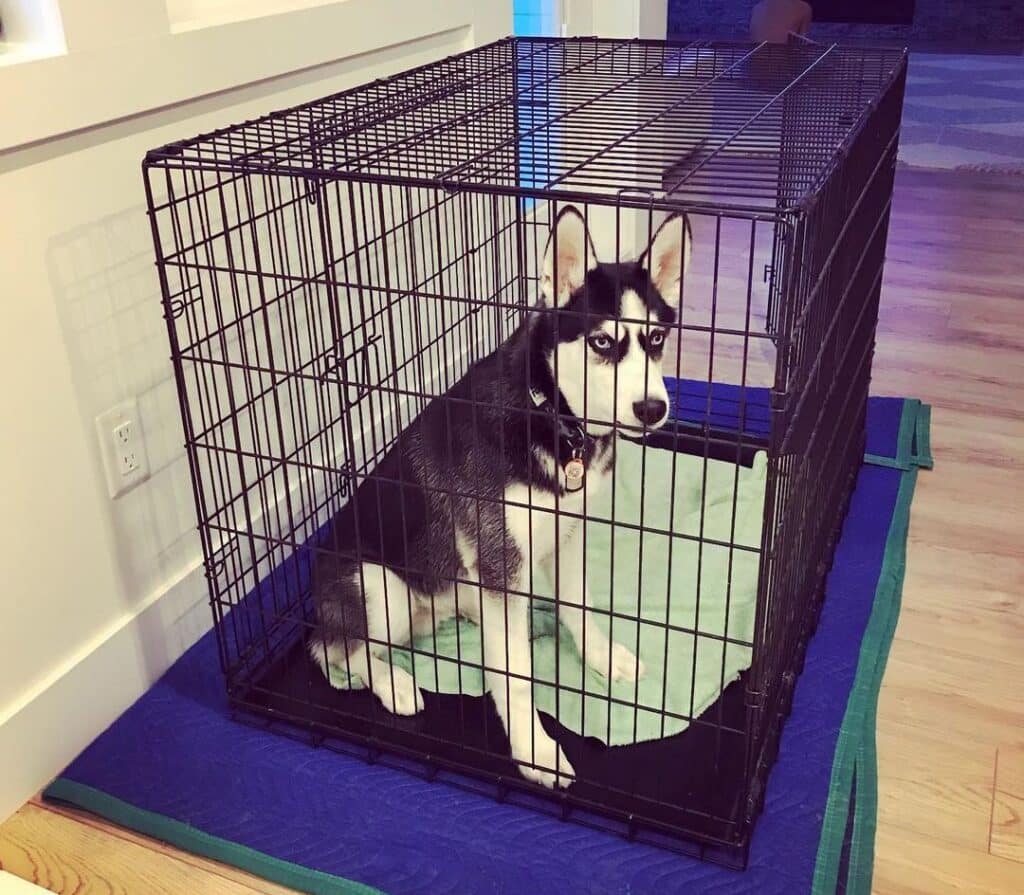 Guide to Picking the Best Crate Size for Your Husky
Choosing the right crate is half the battle won. Here are tips to select the right crate size for huskies.
Consider current size and growth potential: Crates are expensive and it is more sensible to buy a crate for long-term usage rather than repeatedly changing them as your puppy grows. Your puppy must be able to stand up, sit, lay down, and turn around comfortably while being confined in the crate. They will also grow at a quick rate during the first few months of their lives. Make sure to invest in a crate that is big enough for a fully-grown, adult husky. Use barriers to adjust the space within.
Measuring your Husky: Measure your husky from the floor to the top of their shoulders to get an estimate of their height and from the tip of their nose to the base of their tail for their length. These measurements will give you an idea of the size of the crate you should be going for.
Using partitions: Giving way too much space in the crate may encourage potty accidents and can give rise to pacing behavior due to anxiety. Use partitions to adjust the space inside the crate and make it big enough just for your dog's size.
Manufacturer guidelines: Manufacturers often provide size charts or guidelines to assist in selecting the appropriate crate size for dogs. Use this chart to select the appropriate crate for your husky.
Recommendation
I recommend the Midwest Homes iCrate for most huskies. It is well-ventilated, durable, collapsible, and great value for money. You can't really go wrong with this for crate training your husky at home.
Regardless of the crate you pick for your husky, the process of getting them used to the crate needs to be positive and fun for your dog. This is imperative if your husky will be spending more than a few hours every day inside the crate.
So, which crate will you pick for your husky?
Let us know in the comments below.
FAQ
What are the best dog crates for huskies?
There are several dog crates on the market that are recommended for huskies. The Midwest Homes iCrate dog crate is a good option for most huskies.
What is the best dog crate size for huskies?
The best dog crate size for huskies is generally at least 36 inches in length. However, it's important to measure your husky to ensure the crate is the appropriate size for them.
Can I use a regular dog crate for my husky?
While you can use a regular dog crate for your husky, it's recommended to choose a crate specifically designed for larger breeds. Huskies grow to be quite large and may require a larger crate to accommodate their size.
How do I choose a crate for my husky?
When choosing a crate for your husky, consider their size, behavior, and any specific needs they may have. It's also important to choose a well-made, sturdy crate to withstand their potential destructive tendencies.
What type of crate is best for my husky?
There are several types of dog crates available, including wire, plastic, furniture, heavy-duty, mesh, etc. Each type has its advantages and disadvantages. It's recommended to choose a crate that is sturdy and well-made.
How can I encourage my husky to use their crate?
To encourage your husky to use their crate, try placing a comfortable dog bed inside, leave the door open, and offer treats and praise when they enter the crate. It's important to make the crate a positive and comfortable space for your husky.
Should I choose a high-anxiety crate for my husky?
If your husky exhibits signs of separation anxiety, a high-anxiety crate may be a good choice. These crates are designed to reduce anxiety and promote comfort for dogs. Crates with a cover help it feel more den-like, which can reduce anxiety.
Can I leave my husky in their crate for long periods of time?
While it's generally not recommended to leave any dog in their crate for long periods of time, huskies can be particularly prone to boredom and destructive behavior. It's important to provide them with plenty of exercise and attention outside of their crate.