This post contains affiliate links. We will be compensated if you buy after clicking on our links.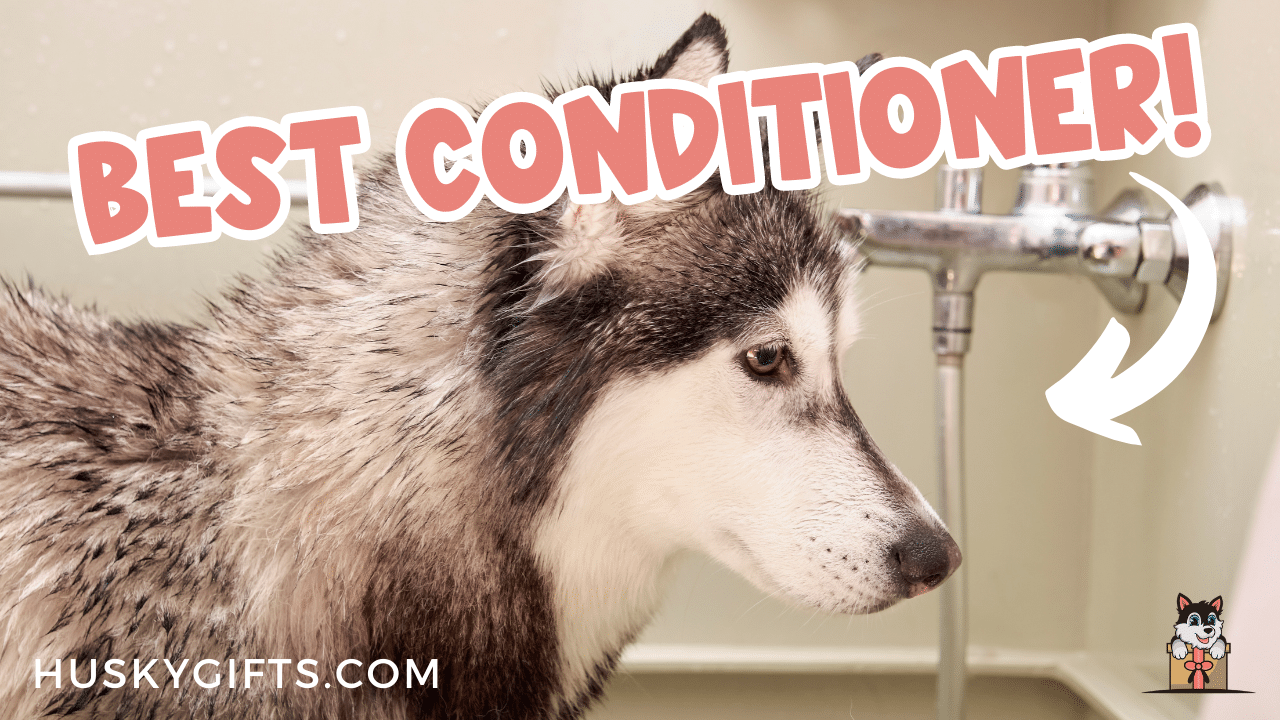 You may wonder if using a conditioner is truly necessary when giving your husky a bath. As a groomer, I've given huskies baths with just shampoo and with both shampoo and conditioner. And it really does make such a huge difference! Conditioner is essential to help loosen up any compacted, shedding fur in a dog's coat.
My all-time favorite and the best conditioner for huskies is the Furminator deshedding conditioner. In the grooming salon, I use it for every single husky bath! Sometimes I'll apply it before I even start shampooing just to give it some extra time to work its magic. Even though the Furminator conditioner is my favorite for husky shedding, I do have quite a few other favorites that I reach for as well! 
4 Best Conditioners for Huskies
Here is my list of the 4 best conditioners for a husky.
09/21/2023 12:29 pm GMT
Guide to Buying Conditioner for Huskies
Why use conditioners for dogs?
There are tons of reasons to use conditioner on dogs. Truthfully, nowadays, I can't finish a dog's bath without at least applying a light coat of conditioner to help make the coat softer and add a little bit of shine. Most importantly, conditioners help add much-needed moisture back into our dog's coat after shampooing.
Even the best moisturizing shampoo for huskies can still strip the coat of some of its important natural oils, so it is important to try to replace those in order to keep the coat healthy.
Conditioner is also essential for helping to detangle and demat the dog's fur, which makes it much easier to brush or comb. Another benefit of conditioner is that a majority of the time, it will contain some sort of soothing property like oatmeal or aloe vera, which all dogs and coat types can benefit from.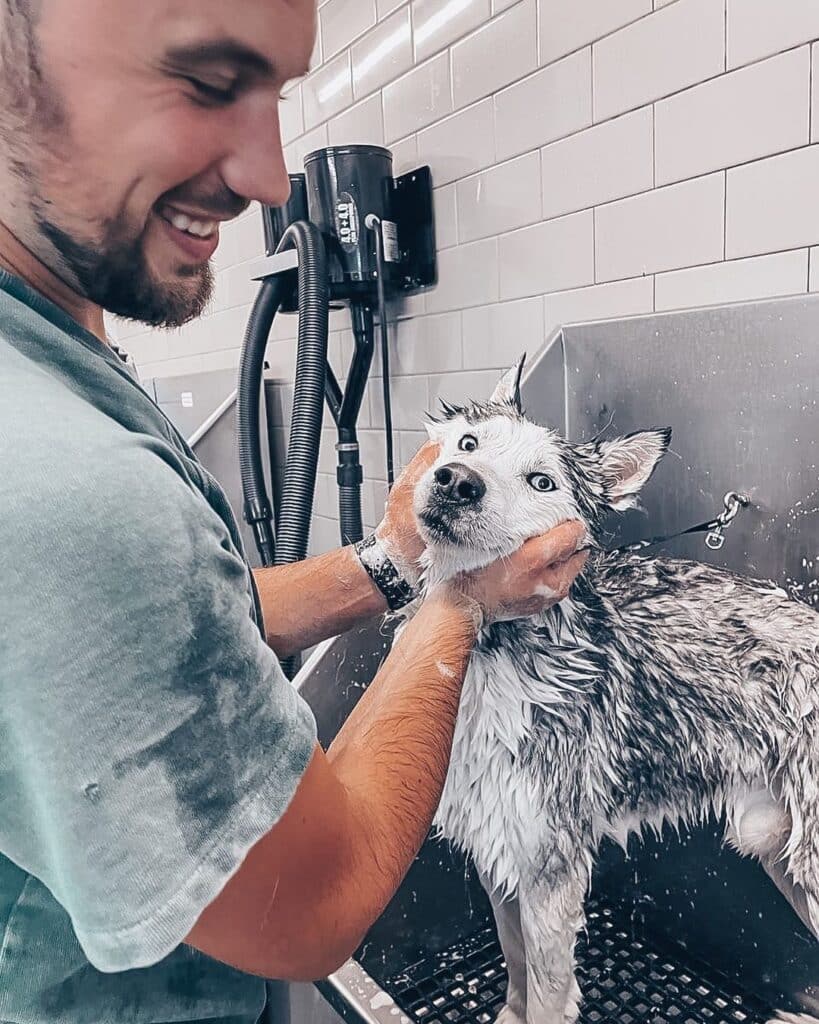 Types of conditioners
There are all kinds of conditioners on the market today that aim to serve different purposes. The majority, of course, are intended to help moisturize the coat. But some conditioners may also focus on other concerns.
Moisturizing conditioners
Some focus solely on moisturizing. These are the ones that often contain moisturizing ingredients like shea butter, coconut oil, jojoba oil, or avocado oil.
Detangling and dematting conditioners
Others might focus on detangling and dematting, so they'll contain ingredients like silk proteins which help make the fur more slippery and easier to detangle.
Other conditioners
There are also deshedding conditioners to reduce husky shedding, allergy or itch relief conditioners, deodorizing conditioners, and even whitening conditioners.
Quality
It is important to choose a quality conditioner that will be beneficial to your dog's skin and coat. Some are filled with harsh chemicals or artificial fragrances that can be irritating to your dog's skin and even to your own skin.
Because of this, be sure to read the label of the conditioner, aim to pick one that contains natural ingredients, and definitely avoid products that don't list their ingredients at all.
Budget
Conditioners for dogs come in a wide range of prices. Some are as low as $10, while others may cost as much as $25. There's really no right or wrong answer here. It simply depends on your preferences, budget, and concerns.
Final Thoughts
Adding a conditioner into your husky's grooming and bathing routine can be a complete game changer in terms of the health of their skin and coat and even in the amount of shedding in your home! It's an important step in the bathing process as it really helps add moisture to their coat and helps detangle and loosen any shedding fur.
Overall I recommend the
What conditioner have you been using for your husky?
Let me know in the comments below.
Further reading:
FAQ
Should I use conditioner on my husky? 
I would definitely recommend using conditioner on your husky during bathtime. It can make all the difference in the health and feel of their coat. It helps make their coat smooth, soft, and much more manageable – especially when trying to brush through and remove compacted fur, tangles, and loose shedding fur.
Choose a conditioner based on the needs of your pup. As mentioned, all conditioners have an element that helps moisturize the coat, but some also focus on other areas. 
For example, if your dog has sensitive skin and is frequently itching, consider a soothing conditioner like the Chris Christensen conditioner, which is designed to cool and soothe irritated skin.
Or maybe your dog's coat is quite tight and compacted due to matting and shedding fur. Something like the Biosilk for dogs conditioner would be quite beneficial in making the coat more manageable to comb through and brush.
Remember, though, to always rinse your dog thoroughly after conditioning, as you don't want to leave any residue on their coat as it may cause the coat to look dull, flat, or even greasy. 
Can I put human conditioner on my dog? 
No, I wouldn't recommend that you put human conditioner on your dog, even in a pinch. Human hair and dog hair have very different pH levels, and dog-specific products are designed with their pH levels in mind. Using a conditioner designed for humans could disrupt this pH balance and lead to various skin and coat problems, so it is best to stick to a dog-friendly conditioner. 
Additionally, human hair and dog hair have different textures. Human hair is typically much finer than dog hair, so a human conditioner likely would not be able to effectively penetrate a dog's coat. 
How often should you use conditioner on your dog? 
My recommendation is to use a conditioner on your dog after every shampooing. Even the most moisturizing dog shampoo around can still strip the skin and coat of its natural oils, so conditioner is key to adding some of that moisture back into the skin and coat.
Generally, my recommendation is to bathe your husky every two to three months. This, of course, may vary depending on how much your dog sheds, how stinky your dog gets, and of course, how messy your dog gets! Some folks like to bathe their husky every month to really stay on top of shedding, while others prefer to only bathe their husky two to three times a year when their dog's shedding is at its absolute worst! 
How can I make my dog's fur silky and shiny? 
There are quite a few different things you can do to make your dog's fur silky and shiny. In many cases, the first step in achieving healthy fur is to start brushing your dog more often. Regular brushing and combing help to distribute your dog's natural oils throughout its coat which, in turn, will keep it moisturized and shiny. 
Then, of course, the next thing to do is to bathe your dog on a regular schedule. Start with every one to two months, and then as the coat begins to improve, you can push this out to every two to three months. Bathing should consist of using both shampoo and conditioner. Shampoo will help cleanse the coat and skin, and conditioner will help bring back moisture and hydration into the coat.
By bathing more frequently in the beginning when first trying to resolve the problem, you'll be helping your dog's coat by adding that much-needed moisture back into the coat. It also may be beneficial to reach for a moisturizing shampoo as well as a moisturizing conditioner. 
Another thing to consider as well is your dog's diet. High-quality dog food can make a surprising difference in the look and feel of our dogs' coats. Look for a brand that is rich in protein, as well as healthy fats, vitamins, minerals, and essential fatty acids. You could also consider adding certain supplements to your dog's diet as well. For example, fish oil is a great source of Omega-3s, and Biotin is a B vitamin that is known for being beneficial to dogs' skin and coats.