This post contains affiliate links. We will be compensated if you buy after clicking on our links.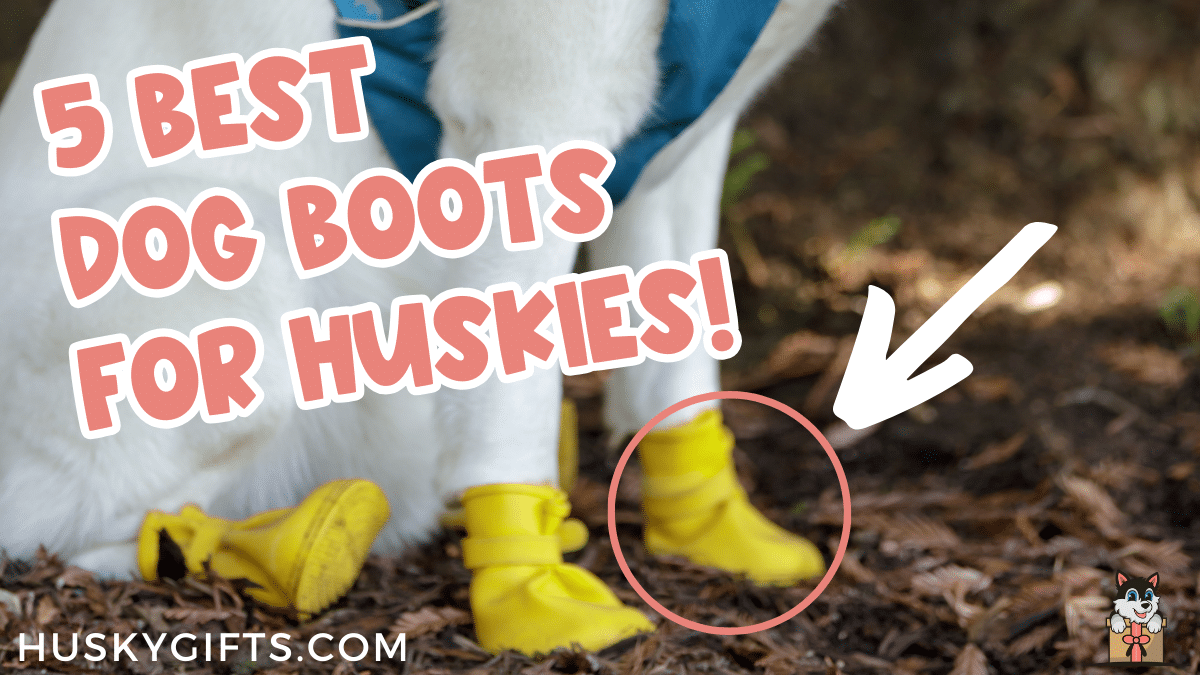 If you're an outdoorsy person, constantly seeking out new adventures and activities to do, you are already aware of how important a pair of great quality dog boots are. There are plenty of options of dog shoes in the market to suit every kind of canine activity, be it indoors out outdoors.
Siberian Huskies seldom need boots in the snow as their paw pads contain extra fat content that helps keep their paws warm in freezing conditions. However, prolonged exposure to the snow can have ill effects on the thickest of skins. AND, huskies definitely need boots if they are going walkies on hot surfaces like hot pavement, hot sand, etc. This is where the best dog boots for huskies come in handy.
There are so many varieties of boots out there that it can take several attempts to find the right pair of dog shoes for your Husky. One of the primary things to look out for is the use case of the dog boots.
One of my favorite dog shoes to recommend is the Qumy Dog Shoes which work perfectly on a variety of surfaces, including slippery sleets, wet surfaces, rocky terrains, hardwood floors, etc. They are fashionable and have a high utility score. What more do we really need in a pair of dog boots?
5 Best Dog Boots for Huskies
09/27/2023 08:26 am GMT
Overall Best Dog Boots for Huskies (+ Best for Heat Protection)
Huskies have generations of surviving the harsh cold. Their bodies are equipped to deal with negative temperatures and freezing grounds. Surprisingly, they can also deal with the heat better than several other breeds. Their insulated coat and extra fatty paw pads provide them with the ability to stay warm on a super chilly night and stay cool on a warm, sunny day.
However, different Huskies have different amounts of resistance toward heat. Some handle the heat better than others. Having said that, it never hurts to ensure your Husky's safety, regardless of their ability to handle hot surfaces.
Here are my recommendations for the best dog shoes for heat protection.
QUMY dog boots are one of the bestsellers for dog boots on Amazon. They go on a dog's paws effortlessly and fit snugly. They are not only ideal on hot summer days but are great during rainy and winter seasons too. The high-quality breathable fabric combined with a tough rubber patterned sole effectively prevents the dog's paws from being blistered and burned on hot surfaces.
✅ Pros
The water-resistant material combined with the snugness of the boots prevents water from entering inside and keeps the dog's paws dry throughout the walk
They are available in a variety of sizes and colors
The rugged sole provides traction on slippery surfaces and protection from heat and rocky terrains
They appear stylish once they make their way up the dog's paws
The premium quality fabric makes these boots all-weather friendly
❌ Cons
There have been customer complaints about misguided measurement charts of the boots
These boots are great as long as the Velcro is effective
Overall Best Dog Boots
I personally love the HCPET Breathable Dog Boots because of the multiple benefits they offer such as the high-quality mesh fabric, lightweight, traction, flexibility, snug fit, etc. These boots, because of their premium quality create a protective layer, thereby reducing the risk of injuries during outdoor activities.
✅ Pros
The HcPet dog boots provide better stability and grip, especially on wet or smooth floors
They also work great for sensitive paws and paws with allergies by preventing direct contact
The reflective straps provide added safety
They come in colorful options and look quite stylish
They work great during hikes and intense outdoor activities, thereby making them a great option for agile breeds like Huskies
❌ Cons
These boots work great for small to medium-sized dogs but are known to be ill-fitted on larger paws
Second Best Dog Boots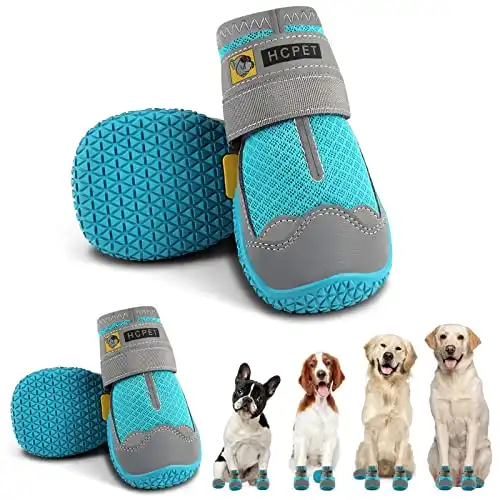 Best Anti-Slip Dog Boots for Huskies
Huskies and slippery surfaces can be a highly risky combination. These highly energetic and agile dogs are always on their feet and are constantly on the run, in the literal sense. The last thing you need is an accident or injury to get in the way.
Traction dog boots like the Expawlorer 4PCS Anti-Slip Dog Shoes work incredibly well on slippery surfaces because of their skid-resistant design. These dog boots when fit properly, provide great control for dogs on surfaces like sleet, wet ground, mucky areas, etc., and help prevent accidents.
✅ Pros
It works great for dog paws of all shapes, sizes, and shapes as it is available in 8 different sizes
The straps are made of reflective material that provides added safety in darker areas
The waterproof material and skid-resistant design ensure maximum safety
These boots have ample room for bigger paws to fit in and the fastener straps won't let them fall out
❌ Cons
These boots may be water resistant, but won't stop the water completely
If not fitted properly, they may end up irritating your dog's paws and hurt them on the inside
If the Velcro straps lose their effectiveness, the boots may not fit as snugly and may keep falling off
Best Anti-Slip Dog Boots
Best Wound Recovery Dog Boots for Huskies
A Husky's paws are subject to constant wear and tear. Wound recovery boots provide the much-needed TLC for hurt and sensitive paws. Wounded dogs are often tempted to lick their injured paws which may make the injury worse. These wound recovery boots act as a deterrent, preventing the dog from accessing the wounded area. The premium quality of the fabric of these boots acts as a barrier between the injured area and the outside environment. They are also water resistant and help in keeping paws dry.
✅ Pros
The VetMedWear dog boots are soft-shell, breathable and water-resistant
They help keep the injured area dry and away from irritants
They are lightweight and minimize discomfort with padding and cushioning
In cases where the injury affects a dog's mobility, these boots can provide support and stability, allowing the dog to move more comfortably
❌ Cons
They're not meant for intense and time-consuming outdoor activities
They do not have a thick, padded sole and may tear if used for extensive walking
Best Wound Recovery Dog Boot
Best Dog Boots for Hiking
The CovertSafe Dog Boots make the perfect hiking companion. Their rugged sole offers protection to your dog's paws against rough and rocky terrains, sharp objects, hot pavement, ice, snow, and other potentially harmful surfaces, thereby preventing any kind of injury. They are suitable in all kinds of weather and are ideal for dogs of all ages and sizes. They are made of premium quality fabric and can be fastened in a way that prevents tiny particles from getting into the boots and hurting the dog's paws.
✅ Pros
They come in a variety of sizes and are perfect for all sizes of paws
They look fashionable and the reflective straps increase safety in dimly lit areas
Easy to strap on and fit snugly, making them perfect for intense outdoor activities such as hiking
Made of premium quality fabric with a rugged sole that protects the dog's paws on rocky terrains
❌ Cons
There are several customer complaints about the boots being hard and not taking the shape of the dogs' paws, thereby making it a little uncomfortable for dogs
Best Dog Boots for Hiking
Dog Boots To Avoid
I have tested enough boots on my dogs to know exactly what works and what doesn't work when it comes to selecting the appropriate boots. My dog has tried and tested over fifteen different kinds of boots and if she were to give a verdict on the least recommended boots, it would hands down be the Dociote Waterproof Dog Boots.
They are easy to strap on, convenient, made of decent quality fabric, and waterproof with a soft fabric on the inside. However, they have a flat, even sole, which barely provides any traction on slippery surfaces. They are not recommended for usage on snow, wet surfaces, or other slippery areas. Speaking of my experience with the boots, I have observed that they also easily fall off and do not stay on for a very long time, especially on walks and during other outdoor activities.
Guide to Buying Dog Boots
What to Look For While Selecting Dog Boots for Your Husky
Your Husky's comfort and safety are the two most important things to ensure while selecting boots for them. They have unique needs which must be taken into consideration.
Here are a few things that you must look out for –
Size and Fit of the Boots
It may take multiple attempts to get your Husky's paw size right while selecting boots for them, especially when the dog is in their first year of growth. The boots must be big enough so as to not restrict your dog's paw movements in any way and snug enough so that it doesn't slip out with moderate to heavy movements.
Your Husky should be able to comfortably spread their paws while the boots are on. Failure to do so may cause extreme discomfort and pain to them.
Comfort
Boots are primarily used outdoors, i.e., when your Husky will be at their most active self. It is imperative for the boots to provide the utmost comfort during outdoor activities in order to prevent injuries. Make sure that the boots have sufficient padding, soft interiors, and no rough seams.
Traction
One of the main functions of the boots is to provide traction on slippery surfaces such as sleet, rocky terrains, etc. Boots that don't have high-quality rugged soles pose a high risk of injuries to pets on slippery surfaces and must be avoided at all costs.
Quality of the Fabric
The quality of the fabric eventually decides the durability, comfort, and ability of the boots to withstand wear and tear. Look for boots that have breathable fabric. If you are looking for boots as protection in snow or rain, make sure to buy water-resistant boots. Boots that let water seep in may be highly uncomfortable for your Husky and may also increase the risk of infections.
Environmental Resistance
Huskies are highly energetic and agile breeds. If you are living a fairly outdoorsy lifestyle with your Siberian bud, look for boots that can keep up with rocky terrains, slippery sleets as well as different kinds of weather such as thunderstorms, snow, etc. Look for boots with rugged soles so as to provide traction on a variety of surfaces.
How to Measure Your Husky for Boots
Here are the basic steps to measure your husky's paw size for dog boots.
Step 1: You will need a piece of paper, a pen, measuring tape, your dog, and a calm environment. If your dog finds it difficult to hold position in one place, you may need another person for assistance
Step 2: Gently press your dog's paw onto the piece of paper. Alternatively, use a treat to lure your dog forward in a way that he is stepping on the paper
Step 3: Use the pen to mark the longest nail in the front end of the paw and the heel, followed by the left and right sides of the paw.
Step 4: Using a measuring tape, measure the length and the width of the paw through the markings
Step 5: Note it down and repeat for back paws. There may be slight variations in the measurement of the front and back paws.
Many boot manufacturers provide sizing charts in their product descriptions online. Make sure to buy the right size by comparing their sizes and your dog's paw measurements. The boots that you buy for your Husky must fit snugly and not fall off easily. At the same time, they shouldn't be so tight that they don't allow your dog's paws to spread out properly. Ill-fitted boots can cause injury and problems in joints and muscles.
Measurement Instruction:
Place and press down the paw on a piece of paper, mark the width and length of the paw, and measure the distance. To further illustrate how to measure your husky's paws, watch the below video.
Signs That You May Have Picked the Wrong Dog Boots for Your Husky
Even after physically trying them on, it is possible to get the size of the boots wrong. At times, it may be tricky to know if a pair of boots is comfortable for a dog. Following are some visible signs to look out for when putting on boots on your Husky.
If you notice any of these signs or behaviors, make sure to immediately take action.
Difficulty in walking. It is normal for dogs trying boots for the first time to walk wobbly. However, this shouldn't last beyond a few days
Sores on the feet
Excessive licking of paws, especially immediately after the boots are taken off
Limping
Constant slipping
Boots coming off repeatedly
Refusal of movement
Excess panting
Recommendation
Nothing hurts worse than seeing our Huskies in pain. And, nothing makes us happier than knowing that they are safe, healthy, happy, and comfortable. 😄 Outdoors have their own ways of throwing challenges at our fur buds. Investing in the best dog boots for huskies is one of the little ways we can prepare them to stand up against these challenges, and also walk a mile in them comfortably, in the literal sense.
Overall I recommend Qumy Dog Boots. 👈
What boots has your husky tried?
Share their experience in the comments below!
Further reading:
FAQ about Dog Shoes for Huskies
What are dog boots?
Dog boots are footwear designed specifically for dogs to protect their paws from hot pavement, cold temperatures, rough terrain, and other challenging conditions.
Why do huskies need boots?
Huskies, like any other breed, can benefit from wearing boots. Boots provide protection against hot pavement, ice, snow, rugged terrain, and other potentially harmful surfaces. They also help prevent injuries, keep paws clean, and provide traction.
What are the best dog boots for huskies?
The best dog boots for huskies should be durable, waterproof, and have a rubber sole for excellent traction. I recommend these dog boots from Qumy.
Are there specific boots for small dogs?
Yes, you can find dog boots specifically designed for small dogs (e.g. miniature huskies, husky mix breeds, etc.). These boots are typically smaller in size and have a secure fit to ensure maximum comfort and protection for smaller breeds.
Can dog boots be used in winter?
Absolutely! Dog boots are perfect for winter as they provide insulation and protect your dog's paws from cold temperatures, snow, and ice. Look for boots with good insulation and a waterproof design to keep their paws warm and dry.
Are dog boots waterproof?
Yes, many dog boots are waterproof. Waterproof dog boots are designed to keep your dog's paws dry even in wet and muddy conditions. Look for boots made with waterproof materials such as neoprene or waterproof nylon.
How do I find the right size of dog boots for my husky?
It's important to measure your husky's paws accurately before purchasing dog boots. Follow the manufacturer's guidelines on how to measure your dog's paws and refer to their size chart to determine the correct size.
How easy are dog boots to put on and take off?
Dog boots are designed to be easy to put on and take off. Most boots come with adjustable straps or velcro closures that allow for a secure fit and effortless application.
Can I use dog boots for hiking?
Yes, dog boots are great for hiking. They provide protection from rough terrain, sharp rocks, hot surfaces, and extreme temperatures. Look for boots with a rugged sole and good traction for optimal performance on hiking trails.
What are the best budget dog boots for huskies?
If you're on a budget, the best budget dog boots for huskies are dog shoes from QUMY, HCPET, and Expawlorer.