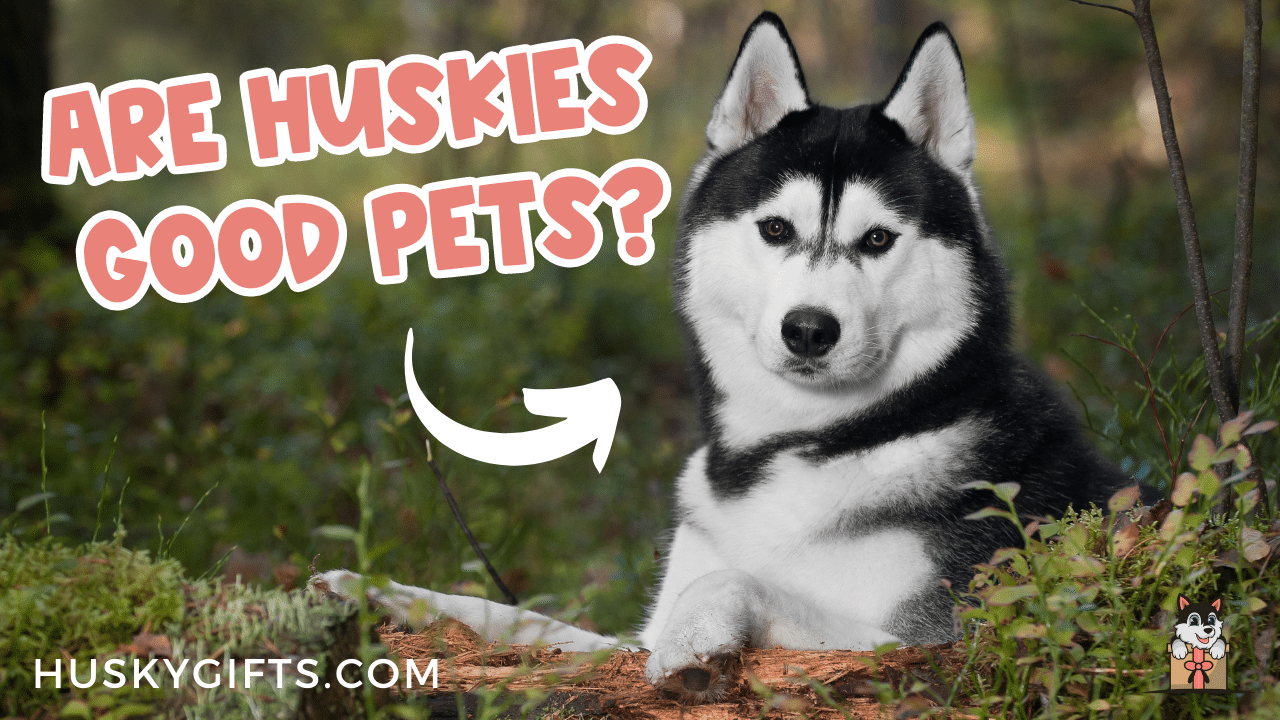 Yes, huskies are good pets, if you know how to take care of them!
Siberian Huskies, renowned for their captivating appearance, holds a special place among the most popular dog breeds. Originally bred by the Chukchi people in Siberia, these remarkable dogs found their way to Alaska, where they became renowned as sled dogs.
In the 1920s, their reputation soared as they played a crucial role in delivering life-saving serum during the diphtheria epidemic in Nome, Alaska. Today, many homeowners are captivated by the allure of owning a husky, drawn to their attractive features, intelligence, and playful nature.
However, before deciding if a husky is the right pet for you, it's important to carefully consider the pros and cons associated with this remarkable breed. In the following sections, we will explore the advantages and disadvantages of having a husky as a furry companion. By delving into these aspects, you can make an informed decision about whether a husky is the perfect fit for your lifestyle.
👉 Husky Essentials
Siberian Husky Essentials
We understand that huskies are unique and require special care, so we've created this one-stop shop to help you find the must-have items for your furry friend.
Supplies:
Grooming Tools
Dog Food, Treats & Supplements
Toys & Enrichment
Training Aids
Comfort & Safety
Husky Supplies
Are Huskies Good Pets?
Deciding on the ideal breed for you can be a challenging task, despite the numerous psychological and physical benefits of owning a dog.
Huskies, known for their intelligence, independence, and affectionate nature, can make wonderful companions. They typically display non-aggressive behavior and tend to thrive in households with multiple dogs and are generally good with children.
However, it's essential to note that huskies are intelligent and athletic dogs that require substantial exercise to keep them both physically and mentally stimulated. Training them can be challenging, making them less suitable for first-time or timid dog owners. Additionally, their natural instinct to wander may lead to escape attempts if your home is not securely fenced.
It's crucial to emphasize that owning a husky requires a deep understanding and experience with the breed. Unfortunately, many huskies end up as strays or in shelters due to owners' lack of knowledge on how to take care of a Siberian husky.
So, a husky can be a good pet in the following cases:
On the other hand, a husky might not be a good pet for you in the following cases:
What Are the Pros and Cons of Having a Husky?
When it comes to huskies, their striking beauty and captivating appearance can be difficult to resist. However, it's important to recognize that many owners are drawn to huskies for the wrong reasons.
Some individuals are attracted to huskies due to their active nature, affectionate temperament, and mesmerizing eyes. However, they may not fully comprehend the level of responsibility that comes with owning such an intelligent and unique breed of dog.
Pros of Having a Husky
Cons of Having a Husky
Should You Get a Husky?
While huskies are popular dogs, it's important to recognize that they are not suitable for everyone. Understanding their unique personality and specific needs is crucial to becoming an ideal husky owner.
If you are seeking an active, independent, and intelligent companion that seamlessly integrates into your family and takes care of your children, a husky could be the perfect dog for you. Their high energy levels and love for exercise make them an excellent match for individuals who enjoy regular physical activity and are unfazed by their tendency to vocalize through talking, howling, or whining.
However, it's essential to be aware of a few considerations before bringing a husky home. Early house training is crucial to prevent destructive behaviors from developing. Additionally, providing them with regular exercise and ensuring they are kept in a securely enclosed area is vital, as huskies have a natural inclination to dig and may attempt to escape.
Before making the decision to get a husky, it's highly recommended to take the "Should I Get a Husky Quiz" or consult with professionals who can provide guidance based on your specific circumstances. This will help ensure that you are fully prepared to meet the needs of a husky and provide them with a fulfilling and happy life as part of your family.
FAQ
Are huskies good family pets?